Movers and shakers: alumni in RSM Outlook winter 2018
Date
Tuesday, 4 December 2018
Alumni from Rotterdam School of Management, Erasmus University (RSM) are continuously developing their careers, and making professional advancements to new positions, companies and even to different countries. If you're an alumnus making a career move, let us know by emailing alumni@rsm.nl.
---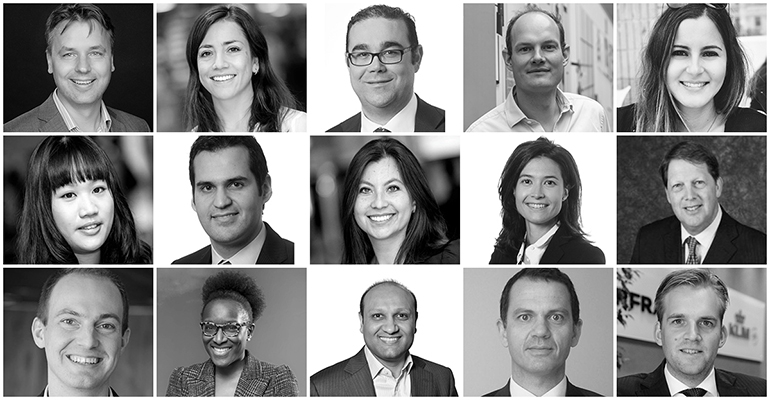 ---
Wouter Alders – MScBA Strategic Management 2011

Moves from role as country manager Indonesia, Air France-KLM to become commercial director Spain and Portugal, Air France – KLM. Effective: July 2018
Ngozi Amobi – MBA 2017

Formerly marketing manager, Damco. Is now regional head of marketing, Europe, with the same organisation (the Netherlands). Effective: April 2018
Ozgur Butun – Executive MBA 2017

Leaves position as platformization and modularity programme manager, Philips, to take on new responsibilities as global head of business transformation, Asics. Effective: July 2018
Carlo Durando – MBA 2004

The former partner at Equita Group takes on new challenges as managing director – head of global investment banking, Credit Agricole CIB (Italy). Effective: March 201
Saurabh Ghelani – Executive MBA 2016

Was managing consultant, PA Consulting Group, UK. Is now EMEA strategic trust leader, Google (Switzerland). Effective: September 2018
Juliana Gomez – MBA 2017

The senior consultant business finance, Deloitte, is now wholesale control manager Middle East, Africa & Netherlands, PVH Corp. Effective: September 2018
Paula Gonzalez – Executive MBA 2016

Is promoted from team leader of the industry specialist team (strategy and marketing), Paques, to role as head of global services Europe, China, India, North America, Brazil and Asia Pacific, with the same organisation. Effective: March 2018
Djon Kleine – MSc Business Information Management 2013

Moves from Boston Consulting Group in Amsterdam to take on role as project leader with the same organisation in San Francisco, USA. Effective: January 2018
Nikos Kyvranoglou – MBA 2014

The key account sales manager Northern Europe, Novacom Trailermatics, the Netherlands, is now chairman and CEO, Eagle Stone Group SA (Greece). Effective: June 2018
Hans Lagerweij – MSc Business Administration 1996

Previously portfolio managing director TUI Travel/Travelopia. Is now president and CEO, Victory Cruise Lines (Miami, USA). Effective: February 2018
Jurre Mulder – MSc Business Administration 2003 and Executive Programme in Strategic Management 2009

The former retail director, Accenture Strategy Consulting, moves to Intergamma as chief strategy and transformation officer. Effective: July 2018
Sofía Perera Martinez – MSc in Marketing Management 2017

Steps from role as assistant marketing manager with Unilever, the Netherlands, to become brand specialist with Amazon (Spain). Effective: August 2018
Ronald Wortel – MBA 1996

Previously CIO, Gi3I. Is now president, Vanadis International Ltd (Toronto, Canada). Effective: September 2018
Ning-Hsuan Yen – MSc Finance & Investment 2014

Formerly alumnus relations officer, CEMS. Now campus recruiter with Philips (Eindhoven, the Netherlands). Effective: June 2018
Marina de Yrazusta – Executive MBA 2017

Moves from role as senior project engineer with Janssen to become senior consultant, Deloitte Strategy & Operations. Effective: October 2018
This article was first published in the winter 2018 edition of RSM Outlook – RSM's alumni and corporate relations magazine. You can download RSM Outlook here.
More information
Rotterdam School of Management, Erasmus University (RSM) is one of Europe's top 10 business schools. RSM provides ground-breaking research and education furthering excellence in all aspects of management and is based in the international port city of Rotterdam – a vital nexus of business, logistics and trade. RSM's primary focus is on developing business leaders with international careers who can become a force for positive change by carrying their innovative mindset into a sustainable future. Our first-class range of bachelor, master, MBA, PhD and executive programmes encourage them to become critical, creative, caring and collaborative thinkers and doers. Study information and activities for future students, executives and alumni are also organised from the RSM office in Chengdu, China. www.rsm.nl
For more information about RSM or this release, please contact Marianne Schouten, communications manager for RSM, on +31 10 408 2877 or by email at mschouten@rsm.nl.
Type
Alumni , International , RSM Outlook , China , 2018 Winter RSM Outlook
Related