Seeking advice brings business success
Date
Monday, 20 July 2015
The entrepreneurial journey is often a perilous one. In search of success, the

budding business owners must face countless challenges and overcome obstacles

at every turn. At the same time, and as the alumni behind Inti Games have

found, building a business from nothing is a rewarding and uniquely inspiring

experience.
---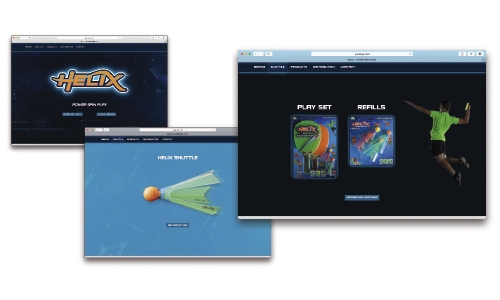 ---
Story by Tim Skelton
Inti Games is the brainchild of RSM alumni Thijmen de Schipper and Jochem van Rijn (MSc Entrepreneurship & New Business Venturing 2013 and MSc Strategic Management 2013 respectively). Their first product, the Helix Game racquet sport, is available through Dutch toyshops and has recently launched on the international market.
The game – a cross between tennis and badminton – wasn't the pair's first entrepreneurial action, as Thijmen explains. 'I met Jochem after we started at RSM. We had an idea for an internet platform covering the rules of games and sports,' he says. 'After launching during the London Olympics we got the Dutch government and NOC*NSF interested. They wanted us to expand, but since the platform was built by an external company, we weren't able to scale up quickly.'
Fortunately, entrepreneurial RSM alumni provided the solution. 'We went to many guest lectures. It's an inspiration listening to people with experience, and most were willing to help.'
One such entrepreneur was Kees de Jong. 'We explained the situation and he said, "Invite me to lunch and we'll talk".' They discussed the possible government and media production company buyout. 'He said the government had all the expertise, and we'd just end up working for them. He advised us to "wave goodbye" and take the money, and asked whether we had any other ideas.
Thijmen had studied in China and had seen a racquet sport, which inspired him. 'I brought a set to the Netherlands, but we knew we'd need something more high quality and innovative for the European market,' he says. 'After developing a service we wanted to start a company that creates tangible products. We showed the Chinese game to Kees, and told him about our goal to develop the idea (with TU Delft) into a viable product. He was enthusiastic, offered us start-up capital, and said, "Show me what you can do".'
They had never made an actual product, so they took on a newly graduated engineer

and an intern to develop one. 'We spent all our money, created prototypes with 3D printers, then went to an injectionmoulding plant,' Thijmen says. 'They told us our idea wouldn't work as it had angles that were impossible to mass produce.'With a second investment from Kees they ironed out the flaws with an engineering company. The resulting product reached the finals of a major sports fair competition (ISPO Brand New), so they knew it had potential. But they still had to sell it.
Then they met a pitching expert at an Erasmus Centre for Entrepreneurship (ECE) lecture. 'He taught us how to pitch to Blokker Holding, the biggest retail toys buyer in the Netherlands,' Thijmen says. 'They ordered a huge number.' Kees had advised the pair to think big, so they exhibited at international fairs.'Demand grew so much that, if we wanted a breakthrough, we knew we had to relocate production from the Netherlands,' Thijmen says. 'So we flew to Hong Kong to set up in the Far East.'
Easier said then done. The Dutch design was too complex for Chinese factories and needed redeveloping, causing communication challenges and delays. Finally, the first international shipment went to Australia. 'That was the tipping point for moving our office,' Thijmen says. 'Flying east every two weeks was intense and expensive.'
Since setting up their new office in Hong Kong, the adventure has continued. They promoted Helix on Dutch television during the 2014 World Cup, recruited their first Hong Kong employee, and now sell their game in over 30 countries.
'We now have a beautiful product, and it's time to use the network we've built to grow the brand and company,' Thijmen says. 'We have business meetings with Walmart and Target this spring – that's a big move.'
And what advice would he give other budding entrepreneurs? 'Every step of the way we asked for help, whether technical or strategic advice. Get help. That's the only way.'
This article first appeared in the Summer 2015 issue of RSM Outlook.
More information
Type
RSM Outlook , 2015 Summer RSM Outlook