Time to look in the mirror
Date
Monday, 20 July 2015
Leo van de Voort completed his MBA at RSM in 1989 and subsequently took up various executive positions including chief financial officer (CFO) at RDM Technology Holding BV (RDM) and chairman of Wilton Fijenoord Holding. Part of controversial businessman Joep van den Nieuwenhuyzen's corporate empire, RDM went bankrupt in 2004 in a financial scandal that rocked the Dutch establishment.
---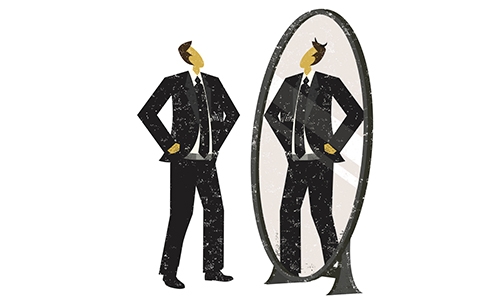 ---
Story by Russell Gilbert
Leo van de Voort was arrested in 2007 for his involvement in the RDM affair. The subsequent criminal investigation saw him sentenced to four months' probation and 234 hours of community service, while Van den Nieuwenhuyzen was sentenced to two-and-a-half years for bribery, bankruptcy fraud, perjury and possessing a false passport.
So what does Leo van de Voort have to say on the subject of ethics in business? Clearly he must have some very strong opinions and, some years later, what does he think in hindsight about the ethical choices he made that so affected the course of his life?
To find out, we invited Van de Voort to participate in a frank and open discussion with Muel Kaptein, professor of business ethics and integrity management at RSM.
Prof. Muel Kaptein: Thank you for agreeing to participate to this discussion, Leo. Can I begin by asking what your views are on the subject of ethics in business?
Leo van de Voort: Possibly the best way to approach that is to explain that I've faced three significant ethical dilemmas in my professional life.
Early in my career, as a management consultant, I was asked to put together a study about the merger of two companies. I concluded that the merger wouldn't add any shareholder value at all for either party. The firm thanked me for the report but completely ignored the findings because they stood to benefit by being the management accountants of the soon-to-merge organisation.
It turned out that my conclusions were right because two years after the merger the new company performed poorly and its stock prices dropped dramatically. Some time later the auditor, who by then was CFO at the listed company, dug out the report and phoned me saying that it was time to demerge.
This was a critical point in my career. I'd spent a lot of time at the consultancy working on all kinds of value-driven studies and ethical dilemmas, but when it came to the crunch a different set of ethical standards came into play. Because of this I left the firm. I even wrote a letter to the chairman explaining that I could no longer work there because there was no ethical fit between the organisation's values and my own.
Did you try to draw attention to the fact that your report was being ignored?
Absolutely. I brought it to the attention of a number of the senior partners, including the chairman, but to no avail. It was just so obvious that there was no value in the merger for anyone except the accountancy firm. They were not interested in the companies seeking to merge. They were only interested in themselves. I couldn't stay.
From there I went to work internationally with another consultancy. At one point I was involved in preparing a study on the break-up of a sizeable firm when the consultancy was itself subject to a merger. Not long after, a partner in the firm that had instigated the merger advised me that the break-up should not go ahead as it would be detrimental – not to the organisation that was to be split up – but to the consultancy. Exactly the same thing was happening again – a professional services firm was putting its needs ahead of the needs of its clients. It was just wrong, so yet again I left my job.
So you face a dilemma for the second time and your response is the same. You walk away. Why do think this attitude was so pervasive among companies then?
At the time the "Big Eight" dominated the world of auditing. Now you have the "Big Four", of course. Growing the firm's customer base was a priority, so the act of burying the report was designed to help achieve that. I'm certain that all of the major players would have done exactly the same thing back then.
Ethics in business wasn't a major consideration then and the major drivers were growth, competitive position and money. Partners were managing their own portfolios without any knowledge of what was happening in other parts of the organisation. People were in ethical silos. Also, firms had a big, bigger, biggest approach to business and focused on short-term shareholder value.
What about your third dilemma?
That came when I was CFO of a company that at the time was one of the fastest growing in Europe. I had a dispute over cash management with the founders of the company. Although the company was growing, a shrinking demand in the market meant that it became necessary to pay off around 40-50 per cent of the people we had on fixed contracts. There wasn't enough cash to go around. At the same time the owners were taking, relative to the situation, huge salaries out of the company.
I recommended to them that it might be more prudent if they were to take less out of the company. Instead they offered me a pay rise! Taking very large salaries while there wasn't enough cash to go around was wrong in my eyes and in the end we had a big fight over the matter. From an ethical perspective they couldn't see a problem in what they were doing. So for the third time in my career I had to walk away from a situation I considered to be ethically wrong.
Have people softened over time?
Sometimes I see people at business events and they still turn their back on me. If they stopped for a moment to hear my side of the story, maybe they would get a better understanding of what actually happened. But no, they can only see me as someone who was convicted for doing wrong. The way people respond is very black and white: they're either for you or against you.
With hindsight, would you have done things differently?
Before stepping into the defence industry I should have talked with more people and listened to the advice given by good friends. Once I was in that environment, I should have built in more time for reflection – much more time. I should have been asking myself, not in relation to the defence industry, but in general – are we making the right decisions at the right time?
Unfortunately, I was too wrapped up in the challenge of solving the financial problems of a billion-dollar company. I'd successfully restructured a company before and had it listed – indeed, later on I successfully listed another company on NASDAQ – but at the time RDM was bigger and the challenges greater. The possibilities were exciting, Joep was and is an inspiring man, and my ego got in the way. That's the root of the problem. I became more ego than human being.
At no time did I ask myself whether what I was doing was right or wrong. Everything was done within legal boundaries. I acted amorally. This is another lesson learned and my advice, especially to younger managers with big ambitions, is that you should not separate the professional from the human being. You are both.
I'm trying to reinvent myself, but have to admit it's very hard to come back from what I went through. The recovery process takes a lot more time than I expected.
What message to readers making their way up the career ladder today?
I think that as a parting gift every student graduating from a business school should be given a mirror so that they can reflect upon their choices every time they face an ethical dilemma. It's very important to be able to look yourself in the mirror.
When facing my first dilemma, I did exactly that and knew that my conclusions were sound and that not making the client aware of my report was wrong.
So I would say to people, always stay true to yourself. While you might push yourself to achieve excellence in what you do, one day you'll realise that it's very lonely at the top.
You have to look deep within to stay true to yourself. Be authentic. However, don't go so deep into self-analysis that the real you can no longer be found. That's also a very lonely place. It's the people around you who make your authenticity a reality: if they see you as authentic, then you are. This way you can stay grounded and never fear the prospect of being out of touch with who you are and straying from your own inner beliefs of what's right and wrong.
I'm trying to find that balance. That's my personal journey now.
This article first appeared in the Summer 2015 issue of RSM Outlook.

More information
Leo van de Voort is now a consultant with de Stroomversnelling. www.destroomversnelling.nu. He has written a number of books and his latest Strategie zoekt flow! is published by Warden Press. ISBN: 978-94-92004-14-7.
Muel Kaptein is Professor of Business Ethics and Integrity Management, Department of Business-Society Management. Rotterdam School of Management, Erasmus University. mkaptein@rsm.nl
Type
RSM Outlook , 2015 Summer RSM Outlook