Business and pleasure at alumni day
Date
Thursday, 10 December 2015
This year's RSM Alumni Day was more than a nostalgic rekindling of connection between alumni and the school. Rather, future-facing topics such as international scalability for start-ups, the many faces of lean management, and the new business models engendered by entrepreneurship were presented during Alumni Day on October 3 2015 on the award-winning, restyled EUR campus.
Story by Lesa Sawahata
---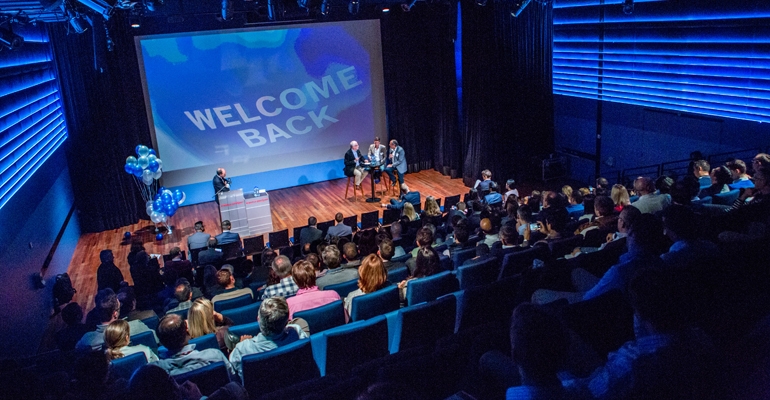 ---
The day began in the Erasmus Pavilion, the central point of the new campus, with 180 alumni of all RSM degree programmes (including graduates of MBA classes from 1990, 1995, 2000, 2005 and 2010) gathered in the auditorium of the Pavilion to enjoy a welcome address from Dean Steef van de Velde, who noted that it was the school's 45th alumni reunion and that 27 nationalities were represented in the room. He then presented an update about RSM's activities, including its rising reputation and ranking in such reports as the Shanghai Academic Ranking of World Universities, in which RSM is number one in Europe in Business.
Cross-Cultural Business
Dean van de Velde turned over the podium to Adri Meijdam, executive director of BSc and MSc programmes. 'At RSM we create our own "international laboratory" in which students learn the skills of cross-cultural management,' he said, a clean segue into the two engaging presentations that followed: "Riding the Waves of Culture" by Professor Fons Trompenaars, based on his acclaimed book of the same name; and the practical insights of Victor van Tol, RSM alumnus and co-founder of the innovative start-up SnappCar, in his lecture "How can you expand your organisation internationally?" A funny, irreverent panel discussion chaired by Professor of Cross-Cultural Management Slawomir Magala ensued.
Open minds and open bar
The afternoon offered the assembled alumni many options, reflecting the diverse nature of the group – BSc, MSc and MBA alumni, and even "the Delftenaars": the earliest graduates of what would become RSM, the Interfaculteit Bedrijfskunde (IB), which was located on the campus of Delft T/U between 1972 and 1983.
Harmen Bosch, who graduated with the (then) new academic degree Doctorandus in de Bedrijfskunde (Drs) in 1976, was seated with the other early adopters of the innovative IB programme at the VIP table during the lunch break. 'The last time I attended, five years ago, I came into contact with people I hadn't seen in years, and there was a real connection,' he said. 'I wanted to experience that sense of togetherness once again.'
While some alumni took the opportunity for intensive networking fuelled by beer, bitterballen and an open bar in Maria's Cantina, others took advantage of the afternoon knowledge sessions. RSM's career service manager Irene Kroon managed two lively sessions in which she demystified the sometimes-wonky landscape of LinkedIn, showing how to optimise online profiles for career builders.
Standing room only was an indication of the popularity of the session "Building exceptional organisations" by alumnus Ronald Eberhard, founder of The Lean Initiative. He shared his deep knowledge of the lean philosophy and laid out the way Lean Management, Kaizen, Six Sigma and other frameworks fit together and can be applied to speed change management in organisations.
Ferdinand Jaspers, programme director at the Erasmus Centre for Entrepreneurship presented "Business model search". Entrepreneurship is creating a fertile area for more traditional organisations looking to sharpen their business model, he said, and that 'disruptive innovation is a completely new business model, and corporates can do it too.'
Content + fun
Alumna Cristina Saura Boza (MBA 2010) took advantage of the sunny October day to catch up with her former classmates on the terrace adjacent to Maria's Cantina. 'I joined the Leadership Summit yesterday, and it's great that you get to listen to leaders from big organisations,' she said. 'My classmates and I are doing things we used to do here, like going to Hotel Bazar on the Witte de Withstraat. It's great to share these memories – it's the first time I've seen some of these people in five years!'
This is exactly what Joep Elemans, director of RSM Career, Corporate and Alumni Relations (CCAR), and an EMBA alumnus, wanted to create. 'With the Leadership Summit on Friday and Alumni Day on Saturday, we aimed to offer an attractive combination of content plus fun to our alumni and corporate relations,' he said.
Type
RSM Outlook , 2015 Winter RSM Outlook
Related