New book on policing in the digital space
---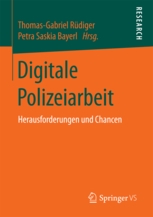 ---
The book titled "Digitale Polizeiarbeit", edited by Thomas-Gabriel Rüdiger (Fachhochschule der Polizei des Landes Brandenburg, Germany) and Dr. Saskia Bayerl (CESAM), has recently been published by Springer. In 14 chapters, this publication highlights the field of digital police work in four thematic areas:
communication and interaction with citizens,
combating and preventing crime,
legal aspects, and
organizational conditions and obstacles.
Various questions are addressed, including: Are virtual police patrols needed? What role can the police play in the context of cybersecurity? What is the police allowed to do on the internet?
The contributions in this book look at these questions from an interdisciplinary point of view and deal with the current developments, challenges and opportunities facing policing in a limitless digital space.
For more information, please see here.