Challenges for Women .... and Men .... in Business
Date
Tuesday, 6 March 2018
On Monday 23 September, as part of the Women in Leadership Open Programme, the RSM MBA Women in Management Club organised a workshop with three speakers to investigate issues surrounding women in business. The presenters not only looked at the subject from a woman's point of view, but also considered these matters from a man's perspective.
The speakers were MBA14 student Avneet Kaur, Catalyst Europe Consultant Caroline Pickard and Mike Page, provost and vice president for Academic Affairs at Bentley University.
Avneet shared her experiences of being a woman with ambition in India, where the barriers to succeed are high for women, particularly in certain rural areas, or parts of the country where the culture dictates that women are to stay at home and be housekeepers. There was a good discussion among the participants as they tried to understand how, in some parts of the world, although women are revered in some ways, in other ways they are held back.
Catalyst is an organisation that does much research into challenges facing businesses, with a particular focus on women. As their website states, "Catalyst empowers businesses to turn these challenges into competitive opportunities, using data-driven, scientific approaches to pinpoint and address the causes of talent management gaps." Caroline shared results of their research into flex working, quoting statistics from "The Great Debate: Flexibility vs. Face Time—Busting the Myths Behind Flexible Work Arrangements".
As someone who has much experience working with women, Mike shared a number of personal anecdotes to highlight some of the problems everyone has based on cultural or historical bias, and suggested ways in which to reframe. He touched upon some sensitive issues and in the reactions from the participants it was clear that everyone had experienced this bias in some form or another in their workplace.
Thanks to MBA14 students Armelle Coliche, Radha Krishnasamy and Stavroula Perdiki for cooperating with our Executive Education and Organisational Development Office to organise this event.
Hetty Brand-Boswijk

Director Business Development/Executive Coach Erasmus Centre for Women and Organisations 
---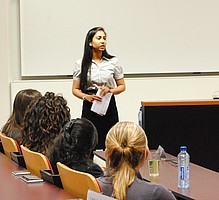 ---