Happiness Education
Date
Tuesday, 14 August 2018
---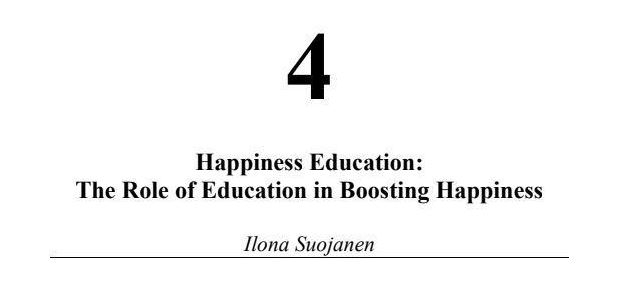 ---
CESAM's researcher Ilona Suojanen has written a paper on happiness education, which has recently been published as a chapter in a book titled Current Issues in Educational Methods and Theory in a Changing World. Suojanen says that although we know from previous research that education and happiness are connected, there aren't enough guidelines on what role education could take in enhancing people's happiness. According to her, happiness should be recognised as an important educational objective.
There are suggestions in the chapter on what Happiness Education could look like:
On the primary school level, HE could promote enjoyment, and to encourage and to support children in developing a positive attitude towards life, contributing to lifelong happiness. The happiness of pupils, both as a success factor and an outcome, should be taken into consideration. Alongside PISA tests, why not have happiness evaluation at schools as well?
On the university level, universities could teach students what is known of happiness: the methods of researching it, the accuracy of the results and, naturally, the findings. Happiness classes could be more widely offered and integrated within other studies besides philosophy or psychology. Management studies and business schools could take a bigger role in teaching how to create happier workplaces and on elaborating what the advantages of implementing such practices are.
Suojanen also suggests that Happiness Education is best approached from multidisciplinary angle, as a combination of educational science, philosophy, psychology, sociology and economics, to mention but a few.
The Centre of Excellence in Public Safety Management (CESAM) aims to promote and foster the professional development and management of public safety organisations, on an international level. It targets a clear and direct impact of academic research on public and private sector organisations in the field of public safety. More information about CESAM's work can also be found in the CESAM blog.
Related