Live presentations and independent jury for students' international consultancy project
Date
Tuesday, 2 July 2019
Four months of consultancy project work – in addition to their full-time studies – have culminated in a series of live presentations to an independent business jury for around 60 students of the MSc International Management/CEMS programme (IM/CEMS) at Rotterdam School of Management, Erasmus University (RSM) on 12 and 13 June. The students worked in teams of four or five on their International Consultancy Projects (ICP), focussing on real-life business problems from real companies. The companies provide coaches who guide students throughout the process as they put their new knowledge into practice.
---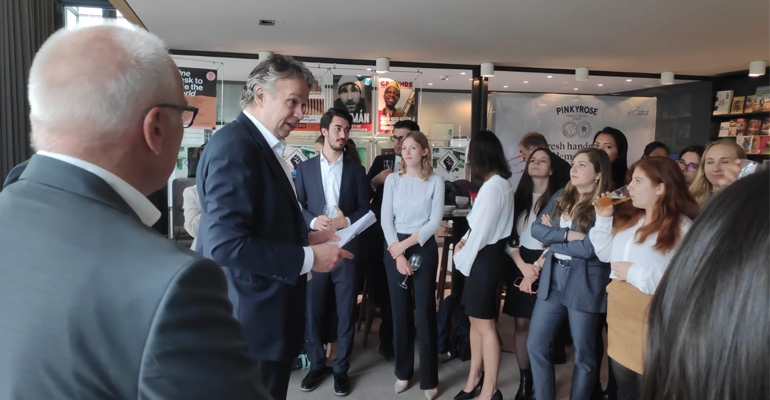 ---
Many of the students have come to RSM from their own university in another country. They join the IM/CEMS students at RSM and all students work in teams of four or five, devoting a day or a day and a half every week to meet regularly with the company and their company coach, and devising strategies and solutions for the business challenges presented to them at the beginning of the project. The presentations are the closing event of the ICP, which is a compulsory element of the MSc International Management/CEMS programme.
A jury of independent business professionals scores the students' projects based on the quality of their work, their creativity, and presentation skills. There were 13 presentations of 15 minutes each, and each was followed by 10 minutes of questions by the jury.
There were five jury members, four of which were RSM alumni.
Independent business professionals
The presentations, over two afternoons, were judged by:
The jury sessions were moderated by Dr René Olie, Academic Director of the MSc IM/CEMS programme, and an associate professor at RSM.
Companies taking part in the 2019 International Consultancy Project by welcoming students into their businesses to work on the business challenges were: ABB BV; A.T. Kearney; Beiersdorf AG; European Space Agency Business Incubation Centre; Henkel; L'Oréal Nederland; McKinsey & Company; Refugees Forward; Salesforce; Siemens Nederland; and zeb.
Projects included: strengthening sales and marketing activities; banking and investments; health and beauty marketing; data strategies in supply chains; digitally converting sales leads; updating skills in the workforce; and the financial sustainability of refugees' entrepreneurship, among others.
Working in detail and insights
Deia Housen, an exchange student from Bocconi University in Italy explained it took a lot of discussion with the client to define the exact research question at the beginning of the project. Jamila Robbeson, an RSM student, explained how students continued to learn even as they were making their presentations and they were being quizzed by the jury: "There was a great positive vibe in the room and everyone was excited to present their findings to the judges. It was extremely interesting to listen to the opinions and the questions of the judges and to learn from them."
Karan Sethi, an exchange student from the University of Sydney Business School in Australia, said it was "a highly insightful session. Not only did we witness the fruition and the culmination of all our projects, but what also followed was a quality critique delivered by a distinguished jury of industry experts."
Jury member Maarten van Hasselt awarded each member of the team making the best presentation, in his opinion, with an hour's coaching. This prize was awarded to members of the team who had been working with Refugees Forward.
A cornerstone of the exchange programme
The International Consultancy Project is the cornerstone of the MScIM/CEMS programme at RSM. Over approximately four months, the teams of international students work intensively on a consultancy project for a company or institution. The project is supervised by both a university and a company coach. The general aim of the project is to respond professionally to a real-world management problem and to learn from working together in multidisciplinary and culturally heterogeneous groups.
Translating into practice
Most students are already familiar with various business disciplines through their course work, but the interdisciplinary use of this knowledge and the capacity to translate it into practical solutions is very often a new challenge. The project permits students to combine theory and practice – they learn how to formulate a project proposal and relevant research questions, analyse factors, develop recommendations and ultimately find solutions to the problem. In addition to providing hands-on experience of how to deal with a business problem, the course also offers a unique experience of working in a multicultural team.

For the companies involved in this course, it provides a unique opportunity to gain access to valuable knowledge, recommendations or solutions for a business problem within a relatively short period of time.
Typically, the student teams introduce a refreshing outside perspective to the business issues they address. They work through five stages:
Introduction: students assigned to a company are introduced to the business project and fellow team members with seminars and training sessions.
Students define the problem after meeting with academic and company coaches. Their proposal contains a brief definition and analysis of the issue, with suggestions for research, a schedule, budget and resources. All of this has to be approved by the company.
The team collects data by consulting secondary sources. They conduct interviews and analyse reports, which must be approved by both coaches.
Towards the end of the project, the team presents its findings and recommendations to the company. Each team also prepares a presentation the jury of independent business professionals.
The ICP concludes with a review of the team's efforts and each student's learning experience. This way, students will discover and identify ways they have learned project and consultancy skills, research skills and team skills.
More information
Rotterdam School of Management, Erasmus University (RSM) is one of Europe's top 10 business schools. RSM provides ground-breaking research and education furthering excellence in all aspects of management and is based in the international port city of Rotterdam – a vital nexus of business, logistics and trade. RSM's primary focus is on developing business leaders with international careers who can become a force for positive change by carrying their innovative mindset into a sustainable future. Our first-class range of bachelor, master, MBA, PhD and executive programmes encourage them to become critical, creative, caring and collaborative thinkers and doers. Study information and activities for future students, executives and alumni are also organised from the RSM office in Chengdu, China. www.rsm.nl
For more information about RSM or this release, please contact Marianne Schouten, communications manager for RSM, on +31 10 408 2877 or by email at mschouten@rsm.nl.
Type
Alumni , Companies , Homepage , International , Newsroom , Master , China
Related