OneMBA graduation: leadership needs smart connections
Date
Tuesday, 2 July 2019
In a packed auditorium, family members, friends and colleagues cheered on the graduates of the OneMBA Class of 2019 at a warm ceremony at Rotterdam School of Management, Erasmus University (RSM) on Friday 28 June 2019. Keynote speaker Dr Karen Stephenson had a thought-provoking message to the graduates about the power of strategic networks and trusted connections.
---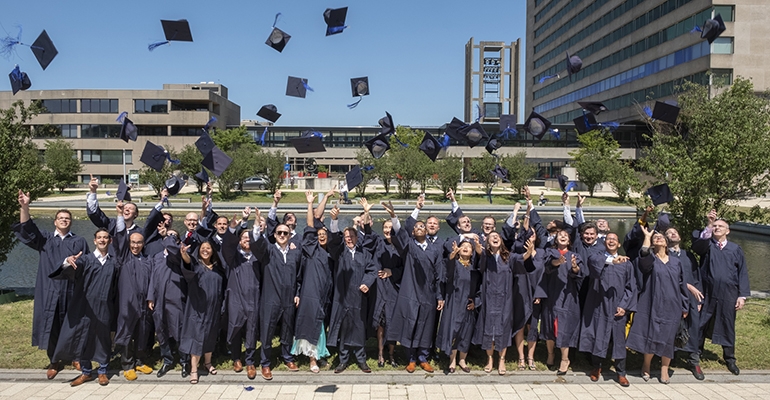 ---
The intense programme is a platform to study management and business, and develop your skills and competencies in a global setting. The Global Executive OneMBA Class of 2019 has 35 professionals representing 12 nationalities, who have an average of 16 years of work experience. 
Never underestimate the power of one 
Dean of RSM, Prof. Steef van de Velde, said the RSM OneMBA degree is a ticket to a bright future. "Use your new knowledge to advance your skillset and confidence to the benefit of a greater case. Whether you're an entrepreneur, director or manager, you are in a position to create value for a better world." Prof. Van de Velde stressed that it's all about getting your organisation's purpose and that of your employees fully aligned. 
"RSM's mission is not just about walking the talk. We have to stay on our toes, and challenge ourselves and others. We put 2,000 new agents for positive change in the business world every year. Now it's up to you to tackle societal challenges by devising new business models that do good. And by leading by example. Never, never underestimate the power of one. You're the ones who can create value and well-being – for yourself and for others." 
Human connections 
The graduates' thoughts on leading in 'a networked world' were triggered by keynote speaker Dr Karen Stephenson, president and CEO of NetForm International, who is anexpert in the field of network management and social network theory. 
By looking at the past and present, she said she noticed patterns of human connections that look like molecular bonds. "This epiphany occurred when only [telephone] landlines existed. During my formative years I was nomadic and needed nomadic connection and got no satisfaction, because technology had not caught up with my needs. But now [technology] sweeps over all of us." 
Dr Stephenson, who has taught social network analysis at UCLA, Harvard and Yale, said digital platforms connect us and nations and information. She described it as murmuration, when starlings gather in swooping flocks before roosting at night. "Humans do this too when digitally connected. Stand back and watch the co-creation of contagion and conflict. Generations X, Y and Z are sometimes fooled, un-informed – and sometimes unable to distinguish facts from fiction."
Disrupting the status quo 
So how can we contain these forces when texts, tweets and other information and messages are constant? 
"Real leverage occurs in tiny networks. And human networks structures are held together by trust. The weaker the trust, the greater the uncertainty." Dr Stephenson explained that the elemental structure of a network is a triad, with three links; one individual directly connected to two others. "But not every note or path is equivalent. We're created equally but not connected equally. And you're leading in a world where the status quo is disrupted." 
Structure trumps scale 
She said virtual connection give people the freedom to 'fly high'. She described beautiful patterns in which humans assist each other through crowd sourcing. "So as leaders, ask if your connections with your employees and others are trusted connections. The mark of leadership is about smart connections."
Dr Stephenson concluded by saying you need a few key, strategic connections instead of many 'shallow' and random connections. "Structure will always trump scale." 
100,000 words 
In a lively presentation, new MBA graduates Ernst-Willem van Drumpt (manager facilities at Alliander), Vincent van Gerven (head of business technology and management at Bouwinvest), and Geert-Jan Waasdorp (founder and CEO of Intelligence Group) told anecdotes about classmates and work teams during the global and local residencies, which took place in Washington DC (USA), São Paulo (Brazil) and Mexico City (Mexico), Xiamen (China), Delhi (India), and Rotterdam (the Netherlands) and Warsaw (Poland) over the past 21 months. 
The stories intertwined from 'running around in Chapel Hill with 18 teams for a game to win a USB-stick' and 'reuniting in São Paulo and Mexico City and feeling like a global happy family' to 10-hour flights without sleep, tacos and lectures, karaoke in China, curling, learning how to negotiate, and achieving 100,000 words in the group app when they were in Warsaw.
The graduates also talked about achievements as part of the academic programme and about the effects of the Personal Leadership Developmentprogramme. "This is what really mattered. We were touched by each other's personal stories and experiences. We're a very special group."
Van Drumpt: "And now we're celebrating our graduation. You can't really understand the impact of this programme unless you're a part of it." 
Dean's honours list
The OneMBA graduates then received their OneMBA diplomas from Dean Steef van de Velde. Ernst-Willem van Drumpt received the Dean's honours, and Erik Koppe received the Dean's honours with distinction.
They were then all welcomed to RSM's alumni network by Rachel Grandi, assistant director Corporate & Alumni Relations, followed by another welcome to the OneMBA Alumni Association by its chairman Peter Brijs (OneMBA2013), who is project manager at the Dutch Ministry of Economic Affairs.
Graduate Gene Jamieson stood up in front of the audience with a humorous presentation in news parody style. It included fun facts, short videos, funny photos and several 'fake news' jokes, followed by a collection of visuals and photo collages of the Class of 2019's experiences and special moments over the past two years. 
The graduation event concluded with a festive celebration dinner on the sunny terrace at Maria's Cantina on campus.
Global Executive OneMBA 
The Global Executive OneMBA is the only Executive MBA programme designed with equal input from five premier business schools located in Asia, Europe, North America and South America. 
Designed for senior executives and professionals, this prestigious 21-month programme offers business professionals the opportunity to experience business through the lens of the world's most important economic regions, making it unparalleled in its development of knowledge, leadership abilities, global networks and experience of international business where it happens, as it happens.
More information
Rotterdam School of Management, Erasmus University(RSM) is one of Europe's top 10 business schools. RSM provides ground-breaking research and education furthering excellence in all aspects of management and is based in the international port city of Rotterdam – a vital nexus of business, logistics and trade. RSM's primary focus is on developing business leaders with international careers who can become a force for positive change by carrying their innovative mindset into a sustainable future. Our first-class range of bachelor, master, MBA, PhD and executive programmes encourage them to become critical, creative, caring and collaborative thinkers and doers. Study information and activities for future students, executives and alumni are also organised from the RSM office in Chengdu, China. www.rsm.nl
For more information about RSM or this release, please contact Marianne Schouten, communications manager for RSM, on +31 10 408 2877 or by email at mschouten@rsm.nl.
Type
Alumni , Companies , Executive education , Homepage , In the spotlight , International , Newsroom , MBA , Strategic management and entrepreneurship , EC for women and organisations , China
Related