RSM and Finext create training to master performance management
Date
Thursday, 18 July 2019
Enterprises operating in a world full of uncertainties see demand affected in ways that are not yet understood. New complexities and challenges add risk to financial plans. Modernising finance functions is often part of the response, but what are the best practices for modernising and mastering performance management? Professionals can learn and network in a new series of masterclasses, offered by Rotterdam School of Management, Erasmus University (RSM) and consultancy experts from Finext.
---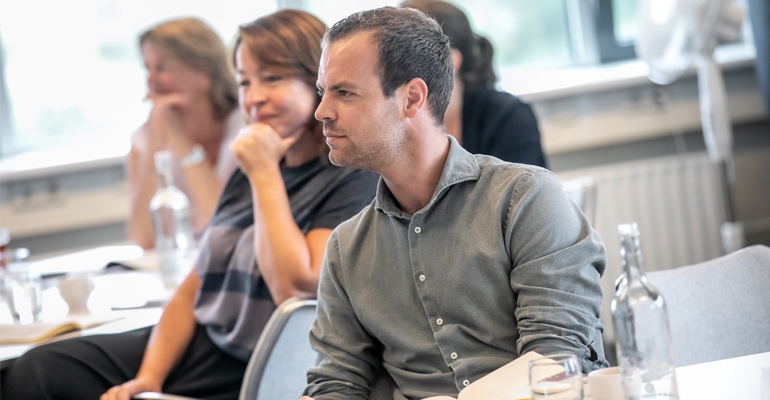 ---
The masterclass series Mastering Performance Management signposts the way for businesses to work through the modernisation processes needed to keep up with change. The five evening sessions will be complemented by guest speakers from the industry and plenary discussions.
Changing finance functions
The programme brings together the newest insights from the academic and the practical side of finance, performance management, planning, and forecasting. It was developed by RSM Executive Education, in collaboration with Finext. It is aimed at professionals with at least 10 years of management experience who seek to add business value by making changes to finance functions and by managing performance. It can benefit business controllers, group controllers, managers with responsibilities for business analytics, and finance managers.
"The rapidly changing environment that companies operate in also affects their finance and other business functions. It is therefore imperative to stay up-to-date with the newest developments on the modernisation of these functions," says Patrick Tullemans from Finext Performance Management.
AI and big data
Participants will learn how to identify where effective changes can be made and what works best in practice, organise finance teams to cope with developments in AI applications and cloud computing, apply budgeting planning and forecasting while addressing pitfalls and dysfunctions, work with big data applications to bring value to the business, set targets and measure performance while preventing dysfunctional effects, and understand how integrated reporting can drive value creation, and how to use it.
The first run of Mastering Performance Management will start in September 2019. The evening sessions will take place on 5 September, 3 and 31 October, 28 November 2019, and 9 January 2020.
More information
Finext comprises a family of consultancy companies, and has implemented the leading Enterprise Performance Management (EPM) solutions for a variety of customers throughout Europe for almost 20 years. It has almost 100 experienced, skilled and certified EPM professionals, and is one of the largest independent EPM consulting firms in the Benelux. Finext enables better control, reliable figures and fast reports from stable applications using the combined expertise of infrastructure and installation, consulting and implementation, and maintenance and support. www.finext.nl
Rotterdam School of Management, Erasmus University (RSM) is one of Europe's top 10 business schools. RSM provides ground-breaking research and education furthering excellence in all aspects of management and is based in the international port city of Rotterdam – a vital nexus of business, logistics and trade. RSM's primary focus is on developing business leaders with international careers who can become a force for positive change by carrying their innovative mindset into a sustainable future. Our first-class range of bachelor, master, MBA, PhD and executive programmes encourage them to become critical, creative, caring and collaborative thinkers and doers. Study information and activities for future students, executives and alumni are also organised from the RSM office in Chengdu, China. www.rsm.nl
For more information about RSM or this release, please contact Marianne Schouten, communications manager for RSM, on +31 10 408 2877 or by email at mschouten@rsm.nl.
Type
Alumni , Companies , Executive education , Finance , Homepage , International , Newsroom , China
Related