Graduate survey: "It's up to our generation to end climate crisis"
Date
Monday, 25 November 2019
According to an international survey among master graduates of the Global Alliance in Management Education (CEMS), 80 percent of these 'millennials' believe it is their generation's responsibility to find the solution to climate change. Among the young professionals from 40 different countries and are mostly in their early 20s, are recent graduates from the MSc International Management/CEMS programme at Rotterdam School of Management, Erasmus University (RSM).
---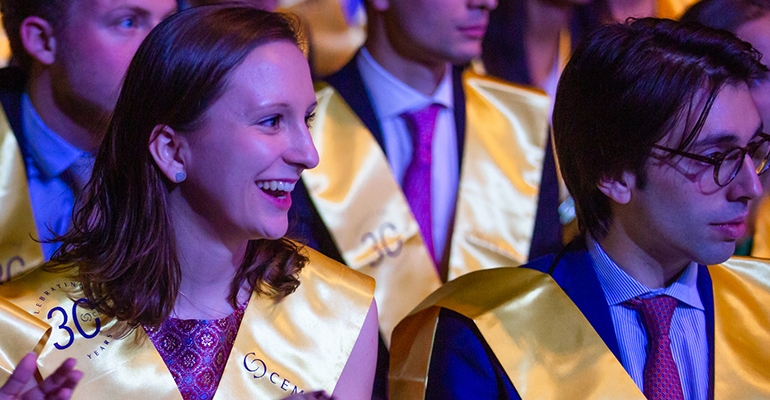 ---
Of the 333 survey respondents, many of whom will go on to become business leaders and entrepreneurs, more than half (51 per cent) were confident that people will find a solution to the problem, while 49 per cent were not confident, reflecting the global air of uncertainty.
Professor Gregory Whitwell, chair of the CEMS Global Alliance said graduates clearly "understand that climate change is not just an environmental concern. They know that businesses and governments need to work together for the survival of the planet." He added that the graduates believe that their generation will be required to be the change-makers and do not take this responsibility lightly.
Dr René Olie, Academic Director of the International Management/CEMS programme at RSM, says: "These findings confirm our school's mission to be a force for positive change. Through our programme we help our students become such change-makers."
RSM's CEMS students join participants from across Europe annually at the UN climate negotiations simulation, and the school organises sustainability events to trigger ideas, create networks and finding a sense of purpose in students' business careers.
Climate action through business education
CEMS is dedicated to prepare future leaders who are equipped with not only the passion and knowledge needed to tackle climate change, but also the skills required to transform organisations from the inside out, said Professor Whitwell. "Across the globe we see our graduates carrying their commitment to the environment and sustainability from the classroom into the business world, as transformative leaders and entrepreneurs."
Prof. Whitwell added: "It is crucial that businesses and governments act on the ambition of these young people if they hope to secure the future of the planet. "Who better than the future generation of leaders with their energising can-do attitude to convert such enormous challenges into solutions?"
CEMS is an alliance of 32 of the world's leading business schools, 70 corporate partners and 7 NGOs, which deliver the CEMS Master in International Management (MIM). CEMS aims to develop high-quality graduates with a well-developed global mindset, in preparation for an international career in business.
More information
Rotterdam School of Management, Erasmus University (RSM) is one of Europe's top 10 business schools. RSM provides ground-breaking research and education furthering excellence in all aspects of management and is based in the international port city of Rotterdam – a vital nexus of business, logistics and trade. RSM's primary focus is on developing business leaders with international careers who can become a force for positive change by carrying their innovative mindset into a sustainable future. Our first-class range of bachelor, master, MBA, PhD and executive programmes encourage them to become critical, creative, caring and collaborative thinkers and doers. Study information and activities for future students, executives and alumni are also organised from the RSM office in Chengdu, China. www.rsm.nl
For more information about RSM or this release, please contact Marianne Schouten, communications manager for RSM, on +31 10 408 2877 or by email at mschouten@rsm.nl.
Type
Alumni , Bachelor / Bedrijfskunde , Bachelor / IBA , Companies , Homepage , International , Newsroom , Master , Sustainability , China , Positive change
Related