Gender-balanced leadership recruitment thesis wins KPMG Sustainability Award
Date
Tuesday, 21 April 2020
The winner of this year's KPMG-RSM Sustainability Master Thesis award is Dionne van der Nat, a recent graduate from the MSc Human Resource Management at Rotterdam School of Management, Erasmus University (RSM). Her thesis investigates gendered wording in managerial recruitment processes, and how organisations lose potential female applicants.
---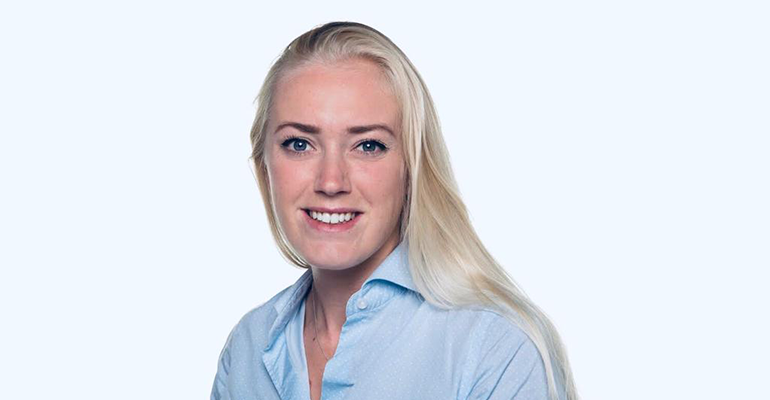 ---
The award winner was announced online on Monday 20 April 2020 by Eva Rood, director of the Positive Change initiative at RSM, and Jerwin Tholen, partner sustainability at KPMG Advisory NV. It's the 14th year that KPMG has sponsored the annual award for recent RSM master graduates that recognises research combining academic excellence and business relevance related to the management of sustainability. The winner receives €1,000, and the runner-up €500.
Women's inclination to apply for top-level positions
Van der Nat's thesis Gendered wording in managerial recruitment materials: How organizations lose potential female applicants addresses how the stereotyping of occupational areas and managerial experience influences women's inclination to apply for top-level positions. She conducted two studies in the Dutch labour market.
The first study tested different types of recruitment messages to candidates; results showed no significant difference between communal and aggregated messages on women's inclination to apply. For men, no effects were found at all. However, Van der Nat also found that managerial stereotypes for roles and requirements for managerial experience have a significant influence on women's inclination to apply.
Diversify applicant pool
Her second study tested whether managerial recruitment materials are perceived as 'masculine' or 'feminine' and what effect this has on potential candidates' inclination to apply. She found that women rate managerial recruitment materials as more agentic than men do – so they are less inclined to apply.
She concluded that these results have profound implications for both theory and practice; recruitment specialists can use her insights to enlarge and diversify the range of applicants for management positions.
War for talent
Jerwin Tholen of KPMG and chairman of the jury found the thesis very specific and its recommendations easy to implement. "Almost all companies have gender balance ambitions in top positions and there's still a way to go," he said. Members of the jury were Arjanne Hoogstad, manager sustainability at Coca-Cola European Partners; Cécile Rozé, board member at Rabo PGGM PPI; and Lars Crama, private lead at Up!Rotterdam.
Runner up: climate change research
The runner-up is Sam van Houten (MSc Business Information Management 2019). His thesis is entitled The price and volume dynamics of inland Rhine shipping in relation to climate induced water level changes.
In total, 117 master theses related to at least one of the UN's Sustainable Development goals and graded 8.5 or higher were considered for the Award. Other shortlisted theses were:
Marie Bonnot (MSc Global Business and Sustainability) for her thesis A contested concept: private sector engagement in refugee integration
Julie Loyson (MSc Global Business and Sustainability) for her thesis Money can make the economy go circular
Uli Fretzen (MSc Business Information Management) for his thesis Temporal city-scale matching of solar photovoltaic generation and electric vehicle charging
KPMG is a global network of independent member firms offering audit, tax and advisory services. The firms work closely with clients, helping them to mitigate risks and grasp opportunities. KPMG member firms can be found in 154 countries and territories. Collectively it employs 200,000 people across a range of disciplines. Sustaining and enhancing the quality of this professional workforce is KPMG's primary objective.
"Current students are our future leaders. KPMG collaborates with RSM to support the students who dedicate their thesis research to one of the greatest challenges of today and tomorrow," says Jerwin Tholen, partner sustainability at KPMG. "RSM's high-quality education provides us with the next generation workforce that has state-of-the-art knowledge from sustainability as a critical business issue with more and more technology driven analysis and solutions. Bright thinking and original solutions of today's students can help businesses to drive change."
---
More information
Rotterdam School of Management, Erasmus University (RSM) is one of Europe's top 10 business schools. RSM provides ground-breaking research and education furthering excellence in all aspects of management and is based in the international port city of Rotterdam – a vital nexus of business, logistics and trade. RSM's primary focus is on developing business leaders with international careers who can become a force for positive change by carrying their innovative mindset into a sustainable future. Our first-class range of bachelor, master, MBA, PhD and executive programmes encourage them to become critical, creative, caring and collaborative thinkers and doers. Study information and activities for future students, executives and alumni are also organised from the RSM office in Chengdu, China. www.rsm.nl
For more information about RSM or this release, please contact Marianne Schouten, communications manager for RSM, on +31 10 408 2877 or by email at mschouten@rsm.nl.
Type
Alumni , Companies , Faculty & Research , Homepage , In the spotlight , International , Newsroom , Master , Organisation and personnel management , Sustainability , EC for women and organisations , China , Positive change
Related