RSM joins €25 million project working on sustainable energy for ports
Date
Tuesday, 15 June 2021
Two organisations within Erasmus University Rotterdam (EUR) are part of a project that has been awarded nearly € 25 million in EU funding for a project that will improve the sustainability of ports in the European Union. In total 45 organisations will be collaborating in an international alliance working on a Horizon2020 project under the Green Deal Call to boost the green and digital transition. The Erasmus Centre for Data Analytics, hosted by Rotterdam School of Management, Erasmus University (RSM) and the Erasmus Centre for Urban Port and Transport Economics (Erasmus UPT) will have prominent and leading roles in several parts of the project that has been given the acronym MAGPIE: sMArt Green Ports as Integrated Efficient multimodal hubs. The project, led by the Port of Rotterdam, is expected to start in September 2021 and will run for five years.
---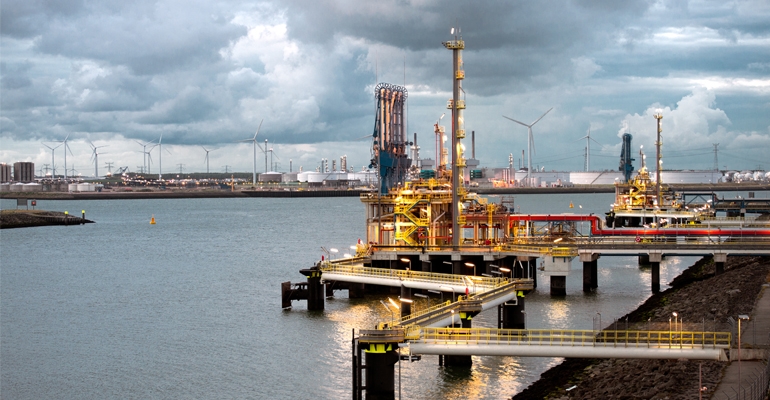 ---
The MAGPIE project will create demonstration and pilot projects in the living laboratory environment of the Port of Rotterdam, to advance technological, operational, digital and organisational aspects of energy supply for use in ports.
Speeding up sustainable port energy
In the years ahead, the transport sector is expected to transition to clean energy, but it's not yet clear which types it will adopt, and for which modes of transport. However, speeding up the implementation of sustainable energy and enhancing its roll-out on a larger scale is dependent on the development of new digital tools, new market mechanisms and non-technological frameworks. Here's where the expertise of the two specialist EUR centres will be used in the MAGPIE project.
Collaboration is key
Once the grant agreements and the formal selection process are satisfactorily completed, ECDA and Erasmus UPT expect to work on the pilot projects and do supporting research in various fields. They will collaborate closely with TU Delft, and with TNO, an organisation for scientific research and creating innovations in the Netherlands.
More details can be found in the EUR press release.
More information
Rotterdam School of Management, Erasmus University (RSM) is one of Europe's top-ranked business schools. RSM provides ground-breaking research and education furthering excellence in all aspects of management and is based in the international port city of Rotterdam – a vital nexus of business, logistics and trade. RSM's primary focus is on developing business leaders with international careers who can become a force for positive change by carrying their innovative mindset into a sustainable future. Our first-class range of bachelor, master, MBA, PhD and executive programmes encourage them to become critical, creative, caring and collaborative thinkers and doers. Study information and activities for future students, executives and alumni are also organised from the RSM office in Chengdu, China. www.rsm.nl
For more information about RSM or this release, please contact Erika Harriford-McLaren, communications manager for RSM, on +31 10 408 2877 or by email at harriford@rsm.nl.
Type
Alumni , Bachelor / Bedrijfskunde , Bachelor / IBA , Companies , Executive education , Faculty & Research , Homepage , In the spotlight , International , Newsroom , Master , MBA , Strategic management and entrepreneurship , Sustainability , Technology and operations management , China , Positive change , EC for data analytics
Related