EMBA Students Win Pitch Contest at the European Business Plan of the Year Competition
Date
Tuesday, 8 July 2014
Participants in the Executive MBA programme at Rotterdam School of Management, Erasmus University (ECE) recently traveled to London to participate in the European Business Plan of the Year Competition (EBPYC). Competing with seven international business schools, a panel of seasoned venture capitalists selected the team as winner of the best elevator pitch. In addition, the team managed to rank third in the final round of the competition.
---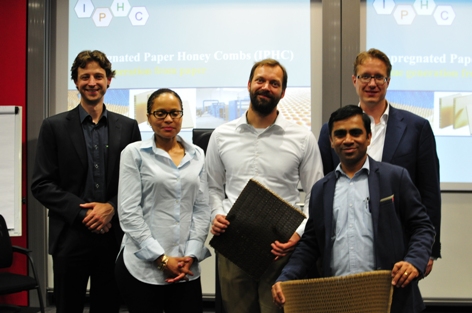 ---
The team's startup, IPHC (Impregnated Paper Honeycomb Company), aims to provide low-cost and durable alternative materials for diverse applications. Recognising a global demand for alternative raw materials which can be durable, light weight, and possibly water and fire resistant, the team - composed of Felicia Holness, Manish Batra, Leonard Schokker and Rudolf Wessels - set out to convert standard paper honeycomb that is currently available in the market, impregnate it with polyester resin, and cure it at elevated temperature in an oven. This process results in a strong, low cost material, known as "Impregnated honeycomb". The added value of the material is the big jump in its mechanical properties during the impregnation.
About EBPYC
The European Business Plan of the Year Competition (EBPYC) is one of Europe's longest running business plan competitions. It promotes entrepreneurship and new business creation among MBA candidates and helps them to develop and apply venturing, commercial, and business skills that are so vital in today's business world.
The MBA Startup Bootcamp organised by the Erasmus Centre for Entrepreneurship helped the team prepare for this highly competitive event. ECE mentors, including ECE partner BDO, provided the team with valuable feedback and coaching contributing to the team's achievement. In 2015, ECE will organise and host the competition.
Rotterdam School of Management, Erasmus University (RSM) is ranked among Europe's top 10 business schools for education and among the top three for research. RSM provides ground-breaking research and education furthering excellence in all aspects of management and is based in the international port city of Rotterdam - a vital nexus of business, logistics and trade. RSM's primary focus is on developing business leaders with international careers who carry their innovative mindset into a sustainable future thanks to a first-class range of bachelor, master, MBA, PhD and executive programmes. RSM also has offices in the Amsterdam Zuidas business district and in Taipei, Taiwan. www.rsm.nl
For more information on RSM or on this release, please contact Marianne Schouten, Media & Public Relations Manager for RSM, on +31 10 408 2877 or by email at mschouten@rsm.nl.
Type
Homepage, In the spotlight, Newsroom, MBA
Related