RSM research about management innovation wins EURAM Award in France
Date
Wednesday, 22 July 2015
PhD candidate Kevin Heij and Henk Volberda, Professor of Strategic Management & Business Policy at Rotterdam School of Management, Erasmus University (RSM) received the Best Paper Award during the EURAM Thematic Conference "Management Innovation: New Borders for a New Concept" at Montpellier Business School in France, last week. The award was handed out by Scientific Director Frank Larsch of Montpellier Business School for their paper How do new management practices influence a firm's innovation performance? The moderating role of organizational size.
---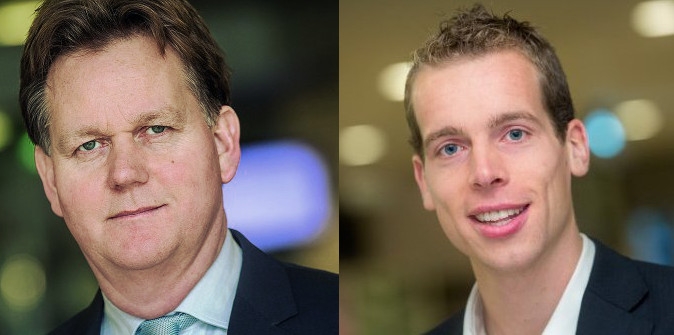 ---
In this study, researchers Kevin Heij and Henk Volberda examined how innovative ways of managing and organising contribute to a firm's innovation performance. For example how new organisational structures, decentralisation of decision-making, new rewards systems, new communication plans, new managerial practices concerning control and monitoring make up the management innovation 'self-managed teams', and contribute to a firm's innovation performance.
Organisational size
Heij and Volberda shed a new light on how organisational size – based on the number of employees – influences this relationship. Based on a large scale survey among 10,000 Dutch organisations, the researchers found that management innovation has an increasingly positive effect on a firm's innovation performance. However, the larger a firm, the more it has to overcome reduced levels of innovation performance before complementary effects among higher levels of new management practices pay off.
Innovation performance
The jury selected this paper for the EURAM Award because of its original approach to look at management innovation based on complementary effects among new management practices. In addition, the jury appreciated Heij's and Volberda's approach to go beyond the often usual linear effects by applying large-scale survey research. The jury was also impressed by the researchers' contribution to look at the moderating effect of organisational size in the relationship between management innovation and innovation performance instead of considering it as an antecedent.
More information
Rotterdam School of Management, Erasmus University (RSM) is a top-tier European business school and ranked among the top three for research. RSM provides ground-breaking research and education furthering excellence in all aspects of management and is based in the international port city of Rotterdam – a vital nexus of business, logistics and trade. RSM's primary focus is on developing business leaders with international careers who carry their innovative mindset into a sustainable future thanks to a first-class range of bachelor, master, MBA, PhD and executive programmes. RSM also has offices in the Amsterdam Zuidas business district and in Taipei, Taiwan. www.rsm.nl
For more information on RSM or on this release, please contact Marianne Schouten, Media & Public Relations Manager for RSM, on +31 10 408 2877 or by email at mschouten@rsm.nl.
Type
Alumni , Companies , Doctoral Programme , Executive education , Faculty & Research , Homepage , In the spotlight , International , Newsroom , Strategic management and entrepreneurship
Related