Enterprising bachelor students raise €25,000 for charity
Participants of the Dutch-taught Bachelor in Business Administration (Bedrijfskunde) at Rotterdam School of Management, Erasmus University (RSM), raised a whopping €25,397.73 for the KiKa Cancer-free Children Foundation in the new RSM Entrepreneurship Challenge, which is part of the programme's second-year course Exploratory Entrepreneurship. Around 140 teams, each consisting of three or four students, were given a €5 starting budget and five weeks to create as much value as possible, using the lean start-up method. The challenge resulted in a large number of creative ideas, and the funds for the good cause.
---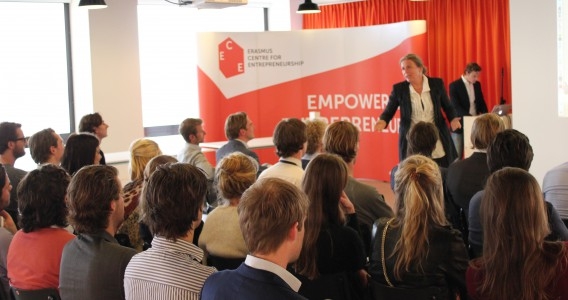 ---
Apart from supporting the KiKa Foundation, the new practical challenge was added to the business administration curriculum because research carried out by the RSM-affiliated Erasmus Centre for Entrepreneurship (ECE) shows that only six per cent of all Dutch students become entrepreneurs after completing their degrees. This constitutes a loss to society, in that value is not being created because university graduates are failing to use the opportunities they are given to establish companies of their own. However, RSM's average is higher than the national average – 10.8 per cent of RSM graduates go on to become entrepreneurs.
Entrepreneurship in curriculum
Studies have shown that students who have been exposed to entrepreneurship during the course of their degrees are more likely, statistically speaking, to become entrepreneurs after obtaining their degrees. Therefore, RSM is the only university in the Netherlands whose Bachelor degree in Business Administration includes a mandatory entrepreneurship subject. According to its initiator, lecturer Thijs Geradts, it's a must-have subject for business administration degree courses which meet the demands of the market.


The Exploratory Entrepreneurship course enables students to experience what it is like to create maximum value from limited resources, by thinking like an entrepreneur. It has proven to be an experience which brings out the entrepreneurs in students. The hands-on approach to the RSM Entrepreneurship Challenge shows that "student life is temporarily replaced by an entrepreneurial lifestyle," says second-year bachelor student Dewi Ramdaras. According to student Jamal Warner it is a useful experience. "Practising practical entrepreneurship taught my team things we hadn't learned in our regular courses," says Warner. "We consciously and subconsciously possessed all the skills required to meet the challenge head on and present ourselves as real entrepreneurs." The challenge piques students' entrepreneurial spirit, and teaches them to take initiatives.


A KiKa representative said "the students must have been very creative indeed to turn five euros into such a final sum." In order to celebrate this huge achievement in a festive manner, RSM will host the final of the RSM Entrepreneurship Challenge on 25 May 2016, in association with the Erasmus Centre for Entrepreneurship (ECE) and ECE students. The final will be contested on the ECE Campus. The three teams that achieved the greatest profit out of the 140 participating teams will pitch their ideas to an experienced jury, led by Harald Swinkels, an RSM alumnus and the founder of the Nederlandse Energie Maatschappij (Dutch Energy Company). In addition, Albert de Jong, CEO of A. De Jong Group and chairman of Excelsior football club, as well as entrepreneur, coach and investor Kees de Jong will share their experiences with the audience.
During the 25 May ceremony the most enterprising team will receive an award and prize, and a KiKa representative will take receipt of the funds raised through the challenge. The afternoon event will include an innovation and start-up market which will allow visitors to try out virtual reality glasses, see a 3D printer in action and get in touch with entrepreneurs. The event will conclude with festive drinks.
To attend the event, sign up here.
More information
Rotterdam School of Management, Erasmus University (RSM) is one of Europe's leading business schools, and ranked among the top three for research. RSM provides ground-breaking research and education furthering excellence in all aspects of management and is based in the international port city of Rotterdam – a vital nexus of business, logistics and trade. RSM's primary focus is on developing business leaders with international careers who carry their innovative mindset into a sustainable future thanks to a first-class range of bachelor, master, MBA, PhD and executive programmes. RSM also has offices in Chengdu, China, and Taipei, Taiwan. www.rsm.nl
For more information on RSM or on this release, please contact Marianne Schouten, Media & Public Relations Manager for RSM, on +31 10 408 2877 or by email at mschouten@rsm.nl.
Type
Alumni , Bachelor / Bedrijfskunde , Bachelor / IBA , Companies , Faculty & Research , Homepage , In the spotlight , International , Newsroom , Strategic management and entrepreneurship
Related