RSM students conquer HEC Paris business case competition
Date
Wednesday, 22 April 2015
Olga Szafonov and Anita Török from Rotterdam School of Management, Erasmus University (RSM) won the HEC Business Game, a two-day case competition organised by HEC Paris. The MSc in Strategic Management participants from RSM took first and second place among five challenges and ultimately won the overall competition against students from 30 other top business schools on 10 and 11 April 2015.
---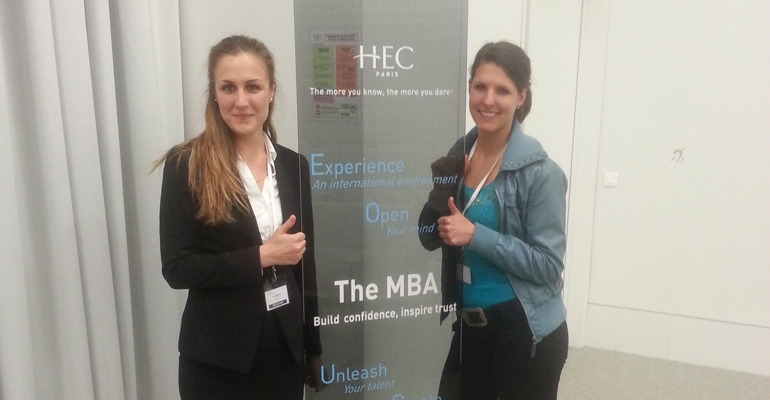 ---
After taking part in online test where business acumen and numerical skills were tested, 148 out of 257 participants were selected for the HEC Business Game 2015 in Paris. Olga Szafonov and Anita Török, two Hungarian participants in RSM's MSc in Strategic Management programme, were among the 148 top students to solve real-life business cases for multinational companies including Lufthansa Group, Crédit Agricole Corporate and Investment Bank, Lagardère, and Gameloft. Each company challenged participants on business areas such as innovation, corporate evolution, business development, or strategic change.
Teams of six were assembled randomly for each challenge, which had to be completed within four hours per case. The challenges were evaluated by company representatives after the teams presented their ideas to CEOs, HR managers and strategy executives. RSM's Szafonov and Török stood out for taking initiative, and their innovative and focused attitude to give feasible solutions.
Business challenges
The negotiation challenge from Crédit Agricole Bank included setting the value of a company that would later be sold. Szafonov and Török's team did the calculations and had to negotiate with another team of six that took the buyer's role. The online challenge by Gameloft was to choose a celebrity and construct a mobile game that would be the new hype. The strategy challenge for Lagardère was how to change its strategy to make it profitable again.
For Lufthansa Group's business development challenge, the RSM student's new team of six found a new revenue stream within the four hours based on Lufthansa Group's big data. "Having very limited information about the company's big data, we really had to use our grey cells and come up with an innovative idea that they haven't thought of before," said Török. "We later found out the limited information was exactly the trigger to come up with suggestions without constraints. Randomly throwing in crazy ideas for two-and-a-half hours finally brought us to an innovative solution."
International competition
Lufthansa Group also posed the students with the innovation challenge about what the future's workplace would look like and how Lufthansa can be an attractive employer based on this. Szafonov and Török won a six-week summer programme at HEC Paris with a value of € 2,000 for winning the competition. Both said that in addition to gaining business skills and knowledge, the overall experience in Paris was unforgettable.
"The huge auditorium was filled with excited and determined people," said Szafonov. "You could feel the energy in spite of two day's intense and concentrated work. It's really a competition you don't want to miss if you're an ambitious students looking for an international experience."
More information
Rotterdam School of Management, Erasmus University (RSM) is a top tier European business school and ranked among the top three for research. RSM provides ground-breaking research and education furthering excellence in all aspects of management and is based in the international port city of Rotterdam – a vital nexus of business, logistics and trade. RSM's primary focus is on developing business leaders with international careers who carry their innovative mindset into a sustainable future thanks to a first-class range of bachelor, master, MBA, PhD and executive programmes. RSM also has offices in the Amsterdam Zuidas business district and in Taipei, Taiwan. www.rsm.nl
For more information on RSM or on this release, please contact Marianne Schouten, Media & Public Relations Manager for RSM, on +31 10 408 2877 or by email at mschouten@rsm.nl.
Type
Alumni , Bachelor / Bedrijfskunde , Bachelor / IBA , Companies , Homepage , In the spotlight , International , Newsroom , Master