Social entrepreneurship case leads to oikos competition win for RSM
Date
Wednesday, 3 June 2015
PhD student Ona Akemu and Professor Gail Whiteman from Rotterdam School of Management, Erasmus University (RSM) won first prize in the social entrepreneurship track of the 12th annual oikos Case Writing Competition for their case Fairphone: Organising for Sustained Social Impact.
---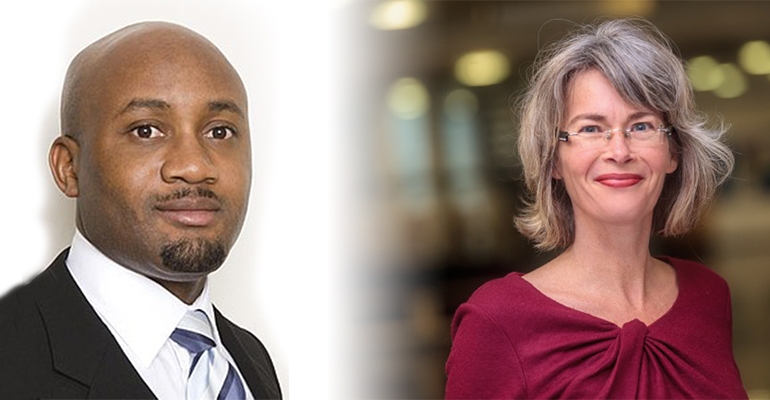 ---
In the 2015 oikos Case Writing Competition, 23 cases were submitted to the social entrepreneurship track. Onajomo (Ona) Akemu, a doctoral candidate in RSM's Department of Business & Society Management, and Gail Whiteman, Professor of Sustainability Management & Climate Change, wrote the case in collaboration with Tao Yue from RSM's Case Development Centre.
Societal challenges
The case by Akemu and Prof. Whiteman examines the emergence of and challenges facing start-up social enterprise Fairphone, based in Amsterdam, the Netherlands. It is the brainchild of RSM doctoral student, Ona Akemu, and based upon his in-depth ethnographic study of the company.
"Ona Akemu is a talented scholar, independent and driven – in many ways similar to the innovative founders of Fairphone," says Prof. Whiteman. "I think the case offers students the opportunity to learn how to dream big and at the same time address pressing societal challenges."
The Fairphone case
Founded by industrial designer Bas van Abel with a mission to "produce a seriously cool smartphone putting social values first," Fairphone aims to produce a competitively priced, aesthetically appealing, mid-range smartphone in a way that ameliorates the dark side of the mobile phone industry such as the use of conflict minerals, poor working conditions in East Asian factories, and electronic waste dumped in developing countries.
At its launch in January 2013, Fairphone had no distribution network, no phone and no customers, and none of its founding employees had experience in the mobile phone industry. But by February 2014, Van Abel and the Fairphone staff had produced and delivered 25,000 "fair" smartphones to customers in 32 countries.
Scaling up the organisation
Having taken its first steps, Van Abel felt that Fairphone had to scale up production to become a "real" company in order to fulfill its dual mission. How should Fairphone reach a larger audience with its message and product? How should the organisation be designed in order to achieve this dual mission?
Meticulously researched and well-written, as reviewers commented, the Fairphone case tells an engaging story about a small socially-responsible start-up as it grapples to implement its vision in an often opaque mobile phone industry supply chain. The case also addresses multiple learning objectives including sustainable sourcing, the start-up life cycle and business scaling. Akemu and Prof. Whiteman illustrate how an entrepreneur's ad hoc decision-making exploits serendipitous events to create an entrepreneurial opportunity, reveals the messy, contingent nature of the start-up phase of a company, and triggers students to think about the tensions involved in building a social enterprise to achieve a social and economic mission.
High-quality teaching cases
Launched in 2003, the oikos Case Writing Competition promotes the creation of high-quality teaching cases in one of three tracks: corporate sustainability, social entrepreneurship, and sustainable finance. An international panel of 40 leading faculty evaluates the cases in a double-blind review process and gives feedback to all authors. For each of the three tracks the judging committee selects the winners and runners-up. The first prize amounts to 5,000 Swiss Francs (approximately €5,000). Partners of the programme include Ashoka, a global organisation that identifies and invests in leading social entrepreneurs, and the Aspen Institute, which supports integration of sustainability in business education.
Rational logic of enterprise creation
The jury reports states that Akemu and Prof. Whiteman's case "contrasts in a pedagogically clever way the assumed rational logic of enterprise creation with the more heuristic path, which is often true, but neglected in the academic literature."
Other reviewers said the case demonstrates "a very real and often unacknowledged part of doing business," and that it "quickly shows how a simple idea becomes incredibly complex in its execution. That same complexity, interdependence of variables and emergent behaviour is then also exactly what makes it happen. The case is very well-written to show this emergent and search process. The Fairphone case can be used for a variety of purposes and theoretical angles."
The inspection copy of the case can be found in the oikos Case Collection and the full case will also soon be available for purchase at The Case Centre.
More information
Rotterdam School of Management, Erasmus University (RSM) is a top tier European business school and ranked among the top three for research. RSM provides ground-breaking research and education furthering excellence in all aspects of management and is based in the international port city of Rotterdam – a vital nexus of business, logistics and trade. RSM's primary focus is on developing business leaders with international careers who carry their innovative mindset into a sustainable future thanks to a first-class range of bachelor, master, MBA, PhD and executive programmes. RSM also has offices in the Amsterdam Zuidas business district and in Taipei, Taiwan. www.rsm.nl
For more information on RSM or on this release, please contact Marianne Schouten, Media & Public Relations Manager for RSM, on +31 10 408 2877 or by email at mschouten@rsm.nl.
Type
Alumni , Business-Society Management , Companies , Doctoral Programme , Executive education , Faculty & Research , Homepage , In the spotlight , International , Newsroom , Strategic management and entrepreneurship , Sustainability