Alumni awards: leading by example
Date
Thursday, 30 November 2017
Meet three outstanding alumni from Rotterdam School of Management, Erasmus University (RSM) who live on three different continents, work in different industries but who all have a strong desire to make a positive change to business and society. Their excellence – and ambitions – were recognised in this year's annual RSM Distinguished Alumni Awards (DAA).
Story by Dorine Schreiner 
---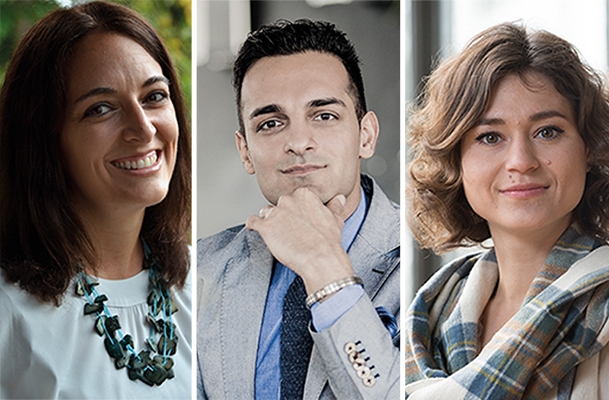 ---
The award recipients were chosen from RSM's more than 36,000 alumni worldwide by the RSM community, and were announced at the RSM Leadership Summit on 6 October 2017. These distinguished RSM alumni were nominated by members of the RSM community in the categories social impact, entrepreneurial spirit or business achievement. The winners were chosen through online votes and three jury members, all previous DAA winners: Christine Lim (2016), Niels Eldering (2015), and Feike Sijbesma (2009).
Creating value in Africa
Elizabeth Rogers (International Full-time MBA 2013), who won the social impact award, founded Kuunda 3D and now runs the organisation with assistance from her MBA classmate Cynthia Kahumbura. The profitable company, which is based in Kenya and Tanzania, enables entrepreneurs in East Africa to use innovative technology to create jobs, spark innovation and develop new business.
'When people have access to 3D printing services, they can create something out of nothing or simply by-pass a lengthy supply chain to get essential medical tools,' Elizabeth says, adding that she collaborates with businesses and NGOs to help print 3D educational tools for schools, medical devices, prosthetics, and microscopes to check for clean water. 'It brings me joy to see the look on someone's face the first time they see a 3D printer at work, especially when it's someone with little to no access to innovative technologies.'
Kuunda 3D incorporates positive social impact goals in its company strategy and measures the results regularly, says Elizabeth. The British-Canadian alumna aims to create a culture of problem solving, learning, and freedom to work however her employees desire as long as the job gets done. 'I hope I'm laying the groundwork for this. Technology changes rapidly so flexibility is required, but I want to get to the point where I'm the one putting out the fires, not running daily operations. I want to continue to grow Kuunda 3D and look at more ways that innovations and technology can reach more entrepreneurs to creative positive change in under-served communities.'
Elizabeth has a clear business idea with a long-term impact to empower and enable entrepreneurs in East Africa with local solutions, says juror Feike Sijbesma. Fellow jury member Christine Lim agreed: 'It's important to teach people how to fish rather than give them a fish. Elizabeth's work is admirable. It's hard to navigate those markets, and be creative in helping local people have a better livelihood by understanding what they can do with 3D printing.'
Decentralising business structures

By founding a successful Germany-based online retailer of plus-sized clothing for women, entrepreneurial spirit award recipient Zahir Dehnadi (International Full-time MBA 2010) has reinvented business. For his company navabi, which has hundreds of thousands of customers worldwide, Zahir is devising an innovative model that makes work productive and fulfilling with mindful elements incorporated throughout most facets of the organisation.
'In our dynamic workplace, each person's talents can blossom. Our team goal is to transcend the typical limitations of organisations by creating an environment free of bureaucracy, stress, hierarchy and apathy,' he said.
The Iranian-German alumnus found a way to replace the hierarchical "predict and control" pyramid with a decentralised structure. Employees work in offices in Aachen and London and have multiple roles, often self-selected and fluid, Zahir explains: 'People don't have a pre-defined job description. Their actions aren't guided through a chain of command but by "listening" to the organisation's purpose. You don't have to be a director on paper to lead and inspire your team members or influence strategy.'
Juror Christine Lim: 'Zahir works in a female-focused industry, and his ability to attract top talent and grow his team says a lot about his leadership and entrepreneurial skills.'
By trying to genuinely care for employees and customers, Zahir says his workplace can become a model for generations to come. 'This new type of organisation means colleagues operate based on self and strength management, wholeness, and evolutionary purpose which is born from within.'
High-flyer in finance

Russian alumna Sofya Shuster (MSc Finance & Investments 2011) won the business achievement award for her fast, impressive career in banking, having become a vice-president at ING when she was 26. In addition to her new role in ING's US Real Estate Finance Origination team in New York City, Sofya recently became a "Sustainability Champion for Americas" to look for ways to strengthen ING's sustainability focus with other task force members. 
'Financial institutions play an important role in economic developments, and they have a lot of leverage to drive more sustainable behaviour from their clients, which would benefit the whole of society,' Sofya says, adding that she wants to initiate more industry-wide discussions on this topic. By providing clients with financing solutions, expert advisory services and secure payment platforms, banks help to support business growth, international trade and capital mobility, says Sofya. 'Banks must use their capabilities to drive positive change by helping their clients to make socially and environmentally responsible choices.'
Ultimately, Sofya aims to reach senior management level in the financial industry, support education-focused charities through volunteering and fundraising, and join the board of a charity. 'I want to become the best I can be, and leave a meaningful positive legacy behind,' she says.
The other RSM Distinguished Alumni Award nominees in 2017:
Entrepreneurial spirit
Ashley J. Swartz (International Full-time MBA 2001)
CEO, Furious Corp, USA
Kathrin Treutinger (BSc International Business Administration 2011)
Founder, Skinnovation, Austria
Social impact
Mark Durno (Executive MBA 2016)
Programme director, Rockstart, the Netherlands
Niek van Hengel (MSc Finance & Investments 2012)
Co-owner and social entrepreneur, Granny's Finest, the Netherlands
Paul Asbreuk (OneMBA 2009)
Co-founder and partner, Impology, the Netherlands
Type
Alumni , Companies , Executive education , International , Newsroom , Master , MBA , RSM Outlook , Sustainability , EC for women and organisations , China , Positive change , 2017 Winter RSM Outlook