ECWO: Prof. dr Angela Maas: A tireless advocate for women's hearts
Date
Tuesday, 2 June 2020
Maas is the elected representative of the Dutch Women's Council to the United Nations in 2020 and 2021.
In March, Prof. dr Angela Maas was due in New York in her role as the 2020 elected representative of the Dutch Women's Council to the United Nations – a mission that has now been extended to 2021. The director of the Women's Cardiac Health program at Radboud University was to speak to the UN about empowering women in healthcare as a way of moving women's health forward. But Maas' visit was interrupted by the global Covid-19 pandemic and her address postponed to a future date. She captured some key aspects of her presentation in an April article in the Maturitas medical journal that concluded with this powerful comment: "By improving leading positions of women in healthcare and supporting their unique values, all theme's connected with women's health will be put higher on the agenda and this will speed-up the realization of Sustainable Development Goals 3 and 5 in 2030." Her role as the Dutch Woman Council's UN representative brings together the two most important aspects of Maas's life. Indeed, for the past two decades, Maas has been known as the "cardio-feminist" for her expertise in cardiovascular diseases in women and her ongoing advocacy for gender equality in healthcare, as captured in the recent documentary, The Battle for the Woman's Heart. We spoke to her about the role of women patients in her professional journey, how women can advocate for their own health, the obstacles she's faced in putting women's health on the cardiology agenda, her acclaimed book (which is being published in English in September) and her love of art.
---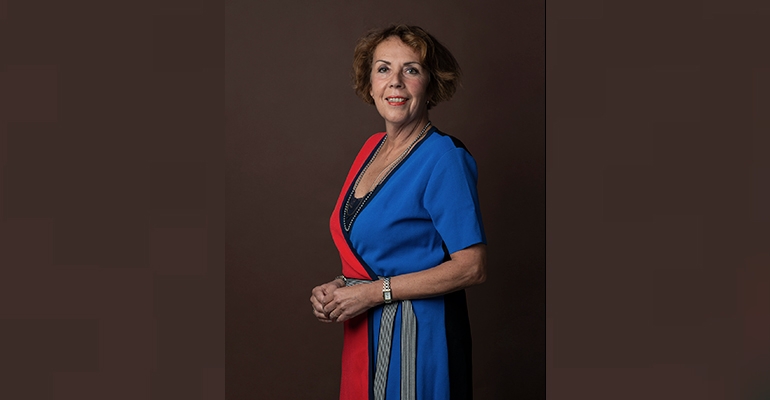 ---
You are known as the cardio-feminist of the Netherlands. How did the heart come to be a site of feminist activity?
In my case, it was because of my patients. After gaining my medical degree at Groningen Medical Center, I trained in the Department of Cardiothoracic Surgery at St. Antonius Hospital in Nieuwegein. It has, of course, changed since then but in the 1980s only one woman was accepted for training every five years and the culture was quite macho. During my training it struck me that our women patients were different; that they didn't fit into the diagnosis we thought would apply to them. Then, when I was working as a cardiologist at Rijnstate in Arnhem in the early 1990s, I was confronted by a patient who was angry with me because I wasn't answering her questions or able to tell her why she had her complaints. It really hit home. In the early 1990s, the first papers were published, looking at the difference between male and female patients and I started to follow the literature on the subject. A really important moment came in 2000 when I attended the first conference on women and heart disease in Victoria Island, Vancouver. It was very inspiring and, when I returned, I set my intention to start a women's outpatient clinic in the Netherlands. I had moved in 1992 to the Isala Clinics in Zwolle where I specialised in cardiology for women and in 2003 the outpatient clinic became a reality. Since moving to Radboud in 2012 I have continued with this and also run the research fund, Hartvoorvrouwen (Heart4Women).
We love the fact that you do not shy away from using the word feminist to describe yourself and your work. Do you recall your own awakening as a feminist? And as an activist?
I was an activist in the 70s when I was a student and I was in the slipstream of the second-wave feminist movement - and these laid the foundation for my personal and professional life. During my career as a cardiologist I gradually realised that I was naturally incorporating my student activism as a feminist into my work as an advocate for women's healthcare. It was never on purpose.
Did you ever imagine that you would set off on a journey that would see you eventually occupy the first ever chair in Cardiology for Women at Radboud University in 2012?
I never imagined it was possible. It was only in 2011 that such an academic position appeared on the horizon and I felt strongly that I was the right person for it.
Indeed. You had the qualifications, had done all the groundwork and been a longstanding advocate for the female heart. There must, however, have been many obstacles on your journey. How did you manage these?
In several ways, but an important one was being able to take advantage of a very good coach, fairly early on in my journey as a cardio-feminist. I was able to access my first coaching as a member of the VNVA – the Association of Dutch Female Physicians – and then I engaged another coach in 2010.
What was it about coaching that helped?
Both my coaching experiences, along with the support of my husband, helped me manage the frustrations of working in a medical speciality that is still somewhat macho - and where women are still, to some degree, invisible. It hurts patients and, if I am to be honest, it hurts me too. In April I was on Margriet van der Linden's NPO television show, discussing the film The Battle for the Woman's Heart. It's an important film by Hella de Jonge that shows the struggles faced by women heart patients and it includes extensive interviews with medical professionals and researchers – myself included. Although it got a great response and drew many new people into an important conversation, there was no mention of it during a meeting I had with colleagues the next day. That is not because of the people I work with. My colleagues are really nice. It's about the invisibility of women in science in general and the deep-seated resistance to discuss women.
Cardiology is demanding under normal conditions, but you've got the added layer of being an advocate for a women within it. What has kept you moving forward?
My motivation comes from the patients. I have such a long waiting list – all for second opinions - and all the patients I talk to are frustrated. Many have had six, seven or eight years without a proper diagnosis. Just listening to them enables me to diagnose what is wrong with them, sometimes in just a few minutes. What is more difficult is getting to an appropriate treatment.
You talk about this in your highly influential book Hart voor vrouwen which has been translated into German and will soon be available in English. Do you enjoy the process of writing about your work, as a way of bringing it to a wider audience?
When I set out to write the book I had everything that I wanted to capture in my head. All I needed was the time to write. Then, a few years ago I made a statement on TV that cardiology care should be better for women in the Netherlands and it really set off a firestorm. Other cardiologists were mad at me and called my department head who was also angry with me. It was a very difficult time, and for three months I was silent. But then I got my power back and decided that I wanted to negotiate writing time with my department head. I said that he'd been harsh with me and now I wanted to spend a week writing my book. He agreed and I went to an academic writing centre in Greece and was able to get it done. I wrote the book as an easy read for non-doctors and I am happy that its accessibility is going to be increased with the upcoming English translation to be published on World Heart Day in September this year.
You were named Most Influential Woman 2019 by Dutch feminist magazine, Opzij. What did it mean to be recognised by the feminist community?
I think it's important that women embrace each other. It was also wonderful to be recognised for the issues that I stand for. You can see, with COVID-19, how vital it is to all of us to support women working in healthcare. Women are the majority in the healthcare workforce and this pandemic has shown how important it is that they stay healthy and are given the assistance they need with childcare and the other duties that still fall to women in the home. You can also see how the pandemic affects the health of men and women differently. It was, however, disappointing to only see men in the briefings we've been getting from the Dutch government. I was also appalled to see President Trump refer to Dr Deborah Birx, the White House coronavirus task force co-ordinator, as Deborah – and not according her the respect her career deserves by addressing her correctly. This is the way that men treat even high-profile women.
You were also recognised by the King of the Netherlands as an Officer in the Order of Orange Nassau in 2017. What did that mean to you?
My patients are always my primary motivation but the recognition, when it does come along, is gratifying.
All areas of socio-economic life need trailblazers and you are one. What keeps you motivated?
The erosion of women's rights is serious threat and that, along with my patients, keep me moving forward. We were due to have important discussions around this at the UN in March but they were suspended. As I wrote in the Maturitas article, over the past decades progress in women's health has been hampered worldwide by a large number of socio-cultural and political reasons. The current international gender-backlash is a serious threat to the fundaments of women's rights. There are an increasing number of right-wing governments that want to step back in time with regards to women's healthcare and other rights. But they are forgetting one thing: women have developed over the past decades. You cannot put women back to where we were many decades ago. We won't accept it.
How can women advocate for themselves, in their own healthcare?
I would advise women to try your best to communicate in a direct way. Men say 'I have chest pain. What is the cause?' and that is why they often communicate better with their doctor. Women tell a story but the timespan of a doctor's visit is short so it's better to prepare for your visit by conveying what your problem is and asking the doctor very direct questions. Don't hide yourself behind stress and don't apologies to your doctor for being in their office. You are there and you have a right to be there.
You are interested in art and music. What is it about creative forms like these that sustain you – both professionally and personally?
I'm a collector of paintings. I love Russian paintings and lately I have been collecting works by my friend Iris Viviana Pérez Romero. She is an artist from Santo Domingo who makes connections between hearts and painting. I did a two-year internship in Saint Elisabeth Hospital in Curaçao in the early 1980s and in 2019 I organised the first conference on heart disease for Caribbean women on the island. It was attended by about 120 MDs and, as part of it, I organised an exhibition of women Caribbean artists. Iris was one of them. This was followed by a one-day conference in Santo Domingo itself in February this year where we combined art and creativity with our conference on women and heart disease.
It sounds like your advocacy is by no means slowing down ...
I love this part of my work. I am hoping to organise conferences on women and their hearts in other Caribbean countries. I am also a senior member of the Women as One organisations started by Dr. Roxana Mehran and Dr. Marie Claude Morice, two internationally recognised leaders in cardiovascular care and research. It's a wonderful organisation that aims to enrich the global talent pool in medicine through the development of professional opportunities for women physicians. I am a senior member who looks at the career plans of young women cardiologists and it's gratifying work. Roxana is the leader of the Lancet Cardiology Women's Commission and she would have been with me at the UN. I am inspired by working with women like Roxana and Marie Claude to strengthen the pipeline of women in leadership in the health field.
More information
The Erasmus Centre for Women and Organisations (ECWO) is committed to women's continued advancement into leadership positions across multiple sectors – from multinationals and start-ups to not-for-profit organisations. ECWO supports gender-balanced leadership through its management education, research and events about gender equality, and by coaching female business leaders. Its strong network leads to women empowerment and gender equality to the benefit of business and society.