OneMBA residency brings Eastern and Western European views together
Date
Thursday, 23 May 2019
OneMBA students, graduating in June 2019, came together for their fourth and final global residency: the Global Residency Europe. Earlier this month, the students from five universities across the world started their one-week European business education adventure at Rotterdam School of Management, Erasmus University (RSM), after which they explored business in the Netherlands and Poland through lectures, company visits and by sharing experiences from various industry backgrounds and cultures.
---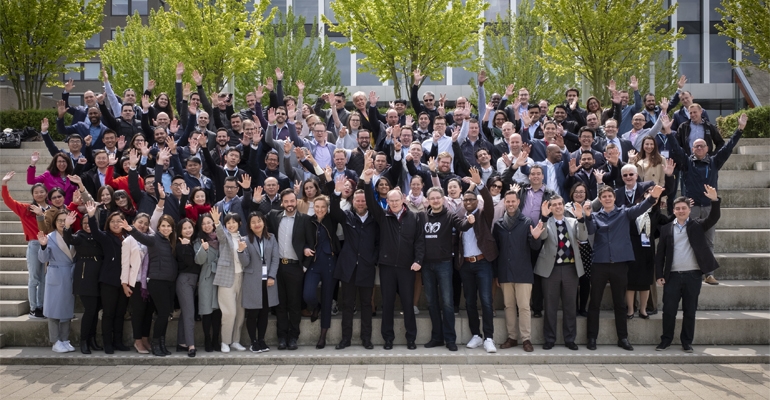 ---
The 111 Executive Global OneMBA participants travelled to two cities: Rotterdam in the Netherlands, and Warsaw in Poland. The students and several OneMBA alumni were hosted by RSM and RSM's partner in Poland, Gdansk Foundation for Management Development (GFKM).
A triple perspective
"The European Residency brought us fresh views from global business executives, where Eastern and Western parts of the world come together in Europe. We exchanged experiences and enhanced different opportunities," said Irakli Svanidze, a participant in RSM's OneMBA Class of 2019.
At the opening event on Monday 6 May, students heard from RSM's Dean Prof. Steef van de Velde and Martin Sutton, academic facilitator for the European global residency. Sutton provided a triple perspective on Europe including economics, politics and energy security.
Dr Koen Berden, managing director of Trade Impact, spoke about the status of the European economy. Prof. Pursey Heugens, professor of organisation theory at RSM, discussed the balance of powers when doing business in Europe.
Strategic initiative project
The global teams presented their outcomes from the six-month Global Strategic Initiative Project on Tuesday 6 May. The student presentations were observed by their peers, professors of global strategy, and several OneMBA alumni entrepreneurs. The alumni spoke in a panel session about their experiences, the student presentations and Q&A. The entrepreneurs were: Laurence Anjoras (founder of ANN EVA), Ellie Karssemakers (founder of Wanderwatch), Fleur Sluijter (founder of Springlife Medical) and Erik Wellen (head of Solis Laser Lighting).
Students visited three companies in Rotterdam: innovation hotspot RDM Next, e-commerce organisation ISMeCompany, and global dredging, offshore contractor and maritime services provider Boskalis.
Experiences from a prime minister
The next day, students had an open question session with former Dutch Prime Minister Prof. Jan Peter Balkenende. He answered questions about the economy, business, corporate social responsibility, and his experience as an EY advisor.
Participants then flew to Warsaw, Poland, where they were welcomed by Prof. Andrzej Popadiuk, president of the board at GFKM in Gdansk.
Polish consumer behaviour
The programme in Poland included an impressive line-up of speakers, including Jerzy Hausner (economist and former Deputy Prime Minister of Poland), Pawel Ciacek (client service director at Kantar), Slawomir Ronkowski (communication and sustainability director at LPP Foundation), Monika Płocke (head of banking technology software engineering at Nordea AB), and Marek Kacprzak (journalist and lecturer).
Topics included the state of the Polish economy, consumer behaviour in Poland, sustainable development, cross-cultural team working and the media industry.
In Poland, students also visited local companies: VR software company Tomorrow, industrial development agency ARP, national stadium PGE Narodowy, cosmetics company Dr Irena Eris, the Polish Investment and Trade Agency, and the PKP Polish State Railways.
Culturally diverse workplaces
On the last day, students immersed into Polish culture in the 'Warsaw City Challenge'. They were divided into new sets of teams and encouraged to partner with students they had not done any global teamwork with before.
"Working with global teams in the OneMBA has prepared me to be able to work in any culturally diverse workplace," says Maria Jose Beltran Carrizosa, a OneMBA participant from EGADE Business School.
"What I liked most about the global residencies was to learn about the main economic indicators and cultural backgrounds of each region, the insights from private and public sectors of the challenges each company has in each region, and what their role has been in the global environment," she added.
To conclude their final global residency, students joined the OneMBA Closing Dinner with fine Polish cuisine and a traditional dance performance on Friday 10 May. Students heard from the OneMBA Executive Committee Chair Prof. Jorge Carneiro (FGV) as well as student representatives from each partner school: Alexandre Nicolini (FGV), Xuhong Lu (RSM), Jina Xue (XMU), Scott Hensley (UNC), and Alex Reyes and Amparo Pages (EGADE)
Global residencies
The global residencies are an essential element of the OneMBA experiential learning, where students from Rotterdam School of Management, Erasmus University (NL), EGADE Business School Tecnológico de Monterrey (Mexico), Escola de Administração de Empresas de São Paulo da Fundação Getulio Vargas (Brazil), University of North Carolina at Chapel Hill Kenan-Flagler Business School (USA) and School of Management, Xiamen University (China) come together.
"Global Residencies are the most exciting times of OneMBA journey, carrying valuable opportunities to explore differences in cultures, share viewpoints, travel across four continents and have fun together," said RSM OneMBA student Irakli Svanidze.
During the 21-month programme at their regional university, the global participants engage in four global residencies where they study best practices in each region of the partner schools, focusing on both developed and emerging markets and build global networks. This particular group met for the first time in September 2017 in Chapel Hill, North Carolina, USA with the start of their OneMBA for the Global Residency North America. Since then, the group have travelled together to the Global Residency Latin America (Brazil and Mexico in March 2018) and the Global Residency Asia (China and India in October 2018).
More information
Rotterdam School of Management, Erasmus University (RSM) is one of Europe's top 10 business schools. RSM provides ground-breaking research and education furthering excellence in all aspects of management and is based in the international port city of Rotterdam – a vital nexus of business, logistics and trade. RSM's primary focus is on developing business leaders with international careers who can become a force for positive change by carrying their innovative mindset into a sustainable future. Our first-class range of bachelor, master, MBA, PhD and executive programmes encourage them to become critical, creative, caring and collaborative thinkers and doers. Study information and activities for future students, executives and alumni are also organised from the RSM office in Chengdu, China. www.rsm.nl
For more information about RSM or this release, please contact Marianne Schouten, communications manager for RSM, on +31 10 408 2877 or by email at mschouten@rsm.nl.
Type
Alumni , Companies , Executive education , Homepage , International , Newsroom , MBA , China