Foundations of "Dutch discount" and Dutch "poison pills" explained in new book
Dr Abe de Jong, professor of corporate finance and corporate governance at Rotterdam School of Management, Erasmus University (RSM) and Dr Gerarda Westerhuis, assistant professor of history at Utrecht University, have published a new book (in Dutch) about the history of corporate governance and financing in the Netherlands during the 20th century. Entitled Over geld en macht. Financiering en corporate governance van het Nederlandse bedrijfsleven (On Capital and Power. Financing and Corporate Governance of Dutch Business), their book reveals the origins of several anti-takeover devices, which have been widely used by Dutch firms and are now attracting international firms for incorporation in the Netherlands. Dr Westerhuis and Prof. De Jong present their study today.
---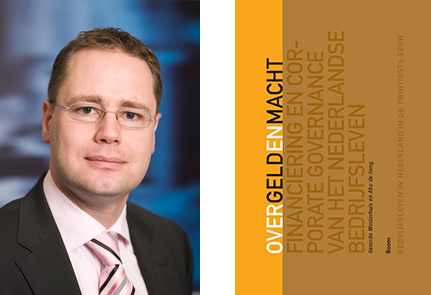 ---
In the upcoming initial public offering of ABN AMRO, the Dutch government has approved that instead of shares, the introduction will involve certificaten, i.e. certificates of shares. The shares will be held by a special foundation, called Stichting Administratiekantoor Continuïteit ABN AMRO Groep. In case of a takeover threat, this administratiekantoor (literally office for administration) can decide to cast votes independently from the preferences of the owners of the certificates. This device has proven to be a highly effective defensive strategy used against corporate takeovers – a "poison pill" to deter potential buyers.
Enhancing liquidity
The roots of the administratiekantoor are in the international activities of Dutch investors in the late 18th century, when administratiekantoren were the first investment funds, taking care of the collection of interest and dividend payments, and serving investor interests. In the early 20th century, administratiekantoren became active for Dutch stocks, issuing certificates with smaller nominal values compared to the underlying shares, in order to boost liquidity and increase stock prices. The offices were independent and investors could freely exchange certificates and shares.
Gerarda Westerhuis says: "Certificates initially were considered valuable for smaller investors and traded next to the ordinary shares. The administratiekantoren served the retail investors by enhancing the liquidity."
Anti-takeover devices
Until the 1950s, certificates and administratiekantoren were perceived as beneficial for investors. By then, Dutch corporations began to protect their boards against shareholder influence. In the Dutch and German two-tier board system, the boards of directors are of two separate entities: the management board (executives) and supervisory board (non-executives). Many firms created offices of administration that issued non-refundable certificates, denying shareholders to vote.
In those days, Dutch firms were legally obliged to serve the interests of all stakeholders and anti-takeover devices were broadly accepted to allow firm management and the supervisory board to be shielded from shareholder influence. Around 1970 two new arrangements were introduced. First, the idea of administratiekantoren as separate entities serving management interests was applied to preferred share issues with the objective to dilute the share of a hostile shareholder. In 2014, América Móvil faced such a foundation when targeting Dutch telecom firm KPN. A foundation related to KPN exercised an option to buy a number of preferred KPN shares diluting América Móvil's stake. An effective poison pill innovation dating from 1969 frustrated the Mexicans.
Shareholder rights
Second, in 1971 the Dutch government installed the 'structured regime law', which obliged large firms to have a supervisory board with members appointing themselves and the management board. Professor Abe de Jong argues: "With such legislation in place, firms hardly need to further limit shareholder influence. But, the societal consensus that protecting management enhances the contribution of corporations to society allowed Dutch firms to build effective anti-takeover walls."
In the 1980s and 1990s, the international comments on the so-called 'Dutch discount' due to a lack of shareholder influence led to a revision of the Dutch perception. Several strong advocates of more shareholder rights, such as retail investor platform VEB and institutional investor representative Eumedion successfully approached corporations via statements in the shareholder meetings and publications. Many firms decided to limit the number of devices in place until the recent crisis. In the past years, not only Dutch firms such as KPN and ABN AMRO are using the artefacts, but also foreign firms like US drug company Mylan are attracted to the remains of the rich Dutch financial history.
More information
Rotterdam School of Management, Erasmus University (RSM) is a top-tier European business school and ranked among the top three for research. RSM provides ground-breaking research and education furthering excellence in all aspects of management and is based in the international port city of Rotterdam – a vital nexus of business, logistics and trade. RSM's primary focus is on developing business leaders with international careers who carry their innovative mindset into a sustainable future thanks to a first-class range of bachelor, master, MBA, PhD and executive programmes. RSM also has an office in Taipei, Taiwan. www.rsm.nl
For more information about RSM or this release, please contact Marianne Schouten, Media & Public Relations Manager for RSM, on +31 10 408 2877 or by email at mschouten@rsm.nl.
Type
Accounting and control , Companies , Executive education , Faculty & Research , Finance , Homepage , Newsroom