RSM's exceptional performances will be celebrated at opening of academic year
Date
Friday, 18 August 2017
Tributes and prizes will be handed out to staff and students at Rotterdam School of Management, Erasmus University (RSM) during Erasmus University's ceremony to celebrate the opening of the 2017-2018 academic year on Monday, 4 September. Guest speaker will be Ahmed Aboutaleb, Mayor of Rotterdam. The awards are university-wide but RSM names appear in four out of the nine categories listed by Erasmus University, Rotterdam (EUR), and the nomination details show that RSM's mission to be a force for positive change has been recognised by the university as a whole.
---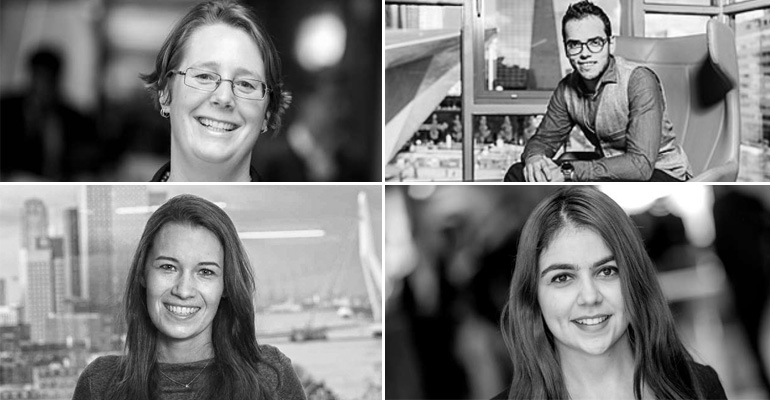 ---
In addition, for the first time, this year's ceremony will be moderated by a student: RSM's BSc IBA student Mayeul de Kerros, who sees himself as a 'culturally aware citizen', has been chosen to announce the ceremony.
Student in the spotlight
For the second year, an EUR student has been chosen to step into the spotlight to present an initiative which has been judged to have exceptional social impact. Teodor Cataniciu, a student of RSM's BSc International Business Administration will present his crowdsourced school initiative, Restart Network. Teodor was named by the Dutch Financial Times as one of the Netherlands' Best Entrepreneurs Under 35; featured in Forbes Magazine as one of Romania's 30 Under 30; spoke about technology and entrepreneurship at EUR's TEDx event as well as at the three biggest Dutch Universities and other tech events with audiences up to 1,000 people.
Outstanding research
Gizem Yalçin, a research master student at RSM, researching marketing, will be presented with the Professor Bruins Prize for excellent academic achievement and demonstrating outstanding research qualities.
Master excellence
RSM Alumna Fleur Osté will receive the Professor H.W. Lambers Prize for excellence in master studies. Fleur graduated from two of EUR's master programmes in 2015; business law with an LL.M at Erasmus School of Law and RSM's MSc Marketing Management, and is now Company Ambassador for Stichting Nederland Cares, which aims to increase the social engagement of young professionals by offering them flexible volunteering activities, and a brand manager for Unilever in London.
Top sustainable development
The Individual Top Support Award will be presented to Eva Rood, Co-director of the Centre for Eco-transformation at RSM and Business Development Manager for RSM's sustainability projects. She recently spoke at the Global Forum for Responsible Management Education in New York about introducing the UN's 17 Sustainable Development Goals (SDGs) as a framework for RSM course materials. The school's focus on sustainable development underpins its mission to be a force for positive change in the world.
Other prizes will be presented to academics, staff and students from across EUR. They are as follows:
Education Prize nominations:
Dr Payal Arora, associate professor, Erasmus School of History, Culture and Communication
Dr Etienne Augé, senior lecturer, Erasmus School of History, Culture and Communication
Professor Maarten Frens, Dean of Erasmus University College
Research Prize: Dr Sanne Opree, associate professor, Erasmus School of History, Culture and Communication
Brian Yuk Shouw Chung, a master student at Erasmus School of Economics
Rotterdam Thesis Prize presented to the student that wrote the most valuable thesis for the city of Rotterdam: Dee Dee Smeets, a master student of Public Administration, Erasmus School of Social and Behavioural Sciences, for her master thesis 'Single mothers & obligations'
ENVH Athena Prize for employees who make exceptional efforts to support female talent: Professor Werner Brouwer, Dean of the Institute of Health Policy & Management
Top Support Award (Team): the education project team for digital learning and working environment (DLWO).
Cities and citizens
This year's guest speaker at the ceremony will be Ahmed Aboutaleb, Mayor of Rotterdam, who will speak on the theme of Building Vital Cities, Empowering Vital Citizens. Kristel Baele, President of the Executive Board, and Professor Huibert Pols, Rector Magnificus will also speak.
More information
Rotterdam School of Management, Erasmus University (RSM) is one of Europe's top 10 business schools. RSM provides ground-breaking research and education furthering excellence in all aspects of management and is based in the international port city of Rotterdam – a vital nexus of business, logistics and trade. RSM's primary focus is on developing business leaders with international careers who can become a force for positive change by carrying their innovative mindset into a sustainable future. Our first-class range of bachelor, master, MBA, PhD and executive programmes encourage them to become critical, creative, caring and collaborative thinkers and doers. Study information and activities for future students, executives and alumni are also organised from the RSM office in Chengdu, China. www.rsm.nl
For more information about RSM or this release, please contact Marianne Schouten, Media & Public Relations Manager for RSM, on +31 10 408 2877 or by email at mschouten@rsm.nl.
Type
Alumni , Bachelor / Bedrijfskunde , Bachelor / IBA , Companies , Faculty & Research , Homepage , In the spotlight , International , Newsroom , Marketing Management , Master , Sustainability , EC for Future Energy Business , China , Positive change
Related