Early bird discount for RSM's open programmes 2016 for professionals
Date
Tuesday, 20 October 2015
Senior business executives and young professionals benefit from early registrations to open programmes at Rotterdam School of Management, Erasmus University (RSM) in 2016. The leadership programmes will enhance professionals' knowledge in all business areas, including marketing, finance and accounting, women in business, strategy, general management, and leadership. The early bird discount for RSM Executive Education's open executive programmes are valid until Monday 26 October.
---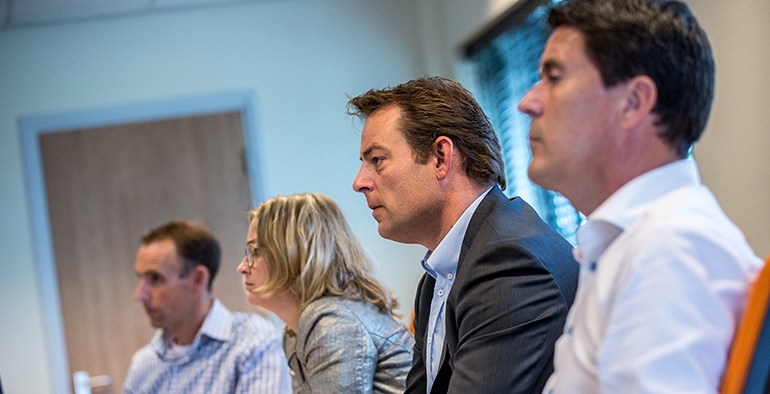 ---
An overview of RSM Executive Education programmes in 2016 can be found on the website and in the new Open Programme catalogue 2016. This year's most popular programmes – The Power of Storytelling; The Power of Presence; Finance for Non-financial Managers; and the Essentials of Leadership – will be offered again in 2016. In addition to re-occurring programmes, RSM continues to develop a complete portfolio of programmes to cover all business areas, including the new Diploma Programme in Customs and Supply Chain Compliance and Leadership Challenges with Big Data. "Our programmes are relevant, practical, based on the latest management research, and offered by world class academics," says Joanna Magala, director of open programmes at RSM Executive Education. "I'm proud that we can offer new programmes that appeal to business professionals."
Connecting business and knowledge
RSM's open executive programmes have proven to be popular among business professionals. Professor Frank Hartmann, Dean of RSM Executive Education, said earlier this year that this indicates a boost in ambition among business professionals and renewed confidence in the economy. "The improved economic climate creates room for investment in the skills and education of employees," said Prof. Hartmann, adding that RSM continues to play an increasingly important role in connecting the world of business and the world of knowledge. "The interaction between academics and professionals helps firms to thrive in society through RSM's academic values and knowledge," he said.
Professionals who sign up for an open programme before 26 October 2015, receive an early bird discount of 10 per cent if they include "early bird" in the comment field when registering. Alumni from RSM and Erasmus University Rotterdam receive an additional 10 per cent discount.
RSM Executive Education
RSM Executive Education helps professionals, at whatever stage in their careers, to understand and master complex business challenges. Its portfolio of customised in-house programmes and short open programmes provides participants with fresh insights and knowledge which can immediately be put into action to boost leadership skills and business acumen.
More information
Rotterdam School of Management, Erasmus University (RSM) is a top-tier European business school and ranked among the top three for research. RSM provides ground-breaking research and education furthering excellence in all aspects of management and is based in the international port city of Rotterdam – a vital nexus of business, logistics and trade. RSM's primary focus is on developing business leaders with international careers who carry their innovative mindset into a sustainable future thanks to a first-class range of bachelor, master, MBA, PhD and executive programmes. RSM also has an office in Taipei, Taiwan. www.rsm.nl
For more information on RSM or on this release, please contact Marianne Schouten, Media & Public Relations Manager for RSM, on +31 10 408 2877 or by email at mschouten@rsm.nl.
Type
Accounting and control , Alumni , Business-Society Management , Corporate Communication Centre , Companies , Executive education , Faculty & Research , Finance , Homepage , Newsroom , Marketing Management , Organisation and personnel management , Strategic management and entrepreneurship , Technology and operations management
Related