Evening masterclass explores NN Group's corporate citizenship strategy
Date
Tuesday, 13 December 2016
Business professionals, alumni and master students gathered at Rotterdam School of Management, Erasmus University (RSM) for the first of a series of masterclasses about global business and sustainability. The class, which featured an academic speaker and a practitioner, discussed how companies can effectively engage corporate community involvement (CCI). The evening masterclass took place on campus in Rotterdam on 30 November 2016.
---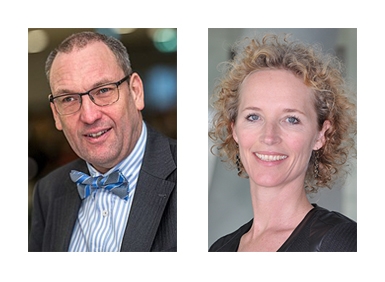 ---
The masterclass revealed new knowledge on corporate community involvement, and discussions with the audience focused on the how instead of the why. The 45 attendees, which included students from RSM's MSc Global Business & Sustainability programme and RSM alumni, explored if businesses should use their own corporate social responsibility (CSR) departments or a community intermediary to better reach their CSR objectives.
The academic speaker at the session was Professor Lucas Meijs, professor of volunteering, civil society and business in RSM's Department of Business-Society Management. Backing up the theory in practice, the business speaker was Fleur Hudig, head of corporate citizenship at NN Group, the parent company of Nationale-Nederlanden.
CSR: DIY or co-production?
Prof. Meijs presented the latest findings of his research group on the corporate foundation as a semi-external vehicle to implement CCI and corporate philanthropy. He illustrated the potential positive and negative consequences of 'outsourcing' based on the current research of PhD candidate Stephanie Maas who is comparing the connections between McDonalds and the Ronald McDonald charities in more than 50 countries, which shows this diversity.
Fleur Hudig from NN Group took the DIY perspective by telling the story of developing the new NN corporate citizenship strategy. In the process of becoming a standalone company, NN introduced a new set of corporate values, a CSR approach and as a consequence also a company-wide community investment programme, called NN Future Matters. Hudig showed that for her current frontiers can be seen as challenges to develop the programme further.
Employee participation
The masterclass ended with a lively discussion about the connection between corporate values and the CCI programme, followed by Fleur Hudig's challenging goal to further increase employee participation rates. This debate also represented a frontier in knowledge as it is not yet clear how high, or low, employee participation rates in a corporate community programme relate to the alignment of employees with the corporate values.
The discussion then focused on the limited external exposure that NN Group seems to receive from the programme and other related efforts such as the Dutch employee donation fund the Group runs, called Together for Society. Again, the answer showed a gap in current debate that does not fully understand that these programmes are more focused on internal stakeholders. Recent PhD graduate Lonneke Roza addressed this gap in her dissertation which she defended in September 2016. 
Global business and sustainability masterclasses
RSM offers you the best in continued learning through three state-of-the-art masterclasses. Each masterclass blends theory and practical insight about a topical issue, as our faculty members team up with leading practitioners to deliver a series of unique evening masterclasses. These sessions will not only broaden your knowledge on the latest developments in global business and sustainability, they will also serve as an opportunity for you to share your experiences and network. The next masterclass, themed 'Leading and making change through effective communication', is on Wednesday 8 February 2017. Click here for more information and registration.
More information
Rotterdam School of Management, Erasmus University (RSM) is one of Europe's top 10 research-based business schools. RSM provides ground-breaking research and education furthering excellence in all aspects of management and is based in the international port city of Rotterdam – a vital nexus of business, logistics and trade. RSM's primary focus is on developing business leaders with international careers who carry their innovative mindset into a sustainable future thanks to a first-class range of bachelor, master, MBA, PhD and executive programmes. Study information and activities for future students, executives and alumni are also organised from the RSM office in Chengdu, China. www.rsm.nl
For more information about RSM or this release, please contact Marianne Schouten, Media & Public Relations Manager for RSM, on +31 10 408 2877 or by email at mschouten@rsm.nl.
Type
Alumni , Business-Society Management , Companies , Parttime Master Bedrijfskunde , Faculty & Research , Homepage , International , Newsroom , Master , MBA , Organisation and personnel management , Sustainability
Related