Book and mini conference on global corporate foundations
Date
Wednesday, 7 November 2018
Managing effective corporate foundations requires preparation as well as a proactive strategy. In the handbook Corporate Foundations: Corporate and Civil Society Perspectives, the role of corporate foundations around the world is explained by Dr Lonneke Roza and Professor Lucas Meijs from Rotterdam School of Management, Erasmus University (RSM), and their colleagues from the University of Basel.
---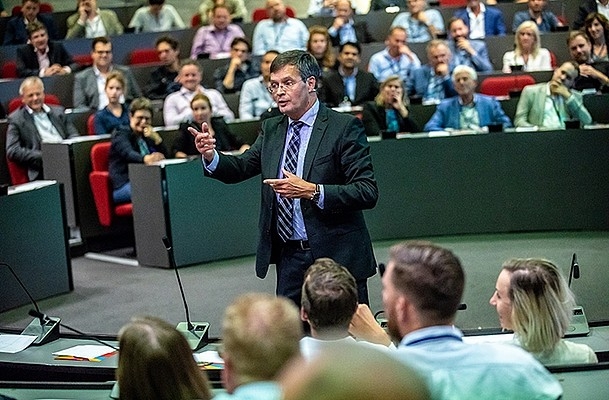 ---
The academic handbook addresses the fundamentals of stakeholder management, how to govern and manage corporate foundations and their impact on non-profit organisations and employees of the founding firm.
The content of the forthcoming research handbook will be explored during the mini conference for corporate foundations at RSM on Monday 3 December 2018.
Three questions
The book and the mini-conference can help practitioners at corporate foundations understand their complexity and hybridity from three main research questions:
Corporate foundations tend to have overlapping themes depending on strength of traditions or current institutional frameworks, based on the region they operate in. How do theoretically autonomous corporate foundations act within that particular context, what is their main focus, and how are they funded?
What managerial and governance challenges do corporate foundations face due to their unique relationship with the founding firm?
How are stakeholders, based on their perspectives, involved in or even influenced by corporate foundations? For example, how do employees and beneficiaries value the presence of the corporate foundation, and how is the corporate foundation perceived from these different perspectives?
Practical workshops
A glimpse of the veil will be highlighted by presentations and translated into very practical workshops at the international mini-conference in Rotterdam on Monday 3 December. 
The keynote presentations will be delivered by former Dutch Prime Minister, Professor Jan Peter Balkenende; and Professor Georg von Schnurbein, co-author of the research handbook Corporate Foundations: Corporate and Civil Society Perspectives.
Dr Lonneke Roza: "The book is of interest to anyone who works in or with corporate foundations or is thinking about setting one up. As researchers we are well aware that the sections in the book needs translation to be accessible to practitioners. For this, we have invited Impact Centre Erasmus and European Venture Philanthropy Association to host workshops around the main themes of the book; social impact management, scaling social impact through employee engagement, strategic alignment and hybrid financing."
More information
For more information please visit the event webpage. The event is free of charge for managers from corporate foundations and programmes. But they are invited to donate to the Erasmus Trust Fund what they think the programme is worth to them. Registration is open until 26 November. There are a limited number of spots.
Rotterdam School of Management, Erasmus University (RSM) is one of Europe's top 10 business schools. RSM provides ground-breaking research and education furthering excellence in all aspects of management and is based in the international port city of Rotterdam – a vital nexus of business, logistics and trade. RSM's primary focus is on developing business leaders with international careers who can become a force for positive change by carrying their innovative mindset into a sustainable future. Our first-class range of bachelor, master, MBA, PhD and executive programmes encourage them to become critical, creative, caring and collaborative thinkers and doers. Study information and activities for future students, executives and alumni are also organised from the RSM office in Chengdu, China. www.rsm.nl
For more information about RSM or this release, please contact Marianne Schouten, communications manager for RSM, on +31 10 408 2877 or by email at mschouten@rsm.nl.
Type
Alumni , Business-Society Management , Companies , Faculty & Research , Homepage , In the spotlight , Newsroom , Sustainability
Related