Three decades of MBA alumni reunited
Date
Tuesday, 4 December 2018
A glorious Indian summer day was a welcome surprise when RSM alumni representing 30 years of MBA graduates gathered on the waterfront of the Erasmus Paviljoen on campus in Rotterdam. Jackets were discarded, glasses raised, and laughter filled the warm air as the biggest RSM MBA Alumni Reunion yet drew to a close.
Story by Imogen Moore
---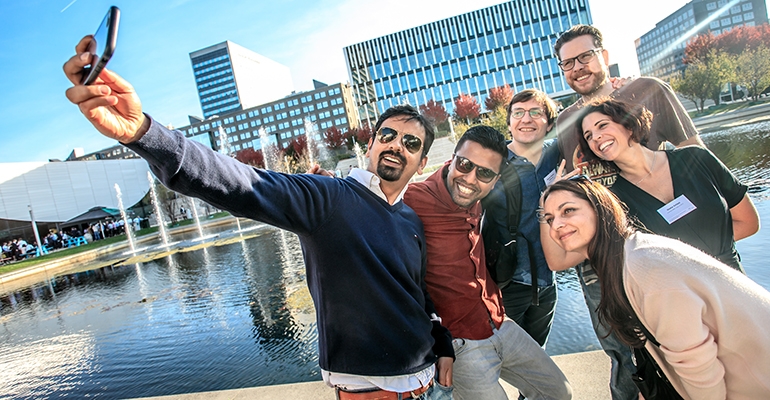 ---
Over an event-packed two days (12-13 October), staff and former students shared memories, industry knowledge, and sometimes-heated opinions. 'These MBAs,' smiled storytelling expert Simon Hodges, leading the RSM & You seminar on current alumni programmes and future strategies, 'They know what they're talking about and they're not shy.'
Thinking differently
The strongly positive feedback from the seminar audience included the assertion that MBA graduates have a deep entrepreneurial streak and "just think differently". There were also provocative questions on rankings and overall awareness of ways in which alumni can continue to engage with industry, with RSM, and with each other. Sue Martin, director of corporate and alumni relations, embraced challenging questions from the audience asking why current alumni programmes aren't more widely known, and how the School can stay relevant to those who graduated decades earlier.
'We talk a lot about what alumni can do for us. I'd like to focus on what we can do for you. It's our job to make sure you know how to become a mentor or mentee; it's our job to encourage you to hire from the RSM graduate pool; it's our job to basically sell you the ideas we're working on.'
Storytelling and goal setting
In a play on the I WILL goal-setting movement implemented by RSM and its community, Martin suggested one of her own: 'I WILL commit to being more data driven. We haven't identified where our alumni are, we haven't talked to you as much as we would like, and we haven't yet identified your varying needs. Our plans in the pipeline aim to change all that.'
Brandon Kirby, director MBA marketing and admissions, kept his I WILL statement simpler, ending the session on a high note: 'I WILL take anybody out for a drink. And you can quote me on that.'
Simon Hodges' storytelling workshop prompted a more reflective atmosphere in the final campus-based session of the reunion. Alumni were asked to share the values they most admire in their own cohort and other cohorts, as well as an RSM memory they wish all other students could have.
Bad-assed risk takers
Persistence and dedication are hallmarks of earlier years. Claudia Toth (Full-time MBA 1993) spoke for her group: 'Our generation learned to focus on work to the exclusion of everything else. This has its drawbacks but we don't stop until the job is done.' Winnie Linker (Full-time MBA 1988) expressed similar sentiments: 'Time and being influenced by the 80s has given my age group confidence. We're risk takers, we take no prisoners, we're badass. Generally we are a group that delivers and finishes what we set out to do. Half-assed is not cool.'
While younger graduates admired the dedication of earlier years, an appreciation for a less selfish attitude was a strong theme. 'I like the millennial shift from an "ownership" mentality to a more open "sharing" mentality,' said Stu Preston (Full-time MBA 1993), echoing Linker's appreciation for younger cohorts' emphasis on social good: 'I like the millennial focus on community. It's always been there but millennials are pushing it to the forefront again. Things like community, communication, front porches, care for neighbours... From happiness research we know that the key to happiness, once basic needs are met, is a sense of belonging and community.'
Preston fondly recalls riding a ten-year-old Harley Davidson motorbike around Europe with his pregnant wife in 1992, completing his eclectic thesis A Structural Study of the Used Harley Davidson Market in Europe. 'Our first son travelled more than 5,000 miles with us before he was born. We travelled to 14 countries, including four in the Eastern Bloc, meeting wonderful people, making some business contacts, and living in the moment with them. The preceding two semesters, with our very cosmopolitan RSM classmates, really opened us up to appreciating the full value of the experience. I believe our class was made up of something like 124 students representing 41 countries.'
Work hard, party harder
Linker reminisced about a time when sleep was an optional luxury: 'The 80s was a time when the words can't and excess did not exist. We worked hard and partied even harder – every day and every weekend! What I loved about RSM was the availability of the faculty members who taught us. They often joined our parties and we debated points till the sun came up. And we never missed classes – we could not let our classmates down! RSM sure is a lot more genteel now.'
The reunion programme ended with a farewell dinner at the riverside restaurant Zalmhuis in Rotterdam where old friendships were cemented and plans made for the next reunion. Said Tanja Goudarzi Pour (Full-time MBA 1998): 'How I look forward to getting another burst of wonderfully positive energy and purpose at the next reunion. My class WhatsApp group is buzzing and I'm still feeling the energy.'
To keep up-to-date with alumni events, visit www.rsm.nl/events.
This article was first published in the winter 2018 edition of RSM Outlook – RSM's alumni and corporate relations magazine. You can download RSM Outlook here.
More information
Rotterdam School of Management, Erasmus University (RSM) is one of Europe's top 10 business schools. RSM provides ground-breaking research and education furthering excellence in all aspects of management and is based in the international port city of Rotterdam – a vital nexus of business, logistics and trade. RSM's primary focus is on developing business leaders with international careers who can become a force for positive change by carrying their innovative mindset into a sustainable future. Our first-class range of bachelor, master, MBA, PhD and executive programmes encourage them to become critical, creative, caring and collaborative thinkers and doers. Study information and activities for future students, executives and alumni are also organised from the RSM office in Chengdu, China. www.rsm.nl
For more information about RSM or this release, please contact Marianne Schouten, communications manager for RSM, on +31 10 408 2877 or by email at mschouten@rsm.nl.
Type
Alumni , International , Newsroom , MBA , RSM Outlook
Related