Presenting the power of purpose in business
Date
Friday, 7 December 2018
Professionals and companies can contribute to a better world, and boost careers and profits at the same time. The winter 2018 issue of RSM Outlook – the magazine for alumni and corporate relations of Rotterdam School of Management, Erasmus University (RSM) – brings an exploration of ways that business and research are tackling societal challenges by using people's sense of purpose. In addition to articles about alumni get-togethers and inspiring alumni, RSM Outlook explores how professionals are contributing to gender equality and sustainable business by driving others to find their purpose too.
---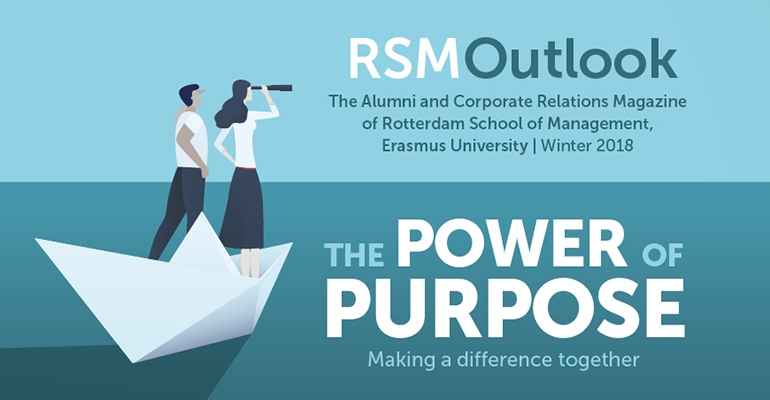 ---
The 10th annual RSM Leadership Summit in October explored the fundamental power of purpose for people and organisations, in the context of leadership, business and management. The magazine goes deeper into the motivation of the event's keynote speakers. Two of them – fashion designer Marlies Dekkers and world champion surfer Shaun Tomson – reveal how their purpose drives them in separate features too.
Inspiring alumni
Our annual Distinguished Alumni Awards were presented for actions that clearly show there are many routes to being a force for positive change. Meet this year's recipients in RSM Outlook's winter 2018 edition.
Three features introduce more inspiring RSM alumni. Simone Marschall (Full-time MBA 2012) believes it important to consider the less tangible aspects of work and personal life, and to choose what you enjoy in both. Rolf Dauskardt (Executive MBA 2003) was successful but not satisfied, until he found the opportunity to apply his entrepreneurial skills to pursuing a purpose. And Tom Marshall (MSc Management of Innovation 2016) wants to radically alter views of education and work while changing lives by helping people to find and nurture their sense of purpose.
Looking back and looking forward
We look back at how RSM's Department of Business-Society Management has lead the way of addressing business and society as a single entity, as the department celebrates its 20th anniversary.
What works in business today will likely be obsolete by tomorrow – that's why managers must think differently. We look at three new programmes from RSM's Executive Education department – Neuromarketing, Sustainable Finance and Filosofie in het Bedrijfsleven – which have been developed specifically to give managers new perspectives about business and organisational issues.
Worldwide networking fun
Another set of perspectives came from Dubai this year. Alumni there spoke about what it's like to live and work as an expat in the Middle East. We followed the school's alumni team when they met RSM's Dubai Local Chapter to talk career strategies and to find out what the school can do to better serve its global community.
And the highlight of the year for many was the sunshine-filled and event-packed two days in October, when alumni and staff reunited to share memories, talk about how their lives have progressed, and to renew bonds of friendship. RSM Outlook covers this year's MBA Alumni Reunion.
As always, readers can stay up to date through a round-up of news and events, including the newlywed MBA couple whose first stop after the ceremony was their old MBA stamping ground, new books and alumni achievements in 2018. See the full magazine.
RSM Outlook
RSM Outlook is RSM's corporate magazine, which was launched in 2005 to enhance communication between the school and its alumni, corporate relations and business professionals all over the world. RSM Outlook features news, enterprising alumni, the movers and shakers in the network, lifelong learning opportunities, forthcoming events, and academic and executive interviews. Download RSM Outlook here.
More information
Rotterdam School of Management, Erasmus University (RSM) is one of Europe's top 10 business schools. RSM provides ground-breaking research and education furthering excellence in all aspects of management and is based in the international port city of Rotterdam – a vital nexus of business, logistics and trade. RSM's primary focus is on developing business leaders with international careers who can become a force for positive change by carrying their innovative mindset into a sustainable future. Our first-class range of bachelor, master, MBA, PhD and executive programmes encourage them to become critical, creative, caring and collaborative thinkers and doers. Study information and activities for future students, executives and alumni are also organised from the RSM office in Chengdu, China. www.rsm.nl
For more information about RSM or this release, please contact Marianne Schouten, communications manager for RSM, on +31 10 408 2877 or by email at mschouten@rsm.nl.
Type
Accounting and control , Alumni , Bachelor / Bedrijfskunde , Bachelor / IBA , Business-Society Management , Corporate Communication Centre , Companies , Doctoral Programme , Executive education , Faculty & Research , Finance , Homepage , International , Newsroom , Marketing Management , Master , MBA , Organisation and personnel management , RSM Outlook , Strategic management and entrepreneurship , Sustainability , Technology and operations management , Partnerships Resource Centre , EC for women and organisations , China , Positive change , Case Development Centre , EC for business innovation , EC for data analytics
Related