Impact and effects; practical and academic insights for corporate foundations
Date
Friday, 7 December 2018
Increasing social impact to resolve grand challenges, being relevant to business and having a purpose to cross sectoral boundaries are the main drivers for a license to operate for corporate foundations. Managers of corporate foundations explored how to keep focus and put social impact at the core of all decision-making processes at a conference organised by Rotterdam School of Management, Erasmus University (RSM), the Center for Philanthropy Studies, European Venture Philanthropy Association (EVPA) and Erasmus Impact Centre. It took place on RSM's campus on 3 December 2018.
---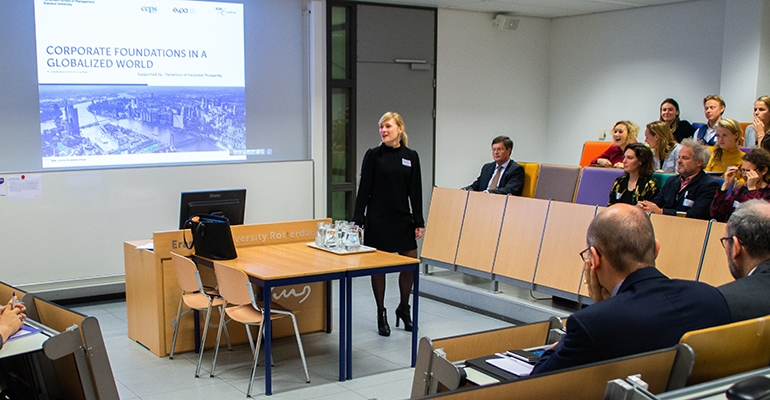 ---
New handbook on a new research field
The topics of the practical workshops and keynote speakers at the mini conference 'Corporate foundations in a globalised world' were conducted by the forthcoming academic handbook by Dr Lonneke Roza and Prof. Lucas Meijs from RSM, and Prof. Georg von Schurnbein and Dr Steffen Bethmann from the Center for Philanthropy Studies. The event also discussed the main themes of the forthcoming handbook, which will be published in April 2019. These themes relate to the role of corporate foundations in resolving grand challenges and become a learning organisation; alignment and governance with their related company, stakeholder involvement such as employee engagement and how to measure the impact on beneficiaries.
"Researching corporate foundations globally is unique and has never been done before by academics. Setting a theoretical framework is one, but in our journey we always look at practice and hope to have succeeded today in giving you a very first translation for practitioners to work with our 500-page book," Dr Lonneke Roza said in her keynote.
How to move forward
Keynote speaker Prof. Jan Peter Balkenende addressed the importance of a long-term vision for organisations: "In order to really create impact, my advice on how to move forward is: learn from history and use a long-term perspective to serve and improve the quality of society, taking every human being into account. And be honest about the results."
Have a purpose
RSM's Dean Prof. Steef van der Velde: "The message of RSM's mission is clear and short: being a force for positive change. The implementation and engagement is long and intense. RSM is building awareness by addressing societal challenges aligned with the UN Sustainable Development Goals in education and research."
Global trends
Prof. Georg von Schurnbein, professor on foundation management at the Faculty of Business and Economics and founding director of the Center for Philanthropy Studies (CEPS) at the University of Basel presented recent developments to further understand, how corporate foundation can be managed to address both, public and business interests.
"We see global trends and new roles on how corporate foundations operate. We can state that corporate foundations are now a global phenomenon, they are not restricted to a multinational corporation and more and more implemented in the business strategy."
Being a pioneer in researching corporate foundations and corporate social responsibility, Prof. Lucas Meijs concluded the plenary session of the event by thanking the corporates such as Alliander Foundation, Vebego Foundation, ING Nederland Fonds, ANWB, IBM, KPMG, Nuon Foundation en NN Group who have been pioneering with RSM since 2011 on this topic.
Scaling social impact by employee engagement
"Oftentimes companies and corporate foundations fall into the trap of taking the business relevance as a starting point when designing an employee engagement programme. However, to make sure that social impact is at the core of the programme and really makes a meaningful contribution to society, corporate foundations should start with assessing what their partners really need", Karoline Heitmann from EVPA stated in her workshop about scaling employee engagement. "This might be self-evident, but in our research we see that companies and corporate foundations too often neglect the impact on the nonprofits and their beneficiaries. It is here where corporate foundations play a unique role with their 'impact first' mindset rather than a 'finance first' mindset of companies. They are in the best position to design programmes that really make a difference and by doing so they can address the motivation of many employees by offering them to be part of something bigger, a way of giving purpose, and contribute to society."
How corporate foundations can use impact management, hybrid financing and how they deal with (non)alignment with their companies business, were discussed during the other workshops. A full report, the presentations and the pictures will be available on the event webpages soon.
More information
Rotterdam School of Management, Erasmus University (RSM) is one of Europe's top 10 business schools. RSM provides ground-breaking research and education furthering excellence in all aspects of management and is based in the international port city of Rotterdam – a vital nexus of business, logistics and trade. RSM's primary focus is on developing business leaders with international careers who can become a force for positive change by carrying their innovative mindset into a sustainable future. Our first-class range of bachelor, master, MBA, PhD and executive programmes encourage them to become critical, creative, caring and collaborative thinkers and doers. Study information and activities for future students, executives and alumni are also organised from the RSM office in Chengdu, China. www.rsm.nl
For more information about RSM or this release, please contact Marianne Schouten, communications manager for RSM, on +31 10 408 2877 or by email at mschouten@rsm.nl.
Type
Alumni , Business-Society Management , Corporate Communication Centre , Companies , Executive education , Faculty & Research , Homepage , International , Newsroom , Sustainability , Partnerships Resource Centre , EC for women and organisations , China , Positive change , EC for business innovation
---
Related links
Related