Business-Society Management Lustrum: making impact from research and alumni
Date
Wednesday, 12 December 2018
Launched in 1998, the Department of Business-Society Management has led in research and education focused on addressing the world's wicked problems that are characterised by their resistance to resolution and changing requirements that are often difficult to recognise. To celebrate 20 years of bringing issues of sustainability, governance, communication and ethics into the international master programmes of Rotterdam School of Management, Erasmus University (RSM), the department hosted an all-day lustrum event on Saturday 3 November to celebrate its 20th anniversary and its unique contributions and societal impact.
---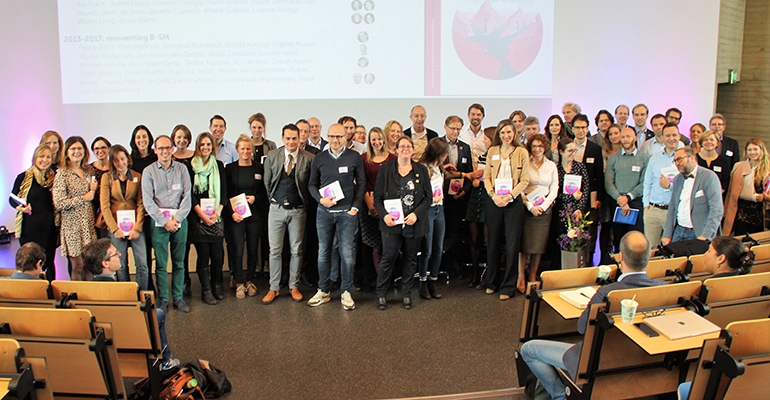 ---
Impact has come from not only researchers; it has also come from its alumni from the ground-breaking MSc Global Business & Sustainability programme, now active around the world – as well as the launch of a book to mark the anniversary, Mainstreaming sustainable business: 20 years Business-Society Management, 20 year impact.
Hosts and moderators were Professor Rob van Tulder and Professor Lucas Meijs, two of the three founding members of the department (which they did with Professor Muel Kaptein) as well as Associate Professor Dr Steve Kennedy. A morning session for internal stakeholders was followed by an interview with RSM alumna Carola Schouten (MBA 2006), who is Dutch Minister for Agriculture, Nature and Food Quality, and vice-prime minister. There was also a series of informal but impressive talks which highlighted the engagement and contributions of MSc GBS alumni such as Stef van Dongen of Enviu; Ronald Wormgoor, a strategic advisor to the Dutch Ministry of Infrastructure; Carola van Lamoen of Robeco; and David Frans of Roland Berger.
"We always knew that trying to deal with sustainability, corporate social responsibility, ethics and complexity is not just something you study at university – you do it through society," said Van Tulder in his welcome speech to a capacity audience that included around 200 alumni of the MSc Global Business and Sustainability programme, as well as staff, current students and corporate and academic connections.
Ahead of its time
A formal introduction to the event was given by RSM's Vice Dean, Professor Dirk van Dierendonck, who framed the department's front-running character and approach. "Through the department of Business-Society Management, RSM has become one of the leading sustainability study centres worldwide," he said, "and I would like to give the department full credit for this – it just shows how influential one department can be. Business can and should play a key role in addressing global challenges," he added, "and if I look at the history of the faculty, they create practitioner-oriented output. This department is a great model for the rest of the school in how to combine teaching, research and societal impact into one package."
Van Dierendonck made note of the Department's 20-year focus on what became RSM's mission in 2017: to be a force for positive change in the world. "We can thank the Business-Society Management department for playing such an important role in helping us find and define that mission. What [the Department] started in 1998 is now embraced by the school and the university as a whole."
How to make sustainability part of business
Professor Joep Cornelissen, department chair, said the official launch of the book Mainstreaming sustainable business: 20 years Business-Society Management, 20 year impact showed a common conviction and a common mindset from department members and alumni; namely how to make sustainability part of business.
While the department has functioned as what he described as 'the conscience of the school', Cornelissen said that there was still work to be done on embedding sustainability education throughout RSM. "It's still a work in progress; the next step is for every student who comes through RSM to take part in a dedicated, bespoke module that deals with systems thinking and ecologies."
Before distributing the first copies of the book, Van Tulder described the content of the book as both inspiring and enlightening: in addition to historical frameworks and societal contexts for establishing and broadening the scope of the department (contributed by Meijs, Kaptein, Van Tulder, and recently retired RSM Professor Cees van Riel), it includes individual stories from 80 alumni from the master programme who answered three questions:
What motivated you to start a master study in this area?
How did this influence your career?
What topics and approaches that the Master introduced to you are you still using in your present position and what impact on sustainability are you making?
The testimonials and stories offered by these alumni – separated into three chronological sections, 1990-2005, 2006-2012, and 2013-2017 – provide an anecdotal, first-hand account of two decades of the department's thinking and impact. Much of that impact is value-driven. "The book covers this with narratives from our alumni about the education of the heart, and using your passion," said Van Tulder as he invited the contributors present to receive a copy on stage.
Alumni impact made visible
Immediately after the book launch, Van Tulder invited one of the most prominent alumni of the programme, Minister of Agriculture and vice prime-minister Carola Schouten to the stage to be interviewed about personal skills and ambitions that graduates should take with them to create the conditions for mainstreaming sustainable business.
"There is more than making a lot of money and having a great career. Figure out what you motivation is, what your purpose is," said Schouten. "Start with the question 'what is my contribution to the big societal issues, to the things we all find challenging?' You are in a great position because you have so many opportunities, so be thankful for that and use it," she said. "Follow your heart and really contribute to society."
Schouten expressed her gratitude to Meijs and Van Tulder. She spoke of their support during her thesis period when she was bringing up a young child on her own, and had also taken a job in one of the Dutch ministries. "It was quite a struggle to write my thesis, but you were the ones who always believed in me. I want to thank you so much for that, especially Lucas – he really helped make my graduation happen. Without you great people I would never be in this position."
On-stage talks with impact
After a networking lunch, the lively afternoon session of informal and impactful talks by RSM alumni, were discussed by interactive panels of their peers. With four rounds of panels focused on the interests of stakeholders and how to overcome barriers to change, the full weight and influence of the department and its alumni could be seen.
The talk from Stef van Dongen, founder of ENVIU was People's Pension Holding, how small seduced big to make a big difference! He presented one of Enviu's success stories; about a micro-pension initiative.
The alumni panel comprised Michael Putra of Shell; Eva Massier of AkzoNobel; Loek Dalmeijer of Eneco; Peter-Willem van Lindenberg of Biznez; Koen van Walsum of Renault's electric vehicle division; and Maarten Hasselman of Truvalu. Lucas Meijs moderated.
"I do have a bit of an issue with 'big versus small'. It should be framed as big AND small if we are going to address all these wicked problems. Smaller and more agile companies can pave the way but if you need the changes to be at scale you need the big boys too." – Michael Putra.
"Big doesn't just represent big money, it also represents a lot of people. If you manage sustainability as a team in a big organisation then you can go very fast". – Eva Massier.
"I feel I am a corporate activist in trying to get big companies to work on sustainability." – Loek Dalmeijer.
'The government is you'
Ronald Wormgoor, deputy director of the Dutch Ministry of Infrastructure spoke about the roles of government in getting to a more sustainable society via 'public versus social' and 'local versus national'. "The Dutch government wants a full circular economy by 2050; the government can play an important role, but it cannot afford to do it all on its own," said Wormgoor. "Who is the government? It's you."
The alumni panel comprised Eva Oskam, policy co-ordinator for the Ministry of Foreign Affairs; Pieter Varekamp, Alderman of the Municipality of Westland; Stefan Leliveld of the Dutch employee insurance agency UWV; Talitha Muuse of CSR Nederland; and Nienke Keen of AgriProFocus. Lucas Meijs moderated.
Not taking the next stapes to sustainability
"We have to educate millennials to become part of supervisory boards in large organisations. I believe it is a shame that we are in the final generation of people who can change the course of history and solve some of the biggest environmental issues, but on a very conscious level, the boards of major companies are not taking the next steps to sustainability." – Talitha Muuse
"Reflecting on the role we have as individuals; from my ministry's point of view, we don't really work with the consumer anymore – there is no lack of sustainable cocoa for example, but there is a lack of consumers willing to pay for a sustainable chocolate bar, only 5 per cent of the population on average. We work with the Unilevers of the world. In the end we need all the multinationals and the smaller companies on board with legislation." – Eva Oskam
"I think that thanks to a sense of purpose from companies, the Dutch government is stepping up and for example, implementing more sustainable energy. At a governmental level you have to pull many levers, involving many actors at the same time" – Pieter Varekamp
Transparent reporting may not be enough
Carola van Lamoen, Head of Active Ownership at Robeco, spoke about Transparency and rankings: a driving force for change? Since 2006, Robeco has been a signatory of the Principles for Responsible Investment that requires an annual report. It is meant to both encourage, and rank, the transparency of investment organisations. While Robeco is highly ranked, Van Lamoen cautioned that such reporting may not be enough. "Transparency is of key importance for continuous improvement of sustainability practices," she said. "However box-ticking and greenwashing are an oversimplification of complex issues and are serious dangers. Please look beyond numbers and ratings. Use transparency as a starting point for what's important."
The alumni panel comprised Karel Nierop of Triodos; Janette Cuperus of Aegon; Walter Loog of ING; Xavier van Leeuwe of De Telegraaf; and Bastian Buck, director of reporting standards at Global Reporting Initiative. Dr Steve Kennedy moderated.
"I think that a true breakthrough in transparency and reporting will not come as things are now, as financial reporting and sustainability reporting are mostly still separate from each other." – Karel Nierop
"I do believe if organisations want to move towards sustainable development they have to work with actual, concrete numbers and reporting does help. Of course it's true that those companies that pollute most and cause social disruption want to report more than others… At GRI we always view reporting as one of the tools in a much larger toolkit." – Bastian Buck
Combining perspectives
David Frans, Partner at Roland Berger, gave a talk entitled Basic/Fundamental vs. Applied Research, Research and Teaching, and said: "My plea is for academia and consulting to work much closer together. The power is ultimately in combining all the various perspectives of academia and practice."
The alumni panel comprised Jan Anton van Zanten of Steward Redqueen; Fabienne Fortanier, head of trade statistics OECD; Koen van Baekel of Rebel Group; Aty Boers of ValueBridge; Dr Michel Lander, Assistant Professor at HEC Paris; Guenola Nonet, Assistant Professor at Jönköping International Business School, Dr Matthias Olthaar, Lector at Stenden University; and Eva van Baren of the Leiden-Delft-Erasmus Centre for Sustainability. Dr Steve Kennedy moderated.
"I think a big challenge is getting our consultancy clients to know what their impact is. When a company like Heineken comes and asks about their societal impact, one concrete measure is that we apply an economic theory to the micro levels of the company to measure their current impact. That is one of the key steps." – Jan Anton van Zanten
"In a world of fake news, collecting reliable data and statistics is an activity that represents the ideals of the B-SM department: the search for relevance and rigor." – Fabienne Fortanier
"I like what McKinsey has been doing with their FCLT research (focusing capital on the long term) – trying to prove that the long-term perspective creates better value than short-term profit." – Aty Boers
"It's a no-brainer. The big sustainability issues that we are facing today… We cannot solve these issues from just one perspective. At LDE [Leiden University, Delft Technical University and Erasmus University Rotterdam] we run a summer school that puts together students with completely different backgrounds. It is so hard for them, but it prepares them for the real, interdisciplinary world." – Eva van Baren.
To conclude the Lustrum, Prof. Rob van Tulder thanked alumni for attending, and described the department's new focus on staying connected with them, starting with the Lustrum, and continuing with more events and initiatives especially for alumni of the MSc Global Business and Sustainability. He emphasised the importance of co-creating an agenda for research, action and community building – areas in which alumni can really make a difference in building a vibrant community.
Cartoonist Auke Herrema produced several inspring cartoons during the day.
Critical mass. Will you play a part?
With around 1,300 of its alumni working internationally, the MSc Global Business and Sustainability programme now has critical mass for making impact. Alumni can keep close to their network by joining a subject-specific community on LinkedIn, RSM Alumni GBS(M), as well as by staying connected to the RSM Alumni network.
More information
Rotterdam School of Management, Erasmus University (RSM) is one of Europe's top 10 business schools. RSM provides ground-breaking research and education furthering excellence in all aspects of management and is based in the international port city of Rotterdam – a vital nexus of business, logistics and trade. RSM's primary focus is on developing business leaders with international careers who can become a force for positive change by carrying their innovative mindset into a sustainable future. Our first-class range of bachelor, master, MBA, PhD and executive programmes encourage them to become critical, creative, caring and collaborative thinkers and doers. Study information and activities for future students, executives and alumni are also organised from the RSM office in Chengdu, China. www.rsm.nl
For more information about RSM or this release, please contact Marianne Schouten, communications manager for RSM, on +31 10 408 2877 or by email at mschouten@rsm.nl.
Type
Alumni , Business-Society Management , Sustainability , China , Positive change
Related