Ying Zhang one of top 30 thinkers on the radar
Date
Thursday, 24 January 2019
New ideas in business and management are arriving at a great rate, and it takes great thinkers to signpost them for others to follow. Ying Zhang, Associate Professor of Entrepreneurship and Innovation, Chinese Economy and Business and Associate Dean of China Business at Rotterdam School of Management, Erasmus University (RSM) has been recognised as one of them. She is included in a list of the top 30 thinkers to watch in the coming year by www.thinkers50.com. It recognises her work that argues for the necessity of cross-sector collaboration between business, education research, and social-economic circumstance.
---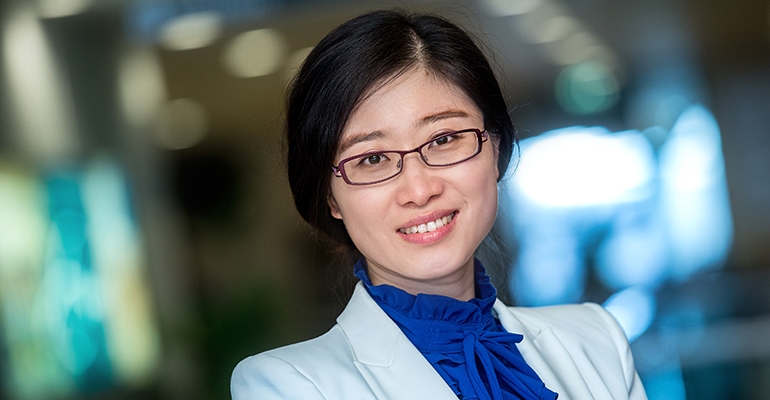 ---
Ying Zhang's inclusion puts her among a global group of academics and leaders of businesses and organisations, writers and consultants. "This is as powerful a group as we have ever identified in our annual selection — a broadly diverse group covering enormous ground — a dream team of researchers, advisers, entrepreneurs, and organizational leaders. They are the emerging thinkers to watch in 2019," says the Thinkers50 website, a resource for identifying, ranking, and sharing leading management ideas with the aim of 'providing innovative access to ideas with the power to make the world a better place'.
Ying Zhang: "This is very precious to me. I persistently try not only to amalgamate academics and industry, but also to bring East and West as well as true wellness and positive mentality together. The recognition now received for these efforts confirms my belief in education focused on singularity and the true meaning of a social economic equality with an adjusted value proposition. I feel honoured and blessed and fully confirmed in my project to continue to explore further and contribute more to the community."
At RSM, Ying Zhang is a major contributor to entrepreneurship wellness, happiness, and business education. She is RSM's Associate Dean for China Business and Relations, founder of the NewSilkRoad Group, and the Erasmus China Business Centre.
Dr Zhang supervises cross-disciplinary studies at graduate, executive, and PhD level. She advocates the value of social innovation as well as the effort to build a sustainable community. Her opinions and studies have been widely quoted by the global leading media and managerial journals.
More information
Rotterdam School of Management, Erasmus University (RSM) is one of Europe's top 10 business schools. RSM provides ground-breaking research and education furthering excellence in all aspects of management and is based in the international port city of Rotterdam – a vital nexus of business, logistics and trade. RSM's primary focus is on developing business leaders with international careers who can become a force for positive change by carrying their innovative mindset into a sustainable future. Our first-class range of bachelor, master, MBA, PhD and executive programmes encourage them to become critical, creative, caring and collaborative thinkers and doers. Study information and activities for future students, executives and alumni are also organised from the RSM office in Chengdu, China. www.rsm.nl
For more information about RSM or this release, please contact Marianne Schouten, communications manager for RSM, on +31 10 408 2877 or by email at mschouten@rsm.nl.
Type
Alumni , Bachelor / Bedrijfskunde , Bachelor / IBA , Companies , Faculty & Research , Homepage , International , Newsroom , Master , MBA , Organisation and personnel management , China , EC for business innovation
Related