No limits or boundaries for port systems
Date
Friday, 26 April 2019
Addressing practical challenges of electrification and smart energy for port systems – and the research challenges that they present – were identified during the 2019 Living Energy Conference in Rotterdam on Friday 12 April at World Port Centre, Rotterdam. The 'Connected Port Deep Dive' is the second of a series of Living Energy Conferences organised by Institute of Energy Economics at the University of Cologne (EWI), and the Erasmus Centre for Future Energy Business at Rotterdam School of Management, Erasmus University (RSM). During the conference it became clear that the energy transition and digital transformation are not simultaneous, but rather complementary, and offer tremendous opportunities that cross geographic boundaries as well as organisational limits.
---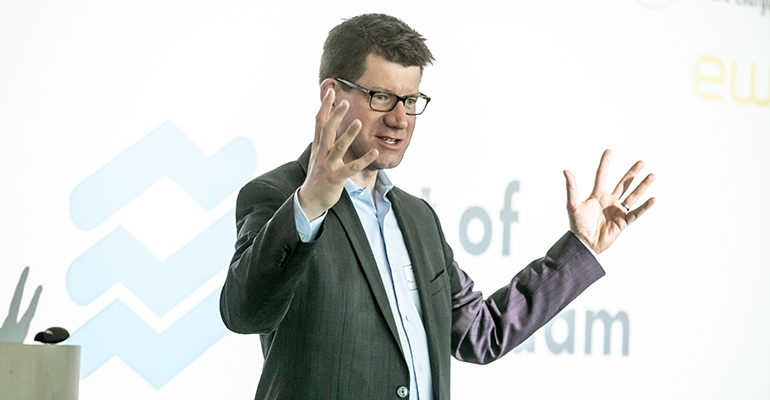 ---
Interconnected steps for climate neutral business
Nico van Dooren, Director Energy and Industry, Port of Rotterdam (PoR) said: "Three steps have been defined by the Port of Rotterdam to be able limit global warming to 1.5-2.0C in 2050. These steps seem chronological, but given the complexity of this transformation that the Port and society is facing, they are all interconnected. We need CCUS storage, we need huge wind power from sea power hubs, we need waste-to-chemicals projects, and we need make our transport and logistics supply chains sustainable. In order to achieve the goal within all the sectors and markets, the Port is working in a multidisciplinary way and welcomes new applications and digital opportunities – and the research opportunities they present."
Energy business portfolio
Shell has changed its business portfolio in recent decades. Stijn van Els, former CEO Shell Germany and recently appointed as member of the Supervisory Board at electricity transmission system operator (TSO) TenneT, explained how Shell is transitioning within the German market. "Shell's assets for oil, gas and hydrogen in Germany are very valuable, however its customer connections are even more so. Shell is investing widely in making new connections and building on the existing ones. For example, the recent takeover from Sonnen, New Motion and First Utility along with the build out of the H2 Mobility Deutschland Joint Venture [a hydrogen refuelling network for fuel cell electric vehicles]."
Digital energy future
Ilhan Unlu from Blocklab, an organisation outing blockchain technology into practice in Rotterdam, and Milos Cvetkovic from Technical University Delft joined forces to lead a workshop on the foundations for digitalisation of energy port systems. Are applications like blockchain the foundation of the process of digitalisation for energy in the port? What kind of energy and flexible resources could the port deploy in a cluster for balancing energy? Milos Cvetkovic: "This workshop showed that there is a great interest in digital solutions, such as energy trading platforms and data analytics, to be deployed within port systems.
"We can also conclude that digital solutions need to be aligned with the port cluster practices in terms of openness and ownership of the data. Methodologies like AI and machine learning are researched on a wide scale, but deploying them in port-specific logistics and energy systems, and for its stakeholders could result in a different scope in trust and transparency."
Microgrids to help congestion issues
In the second workshop, Jaron Reddy from Energy Exchange Enablers and RSM's Dr Yashar Ghiassi-Farrokhfal and PhD candidate Mohammad Ansarin focused on the main benefits of microgrids in smart grids, discussing how they are used. The participants shared thoughts on the definition and efficient design of microgrids and how stakeholders view energy in its various forms (heat, electricity, fuels, etc.). The challenges of microgrid formation were also discussed with application to real-world projects.
Real business potential for emission focused electrification
Workshop 3 was a practical discussion on the electrification of shipping, and in particular how ports and inland vessels in Dutch waterways could become emissions-free using electrification technologies.
A case study about modular energy concept (MEC) challenged participants to think about the design of all-electric fuelled inland vessels, focusing on opportunities for the Port of Rotterdam to implement battery and power solutions to sustain the fleet and extend capacity to German docks and barges. Ankie Janssen, business developer for gas and power for the Port of Rotterdam presented the port's current activities as an interdisciplinary exercise, with many players – including the financial sector as investors.
Her presentation shows the importance of the network to sustain the supply chain and also how complex are the roles of governments to create profitability for renewable fuels. The MEC project underlined the challenges and opportunities for ports to accommodate electrification technologies, and how ports could be transformed to emissions-free energy hubs. But the presentation addressed the need to prepare a European regulatory framework for electrification in ports and ships. The MEC project aims to study all technical, regulatory, safety and financial issues.
Energy storage is not the holy grail; co-ordination is
"Energy storage and sustaining every battery's life cycle are main challenges, but they are not a holy grail. The holy grail in this transmission is co-ordination," concluded Professor Wolf Ketter during the closing debate.
Fridays is for Future, white papers to come
The Connected Port Deep Dive took place on Friday 12 April at World Port Centre, Rotterdam. It is the second of a series of Living Energy Conferences is organised by EWI and Erasmus Centre for Future Energy Business. The organising committee will publish the white paper in the Living Energy Community LinkedIn group.
More information
Rotterdam School of Management, Erasmus University (RSM) is one of Europe's top 10 business schools. RSM provides ground-breaking research and education furthering excellence in all aspects of management and is based in the international port city of Rotterdam – a vital nexus of business, logistics and trade. RSM's primary focus is on developing business leaders with international careers who can become a force for positive change by carrying their innovative mindset into a sustainable future. Our first-class range of bachelor, master, MBA, PhD and executive programmes encourage them to become critical, creative, caring and collaborative thinkers and doers. Study information and activities for future students, executives and alumni are also organised from the RSM office in Chengdu, China. www.rsm.nl
For more information about RSM or this release, please contact Marianne Schouten, communications manager for RSM, on +31 10 408 2877 or by email at mschouten@rsm.nl.
Type
Alumni , Companies , Homepage , International , Newsroom , Sustainability , Technology and operations management , EC for Future Energy Business , China , Positive change , EC for data analytics
---
Related links
Related