Sustainability at the heart of the 2019 STAR Case Competition
Date
Tuesday, 21 May 2019
The 2019 RSM STAR Case Competition drew on one current and dominant theme - Sustainability. Between the 10th and the 17th April 2019, RSM STAR, Europe's largest student-driven study association, hosted 12 competing teams from top business schools in 7 countries: Singapore, Thailand, Australia, New Zealand, Spain, Canada, and Hungary. The teams were tasked with finding the most effective solutions for real-life business and societal challenges, illustrated in 3 distinctive cases. All these cases were written and prepared by the RSM Case Development Centre (CDC).
---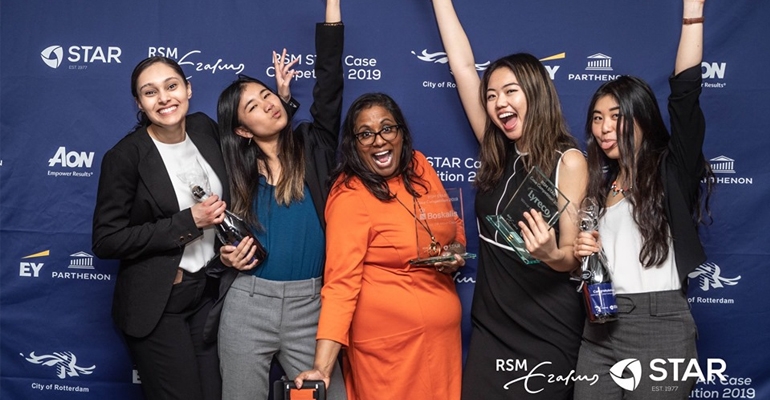 ---
Challenges Highlighted in the Competition Cases
The 6-hour case focused on the company Lyreco, a distributor of office supplies that aims to become part of the circular economy with a number of factors standing in its way. Students were asked to evaluate these hurdles and come up with possible alternatives.
Vebego was the 10-hour case. This cleaning company has an ageing employee population, whom the company wants to help safely reach pension so they can enjoy it as they fully deserve. On the other hand, the company also requires quality and efficiency when it comes to providing services to clients. How can Vebego strike the right balance between the two?
A global leader in the Dredging and Maritime service sector, Boskalis, was the protagonist of the 24-hour case. While equipping its vessels with sustainable biofuels seems to be the best strategy to combat Greenhouse emissions, especially the Carbon footprint, the uncertainty of pricing and availability of biofuels is proving to be challenging for Boskalis in the long-term.
The Involvement of the CDC
The CDC writers interviewed the company managers and employees who face the challenges depicted in the cases on a daily basis, and carried out further research on the topics involved. Together with the case companies, CDC prepared the material used for the case and designed the assignment questions for the competing teams to tackle.
The CDC would like to congratulate the winning teams and applaud the other participating teams. In the meantime, we are looking forward to the next STAR case competition!
More information
Rotterdam School of Management, Erasmus University (RSM) is one of Europe's top 10 business schools. RSM provides ground-breaking research and education furthering excellence in all aspects of management and is based in the international port city of Rotterdam – a vital nexus of business, logistics and trade. RSM's primary focus is on developing business leaders with international careers who can become a force for positive change by carrying their innovative mindset into a sustainable future. Our first-class range of bachelor, master, MBA, PhD and executive programmes encourage them to become critical, creative, caring and collaborative thinkers and doers. Study information and activities for future students, executives and alumni are also organised from the RSM office in Chengdu, China. www.rsm.nl
For more information about RSM or this release, please contact Marianne Schouten, communications manager for RSM, on +31 10 408 2877 or by email at mschouten@rsm.nl.
Type
Case Development Centre
Related