Safety and wellbeing: perceptions of public spaces in Rotterdam
Date
Wednesday, 26 June 2019
Recent research about the importance of knowing what actually makes people feel safe and its relevance for planning and policy decisions was highlighted at a recent conference about the popularisation of science for journalists, university press officers and researchers. Dr Ilona Suojanen, post-doctoral researcher at the Centre of Excellence in Public Safety Management, (CESAM), spoke at the Bessensap2019! conference in Amsterdam. Her presentation, titled Citizens' positive safety perceptions in public spaces in Rotterdam presents safety as a key element of wellbeing, and is the result of her work for CESAM, which is based at Rotterdam School of Management, Erasmus University (RSM). Her research will be published as a peer-reviewed paper in September.
---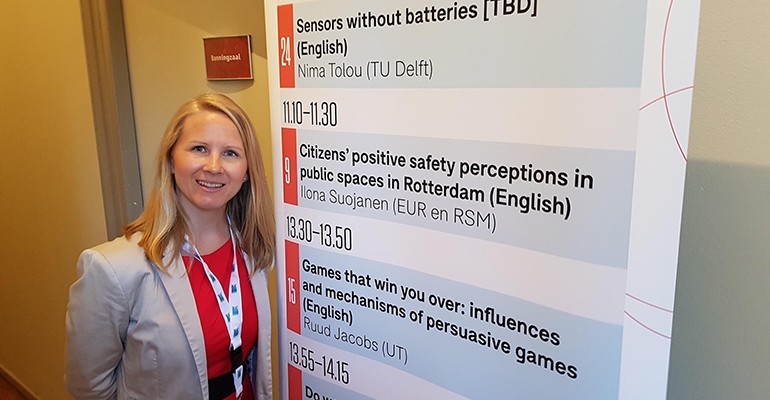 ---
Ilona, a 'happyologist', highlighted that people's perceptions of safety are a combination of multiple aspects, and they approach each situation bringing with them their earlier experiences; this has a big influence on how people read safety signals around them.
"The Western world has never been this safe before, yet levels of stress and worry are increasing. Innovative ways to tackle the insecurities and fears are needed, and our work provides new information about the ingredients of safety which can be useful for people designing safe public spaces and aiming to increase people's safety experiences," she explained.
Ilona's work with CESAM is documented in her blog posts – along with the work of other researchers – as well as through her research papers. They are published on the CESAM website.
Bessensap2019! is organised by the Dutch Research Council (NWO) and was attended by around 350 journalists, press officers and researchers who networked and exchanged knowledge about the latest developments in science and its communication. The theme of the day was the popularisation of science, with a programme of newsworthy research presentations, a series of workshops on the working methods of media, and networking opportunities.
20 research papers were chosen to be presented from the dozens that were submitted by researchers across the Netherlands for consideration. Keynote speaker was the British experimental psychologist and bestselling author Richard Wiseman. The chairman of the event was Dutch radio presenter and cabaret artist Dolf Jansen.
The Centre of Excellence in Public Safety Management, CESAM, at RSM aims to promote and foster the professional development and management of public safety organisations on an international level. It targets a clear and direct impact of academic research on public and private sector organisations in the field of public safety. More information about CESAM's work can be found in blog posts about aspects of safety. The blog is intended to act as an introduction to the Centre's work; to promote and foster the professional development and management of public safety organisations, and to give CESAM members a platform to share their observations and experiences as academics and citizens.
More information
Rotterdam School of Management, Erasmus University (RSM) is one of Europe's top 10 business schools. RSM provides ground-breaking research and education furthering excellence in all aspects of management and is based in the international port city of Rotterdam – a vital nexus of business, logistics and trade. RSM's primary focus is on developing business leaders with international careers who can become a force for positive change by carrying their innovative mindset into a sustainable future. Our first-class range of bachelor, master, MBA, PhD and executive programmes encourage them to become critical, creative, caring and collaborative thinkers and doers. Study information and activities for future students, executives and alumni are also organised from the RSM office in Chengdu, China. www.rsm.nl
For more information about RSM or this release, please contact Marianne Schouten, communications manager for RSM, on +31 10 408 2877 or by email at mschouten@rsm.nl.
Type
Alumni , Business-Society Management , Companies , Faculty & Research , Homepage , International , Newsroom , China
Related