Students learn how corporations can fully commit to climate change
Date
Wednesday, 3 July 2019
It is possible for organisations to succeed in implementing a new strategy for climate neutrality while remaining the market leader. That's the story told by a new case study prepared by the Case Development Centre at Rotterdam School of Management, Erasmus University (RSM). The business case study, called Interface: Creating a Climate Fit for Life with Carpet Tiles, explores how designer and carpet tile manufacturer Interface successfully adopted sustainability into its core business. Business students can use the case study to learn about bringing sustainability into large organisations to bring about lasting change.
---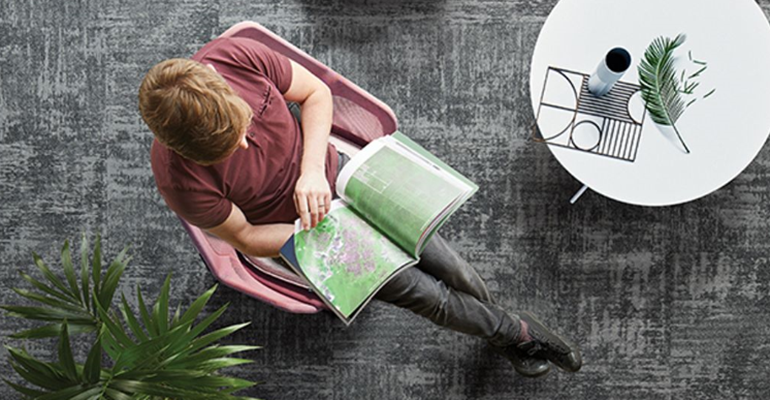 ---
Dr Steve Kennedy of RSM, who supervised the case, said: "Our window for meaningful climate action is short, and is closing. This company, Interface, teaches us how firms can develop strategies to tackle climate change and – critically – remove more carbon from the atmosphere than they add. Making the case available to business students puts these students, as future managers, at the forefront of developing climate solutions, and encourages them to think of new and better ways to create value." Dr Kennedy is academic director of the MSc Global Business & Sustainability, and an associate professor researching corporate sustainability, climate change and sustainability-oriented innovation.
Geanne van Arkel, Head of Sustainable Development at Interface said: "We have been working on becoming climate neutral since the 1990s and now we go beyond that. As a company nowadays, you have to be working on sustainability in order to innovate and survive. I really think it is a great case, and actually I am very curious what ideas students come up with when they have this case in class." The Case Development Centre brings academics and business leaders together to create a case. This was a successful collaboration, as the RSM Case Development Centre said: "Both Geanne and Steve were extremely driven in making the case happen as they are passionate about sustainability. Their input and enthusiasm was valuable to developing this case."
Developing skills
Business case studies are widely used in business schools around the world, where reading and discussing complex, real-life scenarios helps business and management students to develop skills in analytical thinking and reflective judgment. Likewise, learning to write business case studies is a valuable tool for addressing business challenges.
Interface's sustainability goals
The business case about Interface focuses in particular on bringing actions to reverse global warming into Interface's strategy in 2020. The 'Climate Take Back' strategy will continue the work already achieved with their 1994 strategy 'Mission Zero', which realised the company's goal of having zero net carbon emissions.
The company was founded by its late CEO Ray Anderson, who in 1994 was inspired by Richard Hawken's Ecology of Commerce and realised that business needed to change from 'take-make-waste' to a circular model. Hawken describes business and industries as the major reasons for the decline of the biosphere, but also proposes business as the only institution with sufficient size and power to halt the decline.
Achieving results through strategy changes
Adopting sustainability into Interface's core has seen an increase in the range of sustainable products and solutions the company offers. Interface's journey sets an example for others. The case study from CDC describes how becoming a fully sustainable business is possible and what it takes to get there.
Preparing future managers with a sustainable mindset
The new case study is designed to be used in business management curricula to show students that it is possible for organisations to transform their activities into sustainable operations, and that sustainability can become a core part of strategy. It explains how ecology and economy are interconnected. Students who have studied cases like this as part of their management training enter the workforce with a mindset that accepts business to be a force for positive change.
To view the case study, please contact cdc@rsm.nl.
More information
The Case Development Centre at RSM supports case-based management education by turning exceptional business and management experiences into powerful learning tools. CDC connects world-class research, education and business by developing and offering high-quality case studies that are available to all business schools. To find out more about the CDC, visit www.rsm.nl/cdc
Rotterdam School of Management, Erasmus University (RSM) is one of Europe's top 10 business schools. RSM provides ground-breaking research and education furthering excellence in all aspects of management and is based in the international port city of Rotterdam – a vital nexus of business, logistics and trade. RSM's primary focus is on developing business leaders with international careers who can become a force for positive change by carrying their innovative mindset into a sustainable future. Our first-class range of bachelor, master, MBA, PhD and executive programmes encourage them to become critical, creative, caring and collaborative thinkers and doers. Study information and activities for future students, executives and alumni are also organised from the RSM office in Chengdu, China. www.rsm.nl 
For more information about RSM or this release, please contact Marianne Schouten, communications manager for RSM, on +31 10 408 2877 or by email at mschouten@rsm.nl.
Type
Bachelor / Bedrijfskunde , Bachelor / IBA , Business-Society Management , Companies , Parttime Master Bedrijfskunde , Homepage , International , Newsroom , Master , MBA , Sustainability , China , Positive change , Case Development Centre
Related