Corporates discuss fundamental sustainable investing with CEO at public lecture
Date
Wednesday, 17 July 2019
Sustainable investing is entering a second phase, moving from the use of external ESG (environmental, social and governmental) ratings towards fundamental analysis of investee companies. The idea is that asset managers have to know in what companies they invest in. Business professionals got together at Robeco's headquarters in Rotterdam in June 2019 to learn from academic theory and hear from top business people how this is achieved in practice. The corporate lecture was organised by the Erasmus Platform for Sustainable Value Creation at Rotterdam School of Management, Erasmus University (RSM).
---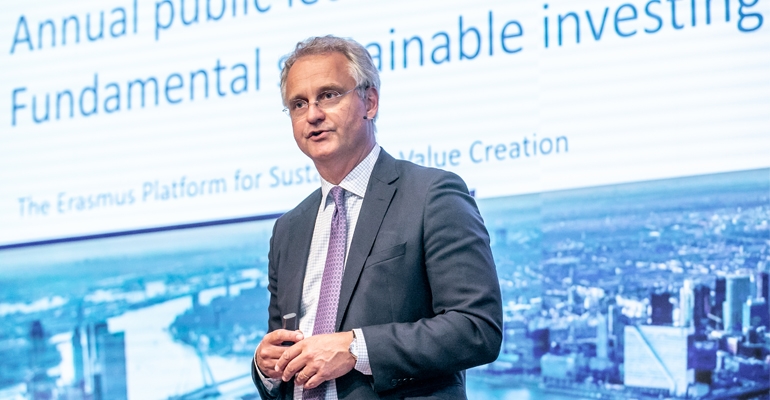 ---
The aim of the lecture and networking event was to analyse where companies are on their transition to a sustainable economy. This new approach is built on new theoretical concepts and requires a different way of work from portfolio managers, investors and asset managers.
Concentrated portfolios
The event's keynote speaker was Magnus Billing, CEO of Swedish pension fund Alecta, which has 35,000 client companies, and 2.5 million private customers. Its assets under management are worth SEK 900 billion (around € 85.5 billion). The CEO shared with attendees how Alecta practices fundamental sustainable investing by concentrated portfolios and deep engagement. 
"It was very interesting to learn about other approaches for sustainable investing, apart from the use of external ESG ratings," said Wouter van 't Hoff, specialist sustainability strategy and reporting at Rabobank. "The method used by Alecta, having a concentrated portfolio of companies with a strong sustainability direction is refreshing. I'm not fully convinced yet we can live without ESG ratings, but the combination of both methods might be very exciting."
Magnus Billing provided the audience with an overview of Alecta's strategy, sustainable investing approach and shareholder engagement processes. He said Alecta started off with fundamental investment analysis of its investee companies. This detailed approach allowed Alecta to add a sustainability review to the fundamental analysis. It has now become an integrated strategy with fundamental analysis of the business proposition and the sustainability profile at the same time.
"It is extremely important to connect academia and practice for successful sustainable investment," Billing said about the event. "Now is the time for action instead of visions. We need to come together as an industry and co-operate."
Shareholder engagement
"Having done extensive research on sustainable investing and shareholder engagement before, it was great to see how deeply active engagements are integrated into Alecta's business practices," said Joep Houf, intern sustainable finance at ING.
RSM's Professor of Banking and Finance Dirk Schoenmaker and Robeco's Head of ESG-integration Masja Zandbergen-Albers then led an engaging discussion among the participants. Participants shared their experiences, and there was broad agreement that integration of portfolio management and engagement is the new model. At the moment, it is still done by separate teams at some investment managers.
The open event was attended by employees of organisations that are involved in sustainable investment and asset management, plus managers from pension funds, De Nederlandsche Bank (the Dutch central bank) and AFM, the Dutch Authority for the Financial Markets. It was held at financial services company Robeco in Rotterdam, which is one of the members of the platform.
More information
Erasmus Platform for Sustainable Value Creation
There is a growing need for new methods to incorporate sustainability into asset pricing and valuation. Also, corporate governance is making a transition towards long-term value creation as the ultimate goal for corporates. The purpose of RSM's Erasmus Platform for Sustainable Value Creation is to develop new insights through research and education in close collaboration with leading sustainable finance players in the industry and academia, students, NGOs and professionals in the financial industry. The platform fosters thought-leadership and excellence in the fields of finance, economics, sustainability, strategic management and law. It works in close co-operation with the economics and law faculties at Erasmus University to deliver such integrated thinking.
Rotterdam School of Management, Erasmus University (RSM) is one of Europe's top 10 business schools. RSM provides ground-breaking research and education furthering excellence in all aspects of management and is based in the international port city of Rotterdam – a vital nexus of business, logistics and trade. RSM's primary focus is on developing business leaders with international careers who can become a force for positive change by carrying their innovative mindset into a sustainable future. Our first-class range of bachelor, master, MBA, PhD and executive programmes encourage them to become critical, creative, caring and collaborative thinkers and doers. Study information and activities for future students, executives and alumni are also organised from the RSM office in Chengdu, China. www.rsm.nl
For more information about RSM or this release, please contact Marianne Schouten, communications manager for RSM, on +31 10 408 2877 or by email at mschouten@rsm.nl.
Type
Alumni , Companies , Executive education , Faculty & Research , Finance , Homepage , International , Newsroom , Master , MBA , Sustainability , China , Positive change
Related