Climate worsened for scale-ups in the Netherlands
Date
Friday, 1 November 2019
---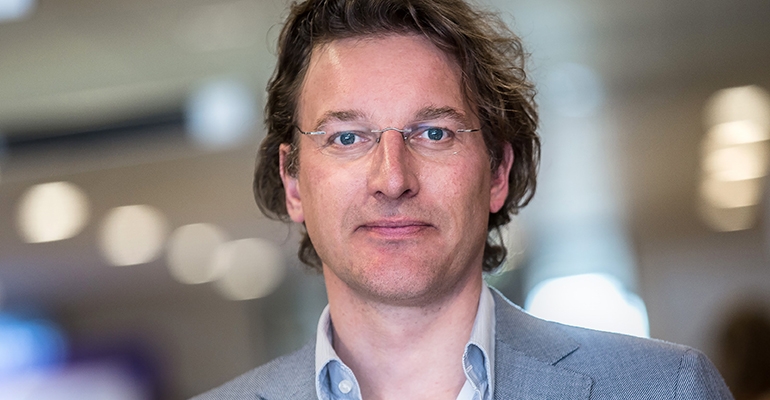 ---
The ScaleUp Dashboard 2019 was presented on Thursday 31 October 2019. The annual study into scale-ups conducted by Erasmus Centre for Entrepreneurship and RSM was led by Professor Justin Jansen, Professor of Entrepreneurship at RSM. A scale-up is a company with at least 10 full-time (FTE) employees that achieves an annual growth in the number of FTEs of at least 20 percent over a period of three years.
The most significant results of the ScaleUp Dashboard 2019 are:
The increase in fast-growing companies in the Netherlands has dropped by more than 50 per cent in the past year. While the number of scale-ups previously increased by 18 per cent on an annual basis, last year the number of scale-ups increased by 7 per cent to 2,880 scale-ups in the Netherlands at the end of 2018.
The number of start-ups that develop into scale-ups has fallen for the first time (by 1.8 per cent).
Nearly two thirds of scale-ups in the Netherlands failed to maintain their rapid growth after the initial growth spurt.
Despite a significant increase in previous years, the number of scale-ups with at least one female entrepreneur fell for the first time in years.
Amsterdam again has the highest number of scale-ups, followed by Rotterdam. Eindhoven had the largest percentage increase in scale-ups compared with the previous year (+30 per cent).
"Fundamental indicators on red"

Despite positive signs for the Dutch economy, the climate for scale-ups appears to have worsened last year. "The study shows that several fundamental indicators for the scale-up climate in the Netherlands are not only on orange, but even on red. The growth in the number of scale-ups has more than halved. In fact, the number of young scale-ups has fallen. We will have to move up a gear and launch bold experiments for the development of innovative policy measures for scale-ups," says Professor Jansen.
He continues: "For example, start-ups are experiencing considerable challenges in upscaling their revenue model while scale-ups are having problems maintaining their rapid growth. That demands more specific support and individual guidance in the various life phases of a scale-up."
Structural rapid growth often appears too much of a challenge
The ScaleUp Dashboard 2019 also shows that a relatively large number of scale-ups achieve an initial rapid growth spurt between their fifth and eighth years. However, two thirds of them subsequently fail to maintain that rapid growth in the following years.
Martin Luxemburg, director of Erasmus Centre for Entrepreneurship, explains: "Despite a good starting position and a scalable revenue model, many scale-ups then struggle to attract new talent, obtain subsequent funding and manage the explosive complexity of their organisation. Research among companies that do achieve structural growth, such as Coolblue, YoungCapital and SecureLink, reveals that they actually simplify things by identifying core values, delegating activities and applying critical performance indicators which enable employees to increase the added value for current and new clients."
More information
Erasmus Centre for Entrepreneurship is the leading centre for entrepreneurship at Erasmus University. Fuelled by the belief that entrepreneurship is a primary driver for innovation, the centre strives to embed entrepreneurship in people's DNA. Erasmus Centre for Entrepreneurship does not create companies. It creates entrepreneurs through Erasmus University Rotterdam's network and knowledge: a university that was founded by entrepreneurs more than a 100 years ago. Erasmus Centre for Entrepreneurship has a clear picture of the factors needed for successfully starting and growing a company. The Centre monitors and conducts research into scale-ups and presents these results in the annual ScaleUp Dashboard. www.ece.nl
Rotterdam School of Management, Erasmus University (RSM) is one of Europe's top 10 business schools. RSM provides ground-breaking research and education furthering excellence in all aspects of management and is based in the international port city of Rotterdam – a vital nexus of business, logistics and trade. RSM's primary focus is on developing business leaders with international careers who can become a force for positive change by carrying their innovative mindset into a sustainable future. Our first-class range of bachelor, master, MBA, PhD and executive programmes encourage them to become critical, creative, caring and collaborative thinkers and doers. Study information and activities for future students, executives and alumni are also organised from the RSM office in Chengdu, China. www.rsm.nl
For more information about RSM or this release, please contact Marianne Schouten, communications manager for RSM, on +31 10 408 2877 or by email at mschouten@rsm.nl.
Type
Alumni , Companies , Parttime Master Bedrijfskunde , Executive education , Faculty & Research , Homepage , Newsroom , MBA , Strategic management and entrepreneurship
Related