New part-time master challenges young professionals to broaden horizons
Date
Monday, 11 November 2019
Young professionals and ambitious bachelor students who want to boost their analytical skills or extend their business abilities in order to choose from a wider choice of jobs now can advance their skills in the new, Dutch-taught MScBA Parttime Master in Management programme at Rotterdam School of Management, Erasmus University (RSM). The programme requires students to spend only one afternoon a week in the classroom, and makes great use of new online and digital learning tools for more studying at home. The first cohort will start in September 2020.
---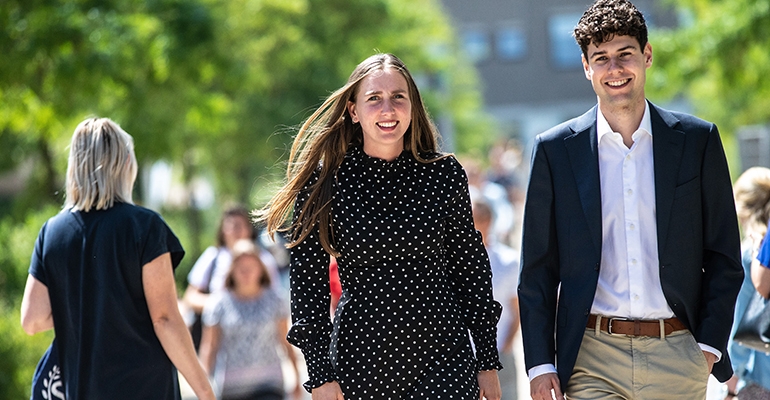 ---
The part-time programme will boost knowledge and understanding of managing teams and organisations, and give more meaning to what people might already be doing for their employers, says Dr Raymond van Wijk, academic director of the master programme. "Sometimes things can be done in a different way to get better results. So students will be challenged to reflect on their daily practises and to broaden their horizons."
Classes will take place on Friday afternoons. The innovative, two-year programme also offers advanced digital teaching methods: online discussion rooms and lectures so students can learn from outside of the classroom in preparation for more value-adding interactions in the classroom on RSM's campus. "For the online learning portion we will use artificial intelligence, 'knowledge clips', webinars and podcasts," said Dr Van Wijk.
Business knowledge and skills
The two-year, part-time programme is set up to combine completing a master degree with doing a job. The challenging curriculum, which has the same learning objectives and subjects as RSM's full-time MScBA Master in Management, covers the most important aspects of general management and business management issues that are relevant to organisations. Participants will also study the most up-to-date academic theories in the field of business and management, and can apply their new knowledge in practice immediately.
"People will gain business knowledge at master level as they study functional areas of business administration such as strategy, marketing and finance. This means they're better prepared to take decisions, manage organisations and manage people," said the academic director.
Study and work
The Dutch-taught programme aims at students who have completed higher education, either bachelor or master in a different discipline, and young professionals who have started working but need more theoretical background and knowledge to make better decisions to contribute more to their organisation's success.
"I'm excited about this streamlined programme, and the enthusiasm we are already getting from students and teachers makes me even more enthusiastic," said Van Wijk.
Young professionals and students can learn more on the RSM website, and at the Master Open Day at Erasmus University Rotterdam on Saturday 30 November.
More information
Rotterdam School of Management, Erasmus University (RSM) is one of Europe's top 10 business schools. RSM provides ground-breaking research and education furthering excellence in all aspects of management and is based in the international port city of Rotterdam – a vital nexus of business, logistics and trade. RSM's primary focus is on developing business leaders with international careers who can become a force for positive change by carrying their innovative mindset into a sustainable future. Our first-class range of bachelor, master, MBA, PhD and executive programmes encourage them to become critical, creative, caring and collaborative thinkers and doers. Study information and activities for future students, executives and alumni are also organised from the RSM office in Chengdu, China. www.rsm.nl
For more information about RSM or this release, please contact Marianne Schouten, communications manager for RSM, on +31 10 408 2877 or by email at mschouten@rsm.nl.
Type
Alumni , Bachelor / Bedrijfskunde , Bachelor / IBA , Companies , Executive education , Homepage , Newsroom , Master , MiM - Master in Management
Related