EU recognition for RSM's master programme for Customs and supply chain professionals
Date
Tuesday, 17 December 2019
---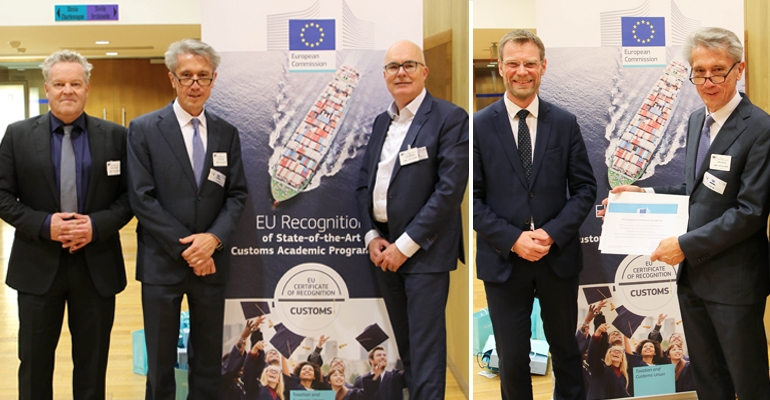 ---
Secretary General of the Taxation and Customs Union Directorate General Stephen Quest presented the EU Customs Certificate of Recognition in an official ceremony on 10 December in Brussels to Prof. Yao-Hua Tan, programme director, and Klaas Wassens, executive director.
Optimal competency
The EC's label of excellence for academic programmes recognises educational programmes that equip students with optimal competency standards for Customs performance and professionalism and stands for high quality, modern Customs academic programmes.
RSM's programme is working with the EU Customs Competency Framework to help develop world-class Customs professionals for the public sector and the private sector. This quality label assures potential candidates that the programme will equip them with the competencies needed for a successful Customs career in Customs Administrations or private organisations. Likewise, for employers, the EU-recognised Customs master degree ensures that the candidate is well-equipped to start, or boost, a career in Customs.
Integrated knowledge
RSM's programme is the only accredited Executive Master programme in customs and trade facilitation. Its modular design appeals to participants from Customs organisations around the world, and Customs and logistics professionals from trade and industry.
"For RSM's academic director and the programme team, the certificate marks the achievement of their aims when they developed the programme with this framework in mind" said executive director Klaas Wassens. "We submitted our report in March 2019 and we received notice of the approval on 11 November from Stephen Quest, Director-General."
Six other master programmes from other institutions were recognised at the same time, although the MScCSCC at RSM is the only Master of Science programme that integrates EU Customs law with the study of supply chains, IT and compliance.
The official statement says: 'The European Commission recognises the part-time Executive Master in Customs and Supply Chain Compliance academic programme delivered by RSM as a high-quality Customs related programme that is in line with the EU Competency Framework for the Customs profession and its associated EU Reference Training Programmes for Academic Customs Education.'
Quality and relevance
Prof. Albert Veenstra is a professor at RSM and Academic Director of the MScCSCC. He said: "This is further recognition of the high societal relevance and quality of this programme; it's our intention to maintain this by closely watching developments and innovations in the sector, and maintaining the standard that has already been acknowledged by the World Customs Organisation."
Frank Heijmann, Head of Trade Relations & Director of the National Trade Facilitation Committee for Dutch Customs said: "The group of students from trade and customs are at the starting point for better understanding, and the unique set-up of the programme integrates knowledge of EU Customs law with supply chain management, IT and compliance. We have supported the programme from the start and offer it to talented customs officers."
Stephen Quest, Director- General of the European Commission Directorate-General Taxation and Customs Union said: "'I am confident that the delivery of this recognised academic customs study programme will equip students with the optimal competencies to engage or advance their career in customs, and contribute to the rise of customs professionalism and performance in the European Union."
More information
Rotterdam School of Management, Erasmus University (RSM) is one of Europe's top 10 business schools. RSM provides ground-breaking research and education furthering excellence in all aspects of management and is based in the international port city of Rotterdam – a vital nexus of business, logistics and trade. RSM's primary focus is on developing business leaders with international careers who can become a force for positive change by carrying their innovative mindset into a sustainable future. Our first-class range of bachelor, master, MBA, PhD and executive programmes encourage them to become critical, creative, caring and collaborative thinkers and doers. Study information and activities for future students, executives and alumni are also organised from the RSM office in Chengdu, China. www.rsm.nl
For more information about RSM or this release, please contact Marianne Schouten, communications manager for RSM, on +31 10 408 2877 or by email at mschouten@rsm.nl.
Type
Alumni , Companies , Executive education , Homepage , International , Newsroom , Master , China
Related