ECWO's Dianne Bevelander receives 2019 FAME Athena Award
Date
Tuesday, 14 January 2020
ECWO's founder and director, Professor Dianne Bevelander, received the 2019 FAME Athena Award at Erasmus University Rotterdam's 106th Dies Natalis ceremony on Friday.
The honour was bestowed by rector magnificus, Professor Rutger Engels, and Dr. Liesbeth Noordegraaf during a ceremony which also saw the awarding of an honorary doctorate to Esther Duflo, the Nobel Prize laureate in Economic Sciences.
---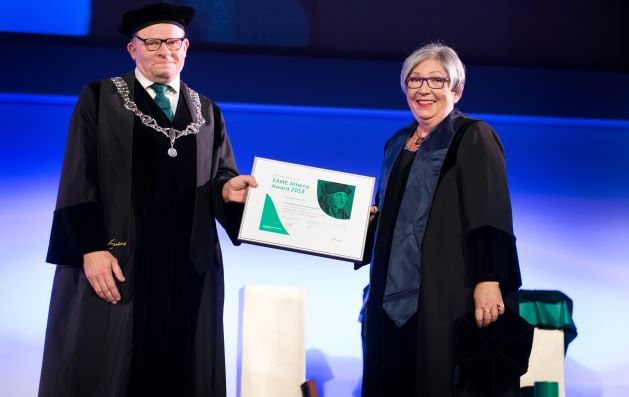 ---
"It's really an honour to be recognised with this award," said Bevelander. "I'd like to thank the ECWO dream team for helping make it happen - and all the women who have taken part in our programmes, events and projects. As this award shows, working together we can change so much."
Bevelander was honoured by Female Academics Moving toward Equity (FAME), which established the Athena Award to honour university staff members who have made an exceptional effort to promote female talent – and set a fine example for their colleagues in the process "Dianne is a figurehead, has achieved concrete successes and has made a substantial difference for many people," said the citation.
During the award presentation, Bevelander was asked about one of her first initiatives - the 2011 RSM Women Empowering Women Kilimanjaro Leadership Project. "We decided we would have a women-only leadership project and used Kilimanjaro as a metaphor for the classroom and for women to learn to work with other women and support other women," she said.
Alongside championing gender diversity and using her own research to make progress in diversity-related issues, it is this steadfast belief in the benefits of community that drives ECWO's work. "Our programmes and research show women how powerful they are - and how, working together, we can move ourselves, our careers and society itself forward towards a gender-balanced society," says Bevelander.
The 2019 Dies Natalis celebrated the fiftieth anniversary of the presentation of the Nobel Prize in Economics to Professor Jan Tinbergen who worked at the Netherlands School of Economics (NSE), the predecessor of Erasmus University Rotterdam.
In her acceptance speech Duflo said she shared Tinbergen's interest "in translating research into action". The co-founder and co-director of the Abdul Latif Jameel Poverty Action Lab (J-PAL) at MIT, Duflo's research sees her seeking to understand the economic lives of the poor, with the aim to help design and evaluate social policies. During her Dies Natalis speech Duflo touched on the underlying motivation for her work: "Once you start thinking about the situation of the very poorest in the world, there is no reason why you would stop and start thinking about anything else because anything else seems like a distraction."
Alongside Duflo, the 2019 Dies Natalis was addressed by the Dutch Minister of Finance, Wopke Hoeksta, and Dani Rodrik of Harvard University who was also presented with an honorary doctorate. It also featured a keynote speech by Professor Anne Gielen of Erasmus School of Economics.
A highlight of the event was a musical intermezzo by Rotterdam-based singer-songwriter, Sabrina Starke. Her performance of her song "Underneath the Surface" was a subtle rallying cry for the journey towards the full self – a driving force for ECWO's work, and Bevelander herself.
Related