Triumph for RSM students at business case competition in Madrid
Date
Friday, 28 February 2020
It was a triumph in Madrid for four students from Rotterdam School of Management, Erasmus University (RSM) recently. They won the second annual BBA Business Challenge Competition on Sustainability at IE Business School in Madrid, Spain against 10 other top-tier business schools. The team from RSM, all from the student-led RSM STAR Case Society, competed on one short and one long business case to find solutions to real business problems on the theme of sustainability.
---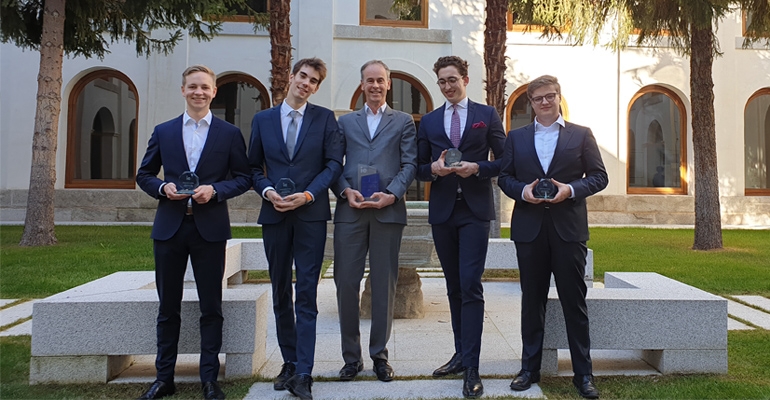 ---
IE Business School's BBA Business Challenge is an annual international case competition that brings together the brightest students to solve business cases that focus on specific companies.
The winning team of students, all in their second year of RSM's BSc International Business Administration programme, comprised Maximilian Meisel, Alexander Rasche; Vincent Jahn, and Malte Gocha. They were pitted against other teams of four from University of Melbourne, Australia; Higher School of Economics, Saint Petersburg, Russia; BI Norwegian Business School, Norway; McGill University, Canada; University of Warwick, UK; Universidad San Francisco de Quito, Ecuador; TEC de Monterrey, Mexico; Nottingham Business School, UK; Frankfurt School of Finance and Management, Germany; and IE Business School, Spain.
First round: cloud gaming
Each student team first presented its solutions for a four-hour challenge about a cloud gaming start-up company called PlayGiga in Madrid. The jury comprised academics and company professionals In this first part of the competition on IE's Madrid campus., the RSM team was placed second – just behind the University of Warwick. The next day, the competition moved 100 km to IE's campus in Segovia, a city which is designated as a UNESCO world heritage site. There, the RSM team had a day to explore and meet other students from around the world before their 24-hour challenge began.
Second round: organic luxury fashions
This long and demanding part of the competition focused on the luxury fashion company LOEWE and its desire to grow its brand at the same time as increasing its sustainability. At 09:00, the student teams were given a quick briefing about the company and the challenge ahead of them. Then RSM's team of four worked on campus and later in their hotel to put together a solution. After the 24 hours was up, they presented it to three judges to win the initial group stage, and advanced into the final round.
Maximilian, Alexander, Vincent and Malte presented their work against Frankfurt School of Management and BI Norwegian Business School in front of a jury of eight people that included academics and company professionals from LOEWE's parent company LVMH. LVMH owns several other luxury brands.
And this is where the students triumphed. The RSM team proposed that LOEWE launch an organic fashion line accompanied by a personality-based marketing strategy to reinforce its sales and, at the same time, increase its sustainability. They added other accompanying initiatives to their proposal to build more connections with the existing LOEWE and LVMH Foundations.
The teams' presentation of their cases was judged on academic standards in solving the challenges, as well as on creativity and feasibility of their solutions. The RSM team was specially lauded for its public speaking skills and a clear and informative slide deck that accompanied its 'innovative and exciting' solution.
Real connections
The team described their experience: "The first and obvious purpose for us to go was to compete against other students, but a second and bigger purpose is to actually bring students from all over the world together to get to know each other, to network, and to make real connections. There was a huge emphasis on that, with collaborative activities, dinners with the whole group, the city tour, a welcome cocktail on the first day, and even a networking workshop. Because of these, even though the RSM team won, all the members of all the teams were very happy with the social part of the event and made long-lasting connections."
IE's campus in Segovia is a former monastery, and the award ceremony was held in its beautiful cathedral after lunch and a motivating speech by IE's Professor Nick van Dam. BI Norwegian Business School was runner-up.
The RSM team's advisor was Willem Koolhaas, RSM's Director of Corporate Marketing and Communications. "He was crucial to our win," said the team. "Although he was not allowed to be present during our case-solving periods, he helped us practice in the weeks leading up to the competition, shared his expertise in marketing, and his experience of his similar role in RSM's own case competition in 2019. He motivated us before each case and gave feedback after each presentation."
Willem Koolhaas said: "I'm very proud of the team. They worked very hard, had a positive attitude and showed excellent teamwork."
More information
Rotterdam School of Management, Erasmus University (RSM) is one of Europe's top-ranked business schools. RSM provides ground-breaking research and education furthering excellence in all aspects of management and is based in the international port city of Rotterdam – a vital nexus of business, logistics and trade. RSM's primary focus is on developing business leaders with international careers who can become a force for positive change by carrying their innovative mindset into a sustainable future. Our first-class range of bachelor, master, MBA, PhD and executive programmes encourage them to become critical, creative, caring and collaborative thinkers and doers. Study information and activities for future students, executives and alumni are also organised from the RSM office in Chengdu, China. www.rsm.nl
For more information about RSM or this release, please contact Marianne Schouten, communications manager for RSM, on +31 10 408 2877 or by email at mschouten@rsm.nl.
Type
Alumni , Bachelor / Bedrijfskunde , Bachelor / IBA , Companies , Homepage , In the spotlight , International , Newsroom , Master , MBA , Sustainability , China , Positive change , MiM - Master in Management
Related