Winner of €15,000 I WILL Award 'will help people to help people'
Date
Friday, 16 March 2012
The winner of €15,000 of funding in the I WILL Award competition has been announced after an impressive final round of presentations in front of judges at Rotterdam School of Management, Erasmus University (RSM).
---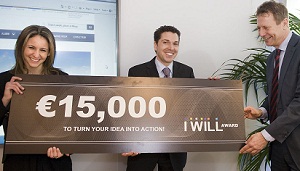 ---
Carlo Cronauer and Paola Gutierrez Watts, who will both graduate from the RSM MBA 2012 programme this month, have won €15,000 of funding from RSM's forward-thinking I WILL movement for their 'CroMiDo' project. It will allow donors anywhere in the world to help another person in need with a new system of micro-donations sent by mobile phone. 
The I WILL Award competition sought business ideas demonstrating willpower, ambition and a desire to be active in creating change, and was open to everyone from the RSM community; students, employees, teachers and alumni.
Announcing Carlo and Paola as the winning team, Dean of RSM Professor Dr Steef van de Velde said the I WILL Award Selection Committee was impressed by the enthusiasm and passion from all three finalist teams. "We were all truly impressed; you have all succeeded in making your ideas concrete and salient. The ideas behind all three proposals are exactly what we want to accomplish with the I WILL movement," he said, and added that it had been a close call in the final votes from the Selection Committee. 
The winning project from Carlo and Paola proposes the CroMiDo system, which uses a unique and intelligent algorithm to rank people in developing countries in order of need. It delivers small donations directly to mobile phone accounts. Use of mobile phones is widespread – and growing – in Africa and other developing nations, and while there is already a system for transferring credits between users in the same country, Carlo and Paola's project would be the first to enable international donors to send microdonations by mobile phone directly to recipients. "The system is simple, immediate, and transparent and can be used to pay electricity or water bills," described Carlo. 
On winning, Carlo Cronauer said: "Paola and I are really delighted. When we saw the other projects we thought it would be a difficult competition, but we also thought that if our project didn't win then at least another good idea would go forward. We're looking forward to working with RSM on the project. Thank you very much."
Despite missing out on the €15,000 of funding from I WILL, the other two finalist teams were encouraged by the Dean not to drop their ideas. "We would encourage you to get your projects going too," he said.
The I WILL Award Selection Committee chose the winning idea based on detailed business plans submitted by all entrants. They were looking for business plans based on the values of I WILL; compassion, teamwork, innovation, pro-activity, professionalism, idealism, ambition, and the four core values of RSM; Innovation, Critical Thinking, Sustainability and Spirit. Entrants had to prepare a written plan of their idea, including project details and a communication plan with actions for every step, providing evidence of work already done as well as making a presentation in front of the Selection Committee and answering questions from the judges.
The other finalists:
WE WILL build a home and a future for 300 orphans
A team of IBA and pre-master students from RSM's STAR study association said they would use the I WILL fund to put towards their plan to build a home and a future for 300 orphan children in Nepal, in collaboration with an international development organisation. The I WILL Award funding would help to sustain their project over several years, said Yannick Socolov and Dominique van Pelt when presenting the project to the I WILL Selection Committee, and increase the number of RSM students who could become involved by volunteering in subsequent years. Although they didn't win the Award, the 10 students will make the trip to Bandipur in Nepal this summer to spend three weeks building and furnishing an earthquake-proof school in a remote village, whilst also teaching reading and writing skills to improve the villagers' prospects for working their way out of poverty, which is widespread in the region.
RSM IBA student Dominique van Pelt said: "We will work with, not for, local partners, who are required to contribute to the project too. This a unique approach gives the project sustainability because the villagers will build their own community," and added that the project had already started, so the students' work this coming summer would have an immediate effect.
RSM World College
A team of three MSc students Merel Kemperman, Nina Claessens , plus absent team member Nina Tromp who was on exchange in Brazil, developed an I WILL idea to create a virtual college providing free educational content originating from RSM and its students. "The goal is to share the knowledge with less fortunate students in developing countries," Merel Kemperman told the I WILL Selection Committee. "Lots of RSM students want to create a better world and this would be a platform for them to share knowledge," she added. The virtual business school would offer short educational movies on subjects ranging from the simple principles of supply and demand, to more demanding topics such as finance. "Movies will be available on the website; registration and downloads are free. We also hope to provide access to computers and internet connections," she explained.
Their project would have a target audience of students aged from 15 to 25 who are unable to afford Higher Education. "We will try to improve the quality of their lives and to get them better jobs. We will work with existing community centres and NGOs to find locations, and supply them with computers and an internet connection. RSM students contributing to the project would be rewarded with study credits, while RSM faculty would be asked to support the project by advising on course structure and teaching techniques, guaranteeing the quality of programmes. The team would seek sponsorship from companies to help with supplying new or second-hand computers.
I WILL Award
The I WILL Award competition was launched in October 2011 by someone who has already demonstrated willpower and ambition at the highest level; Rebecca Stephens was the first British woman to successfully conquer Mount Everest and a professional leadership and team coach.
The I WILL movement at RSM represents the act of living, thinking and acting in the future tense, and expresses the spirit of the RSM community, a diverse community of international students, faculty, alumni, business leaders and staff. They all have one unifying commitment: to make business, and business education, an instrument of positive change. These ambitions, and the intrinsic motivations of the individuals behind them, form the fabric of RSM and I WILL.
Type
Accounting and control , Alumni , Bachelor / Bedrijfskunde , Bachelor / IBA , Business-Society Management , Finance , In the spotlight , Newsroom , Marketing Management , MBA , Organisation and personnel management , Strategic management and entrepreneurship , Technology and operations management
Related