Partnership helps African shea nut producers supply to the cosmetics industry
Date
Friday, 11 July 2014
Researchers from the Partnerships Resource Centre (PrC) and the Maastricht School of Management (MsM) found out how a public-private partnership in Burkina Faso helped linking female shea nut producers to the commercial market.
---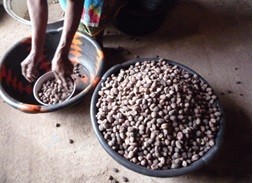 ---
The partnership between a private shea processing company, a local service provider and the Dutch development organisation ICCO enabled female producers to sell their collected shea nuts for a fixed, premium price to an international shea processing company for the cosmetic industry. The partnership facilitated the necessary trainings and coaching to female producer organisations on quality aspects, traceability and financial managament. The study report shows that the 'hands-on approach' of the service provider in the partnership, played an important role in the processes of joint navigation of the partners under whimsical market conditions and stubborn local practices. Without the partnership, the formal requirements of a Western company and the customs of Burkinabe female producers could not easily be reconciled.
Shea is an important source of fat and of significant importance for Burkina Faso's socio-economic development. The nut is crushed, boiled and stirred to extract the rich kernel oils and fats known as shea butter (French: karité). It is the third export most important export product of Burkina Faso to be used for cosmetics products (i.e. hair conditioner, soap, and moisturizer), but predominantly for the food industry (chocolate, margarines, edible oils).
During the fieldwork from October to December 2011, the PrC/MsM researchers closely collaborated with the partnership partners, while insights from the study were simultaneously used for the further development of the partnerships' strategy. The 'action research' project combined the expert knowledge of development practitioners and the scholarly knowledge of researchers for capturing lessons in the setup and operations of value chain partnerships. ICCO provided logistical support for the research.
For the full publication, click here.
Type
Partnerships Resource Centre
Related