EMBA students fight food waste through The Hague innovation contest
Date
Friday, 18 December 2015
Mark Durno and Bart Luters from the Executive MBA Class of 2016 at Rotterdam School of Management, Erasmus University (RSM) reached the finals of the student category of The Hague Innovators Contest 2016 with their concept "EDIBLE".
---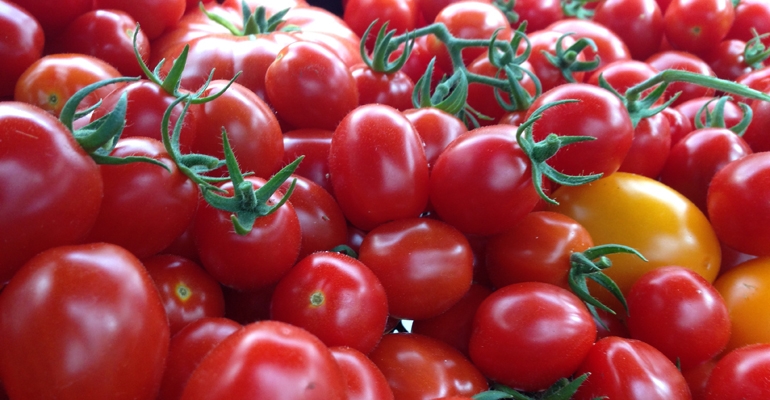 ---
EDIBLE, an auction platform for 'unloved food' that will otherwise become waste, was founded by RSM's Executive MBA students Mark Durno and Bart Luters. The app and web-based market place sells food that is about to pass its sell-by date. Sellers in the Netherlands will notify the edible network that they have a product that needs to be thrown out soon. Via an auction, buyers will bid for the product.
Making sustainability commercial
"We wanted to stop good food going bad. The way to do it is to add value to it to make it loved again, and people love a bargain," said Durno, who partnered up with Luters during RSM's Executive MBA programme. "Bart is entrepreneurially minded and has a lot of experience from the technology and management side of things," said Durno, who has worked in sustainable food production start-ups before.
"I've seen a lot of sustainable food ideas fail," said the British Executive MBA student, adding that this usually happens because there is not a commercial element to it. "Our concept has a financial benefit for the people who use the app. You can use it as an auction site, because you want to make money on the product that you would otherwise throw away, or you can use it to be more sustainable in your life, because you want to give away produce that would go to waste unnecessarily."
Reaching consumers and business
Durno says EDIBLE will make a big sustainable impact. "We're talking about 1.4 billion tons of waste every year and 50 per cent of that waste is at the consumer side. Every Dutch consumer throws away around 270 euros worth of food each year," he said, adding that overstocked hotels and supermarkets can also use the app.
The Hague Innovators Contest
The Hague Innovators Contest is an initiative of the City of The Hague, the Netherlands. The competition encourages organisations, foundations and students to present new ideas about current global challenges, particularly concepts that link disciplines and sectors. The best ideas can win money prizes between €10,000 and €35,000. With the 'Impact Economy' programme, the City of The Hague aims to bring innovators together with the business community, knowledge centres and international institutions to help find solutions to these complex social issues. In so doing, it hopes to lead to new innovations. In order to promote these concepts, the city will sponsor a contest.
The Hague Innovators Contest consists of two phases. To conclude the first phase, the competition's selection committee chose six companies and three student candidates, out of 32 applications. The nominees for the student category are EDIBLES, Make Plastic Fantastic, and Upwear.
The competition is currently in its second phase, in which the nominees are working out their ideas and action plan. During the Big Improvement Day on 19 January 2016, nominees will pitch their ideas to the jury and the final winners will be announced. The jury will judge how the proposal contributes to a solution of a high-impact international social issue with a healthy business model.
The public can still vote for Luters and Durno's concept before Monday 4 January 2016.
More information
Rotterdam School of Management, Erasmus University (RSM) is a leading European business school, and ranked among the top three for research. RSM provides ground-breaking research and education furthering excellence in all aspects of management and is based in the international port city of Rotterdam – a vital nexus of business, logistics and trade. RSM's primary focus is on developing business leaders with international careers who carry their innovative mindset into a sustainable future thanks to a first-class range of bachelor, master, MBA, PhD and executive programmes. RSM also has offices in Chengdu, China, and Taipei, Taiwan. www.rsm.nl
For more information on RSM or on this release, please contact Marianne Schouten, Media & Public Relations Manager for RSM, on +31 10 408 2877 or by email at mschouten@rsm.nl.
Type
Alumni , Companies , Executive education , Homepage , In the spotlight , International , Newsroom , MBA , Sustainability
Related