Alumni seek kickstarter backers for upcycled backpacks
Date
Friday, 16 June 2017
Two recent graduates from Rotterdam School of Management, Erasmus University (RSM) are looking for supporters to help kick-start a business that upcycles seat belts and airbags into backpacks. After a long period of pilot projects and testing, the first batch of bags from Airpaq has been produced by Michael Widmann and Adrian Goosses, who met when they both studied the MSc Strategic Entrepreneurship at RSM; they graduated in 2016.
---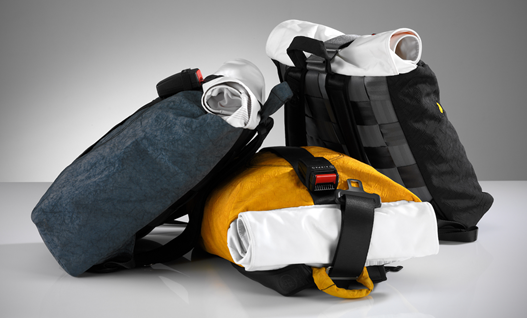 ---
Adrian and Michael are good friends; different backgrounds but a shared vision, they say, and are passionate about the idea of creating alternative uses for discarded items. "Our passion stems from two motives. First, we are convinced that sustainable actions such as upcycling and recycling are essential for our life on this planet. Second, we are fascinated by the charm and the singularity that products of upcycled nature exhibit," they said. Their goal for Airpaq is to combine these motives by creating products that convince customers ecologically and aesthetically.
Although aiming to launch their Kickstarter fundraising on 4 July, the entrepreneurs have already been busy building an online community through Facebook, Instagram and their newsletter. "We're looking for early supporters who will buy a backpack and help us to spread the word globally, " said Michael Widmann, and added: "From a production point of view, using Kickstarter to build our customer base also means that we can much better assess our production quantity."
"Airpaq started as a student project, so we're hoping for support from the RSM community and that people will enjoy seeing how Airpaq has evolved since we graduated. Please let us know what you think!" said Adrian Goosses.
Scrapyard inspiration
After teaming up for group assignments at RSM, the pair visited a scrapyard for one of their assignments – they wanted to create something from waste. They thought it was a very inspiring place, and wandered through imagining stacks of used truck tyres upcycled as comfortable seats, and engine cylinders used as candlesticks. They came across an exploded airbag and a couple of seat belts. "The durability, the feeling and the shape of this material gave us an image of a bag or backpack," they said. And so the basis of their Airpaq idea was created.
For more information about the Airpaq backpacks and the kickstarter campaign, visit www.airpaq.de.
More information
Rotterdam School of Management, Erasmus University (RSM) is one of Europe's top 10 business schools. RSM provides ground-breaking research and education furthering excellence in all aspects of management and is based in the international port city of Rotterdam – a vital nexus of business, logistics and trade. RSM's primary focus is on developing business leaders with international careers who can become a force for positive change by carrying their innovative mindset into a sustainable future. Our first-class range of bachelor, master, MBA, PhD and executive programmes encourage them to become critical, creative, caring and collaborative thinkers and doers. Study information and activities for future students, executives and alumni are also organised from the RSM office in Chengdu, China. www.rsm.nl
For more information about RSM or this release, please contact Marianne Schouten, communications manager for RSM, on +31 10 408 2877 or by email at mschouten@rsm.nl.
Type
Alumni , Master , Strategic management and entrepreneurship , Sustainability , China , Positive change
Related