New online course on business-driven sustainable landscape restoration
Date
Friday, 15 February 2019
---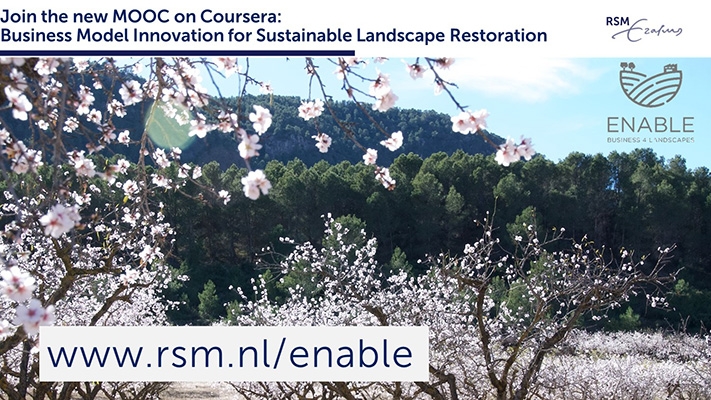 ---
Four returns
Researchers, professors, practitioners and project members of ENABLE's strategic partnership have developed a course on business model innovation for sustainable landscape restoration. The MOOC moves the participants from ideas towards the successful implementation of a new business model for sustainable landscape restoration with four returns: return of natural and social capital, return of inspiration and return of financial capital. Each step of the process is illustrated with three real-life cases of landscape restoration in Spain, Iceland and Portugal.
"We want to educate business and environmental professionals to become aware of the insights that are being developed in other disciplines than their own expertise. Or even better: professionals who are smart enough to ask the other disciplines for help or for contribution. So creating awareness on the added value of collaborating with experts from different disciplines is the key to raise a new generation of professionals equipped with the skills and knowledge required to restore landscapes, thus creating a more resilient ecosystem and a prosperous future for all," says project leader Eva Rood.
Wicked problem
This new MOOC builds upon ENABLE's first MOOC, setting focus on the potential for a positive role of business model innovation for landscape restoration, highlighting the following elements: vision formulation, systems analysis, stakeholder analysis, opportunity analysis, business model design, solution validation, assessment and monitoring, and reflection and iteration.
Contributions from RSM faculty members come from Dr Steve Kennedy, Prof Rob van Tulder, Prof Dirk van Dierendonck, and Prof Dirk Schoenmaker. External parties who contributed to the MOOC are WWF's Landscape Finance Lab, the Natural Capital Coalition (NCC), Ecosystem Services Partnership (ESP), and many more.
The MOOC fits RSM's mission to be a force for positive change, inspired by the UN's Sustainable Development Goals (SDGs). It aims to support SDG15 (life on land). With the MOOC, learners can start working on solutions for landscape degradation – one of the biggest challenges of our time. For more information, see the ENABLE website, and its Twitter, Facebook and LinkedIn pages.
More information
ENABLE
ENABLE is a strategic partnership, co-funded by the Erasmus+ programme of the European Union. Its consortium partners are RSM, the Spanish National Research Council, Commonland, United Nations University Land Restoration Training Programme, and Nova School of Business and Economics.
Rotterdam School of Management, Erasmus University (RSM) is one of Europe's top 10 business schools. RSM provides ground-breaking research and education furthering excellence in all aspects of management and is based in the international port city of Rotterdam – a vital nexus of business, logistics and trade. RSM's primary focus is on developing business leaders with international careers who can become a force for positive change by carrying their innovative mindset into a sustainable future. Our first-class range of bachelor, master, MBA, PhD and executive programmes encourage them to become critical, creative, caring and collaborative thinkers and doers. Study information and activities for future students, executives and alumni are also organised from the RSM office in Chengdu, China. www.rsm.nl
For more information about RSM or this release, please contact Marianne Schouten, communications manager for RSM, on +31 10 408 2877 or by email at mschouten@rsm.nl.
Type
Bachelor / Bedrijfskunde , Bachelor / IBA , Business-Society Management , Parttime Master Bedrijfskunde , Homepage , International , Newsroom , Master , MBA , Strategic management and entrepreneurship , Sustainability , Technology and operations management , Partnerships Resource Centre , CESAM , Positive change , Case Development Centre , EC for business innovation
Related