New chair established for conducting research into family businesses
Date
Tuesday, 11 February 2020
Accounting firm BDO and Rabobank entered into a partnership with the Erasmus Centre for Family Business (ECFB) in 2016, aiming to improve expertise relating to family businesses in the Netherlands and the development of this segment. This partnership is now being stepped up further through the establishment of a chair in family businesses. The chair will be held by Pursey Heugens, professor of organisation theory, development and change at Rotterdam School of Management, Erasmus University (RSM).
---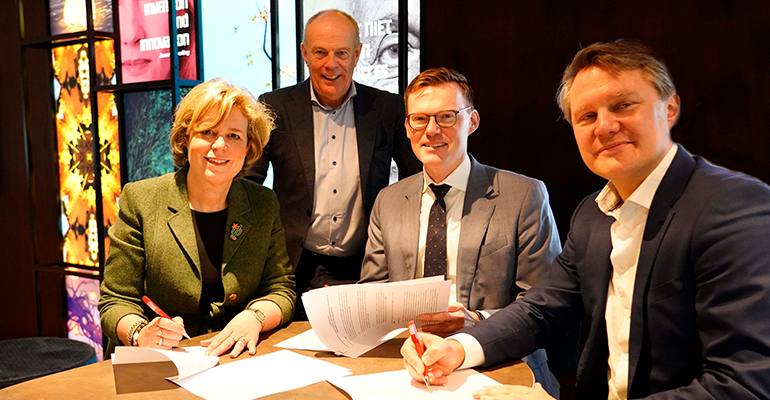 ---
Chair in family businesses
Family businesses are very different than other businesses. For example, family businesses are more likely to be run by their owners than non-family businesses, and they are also more focused on business continuity. When making important decisions, family businesses ought to be assisted by a party that listens to them and is prepared to provide advice based on sound academic research as this will contribute to their ongoing sustainable development.
Rabobank and BDO have traditionally been regarded as trusted advisers by family businesses. "We are keen to fulfil a leading role for family businesses, working in partnership with Erasmus University Rotterdam and Rabobank. We have collaborated closely during the past four years, and this has allowed us to share expertise and many new insights. That's why we have decided to build on – and boost – the partnership by establishing a dedicated chair in family businesses. This will ensure that academic research into new developments in the area of family businesses continues," said Joost Vat, partner at BDO, which is the main sponsor of the chair.
Research into family businesses
In recent years, the research centre ECFB, BDO Accountants & Adviseurs and Rabobank have actively worked together to support top-quality research into the organisation, strategies and governance of family businesses. So far, research reports have been published on topics such as shared values within family businesses, opportunities for doing international business and the role that family businesses play as employers.
"These are not topics that are frequently discussed at many family businesses. Research of this kind can help businesses adapt to today's demands while also helping them to think about their long-term competitiveness," Prof. Pursey Heugens said. "Given this, we always select themes that reflect the current state of the economy."
Mirelle Pennings, Director of Corporate Clients Netherlands at Rabobank, said: "During our meetings with family businesses, we can see that sharing new insights and expertise is greatly appreciated. The ability to learn from the experiences of other family businesses and the practical application of academic research are aspects that are particularly valued by family businesses, with which we have a relationship based on trust. The establishment of the new chair will enhance this."
More information
Rotterdam School of Management, Erasmus University (RSM) is one of Europe's top-ranked business schools. RSM provides ground-breaking research and education furthering excellence in all aspects of management and is based in the international port city of Rotterdam – a vital nexus of business, logistics and trade. RSM's primary focus is on developing business leaders with international careers who can become a force for positive change by carrying their innovative mindset into a sustainable future. Our first-class range of bachelor, master, MBA, PhD and executive programmes encourage them to become critical, creative, caring and collaborative thinkers and doers. Study information and activities for future students, executives and alumni are also organised from the RSM office in Chengdu, China. www.rsm.nl
For more information about RSM or this release, please contact Marianne Schouten, communications manager for RSM, on +31 10 408 2877 or by email at mschouten@rsm.nl.
Type
Companies , Doctoral Programme , Faculty & Research , Homepage , Newsroom , Organisation and personnel management , Strategic management and entrepreneurship , China
Related