RSM launches MSc in medical business and innovation with Erasmus MC
Date
Friday, 30 April 2021
A new master programme is set to combine the expertise of two highly ranked schools within Erasmus University Rotterdam. The one-year MSc in Medical Business and Innovation (MBI), which will start in the academic year 2022-2023, is a collaboration between Rotterdam School of Management, Erasmus University (RSM) and the Erasmus Medical Center (Erasmus MC). It is specifically designed for recent bachelor graduates from healthcare and life science programmes who wish to pursue a career in the field of medical business.
---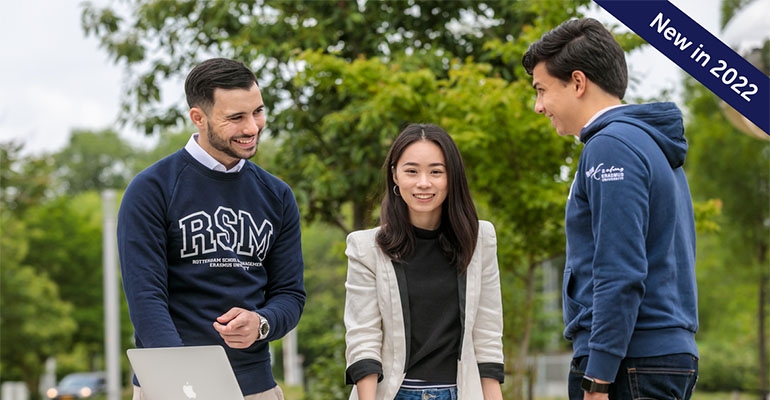 ---
The master programme, which is founded on the curriculum of RSM's highly successful MSc Management of Innovation, specialises in the management of innovation in the life sciences sector. Students will learn from management experts from RSM, and from faculty members from Erasmus MC. After completing the programme's 60 EC, graduates will be awarded the degree Master of Science in Management of Innovation.
Create impact through knowledge
Recent bachelor graduates from healthcare and life science programmes such as medicine, nanobiology, pharmacology, or biomedicine can develop knowledge and skills to kick off their career in the field of medical business and management. The programme is tailored to the innovation needs of companies and start-ups in medical technology, pharmacology, and life sciences. The programme will be taught completely in English to prepare students for collaborating in a growing and increasingly internationalised sector.
The curriculum covers all aspects of innovation management from initial idea development to its commercialisation. It will prepare future graduates for careers such as product manager in a life science or medical technology company, medical entrepreneur, R&D manager in the healthcare industry, technology transfer manager, laboratory manager, or medical industry consultant.
Prepare with a minor (application deadline soon!)
Prospective students must have a research university bachelor degree with a minimum GPA of 7.0 on the Dutch grading scale and proof of English language proficiency at CEFR level C1. They also must have completed 15 EC in business administration courses.
Students without a business background can enrol in the new 15-EC online minor programme in business management in academic year 2021-2022 to obtain the necessary foundation knowledge. Interested second-year bachelor students should enrol in this minor before 31 May 2021 so they are eligible to enter the master programme in 2022.
Students with a hbo-degree in the field (for example in nursing) will additionally need a bachelor GPA of 7.5 and follow a premaster to qualify for admission. The application deadline for the 2021-2022 premaster is 15 May 2021.
Further information: www.rsm.nl/mbi.
More information
Rotterdam School of Management, Erasmus University (RSM) is one of Europe's top-ranked business schools. RSM provides ground-breaking research and education furthering excellence in all aspects of management and is based in the international port city of Rotterdam – a vital nexus of business, logistics and trade. RSM's primary focus is on developing business leaders with international careers who can become a force for positive change by carrying their innovative mindset into a sustainable future. Our first-class range of bachelor, master, MBA, PhD and executive programmes encourage them to become critical, creative, caring and collaborative thinkers and doers. Study information and activities for future students, executives and alumni are also organised from the RSM office in Chengdu, China. www.rsm.nl
For more information about RSM or this release, please contact Erika Harriford-McLaren, communications manager for RSM, on +31 10 408 2877 or by email at harriford@rsm.nl.
Type
Alumni , Faculty & Research , Homepage , International , Newsroom , Master , Strategic management and entrepreneurship , Sustainability , Technology and operations management , China , Positive change
Professor
Stefano Tasselli
Related