RSM Outlook magazine gets disruptive in the new winter issue
Date
Wednesday, 24 December 2014
The winter 2014 issue of RSM Outlook is all about getting disruptive! The twice-yearly magazine for alumni and corporate relations published by Rotterdam School of Management, Erasmus University (RSM) has just arrived. Alongside the print version, there are also online and app versions with more news, more photos, more links and videos.
---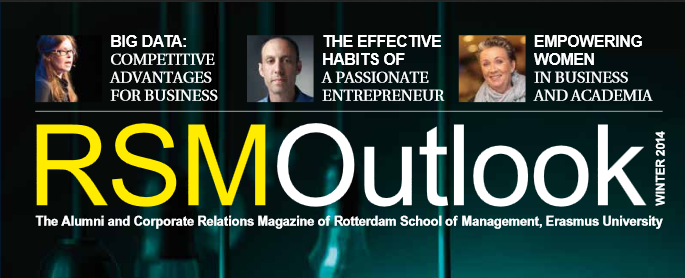 ---
This winter's issue of RSM Outlook focuses on using disruptive innovation to your business advantage, avoiding becoming a victim to it, and setting the stage for bringing it into your business. Our special editorial feature includes an executive interview with Ellen Kuppens, vice president of HR at global life sciences and materials company, DSM who describes the importance of innovation, the crucial human factors, and how new ways of working will enhance the company's innovation capabilities.
We also have a closer look at the lively big data debate that gripped our 600-strong audience at the RSM Leadership Summit in October, and find out more in an exclusive interview with senior executives at big data user and digital publisher, Sanoma.
Our in-depth interview in this issue is with Dianne Bevelander, one of the few female full professors in the Netherlands. Prof. Bevelander has launched the Erasmus Centre for Women and Organisations to address – and redress – female under-representation in business and academia.
RSM alumni
We meet the Distinguished Alumni of 2014, who have been recognised for their work with addressing malnutrition, profile inspiring alumni who have turned medical simulation gaming into a serious business, and meet another business partnership stepping in the right direction with a forward-looking shoe company. Still another alumnus appears to have made it his life's work to seek out spectacular failure and run towards it as fast as possible. Richard Robinson describes himself as 'active in the geek-o-system', but we make sense of this global citizen and serial entrepreneur in our interview.
As well as our regular news of worldwide alumni activities, we've found more 'movers and shakers' within the RSM alumni network who have made recent career advances.
You will, of course, find these alongside all our regular features such as news, forthcoming events and words from the Dean, so find a quiet corner over the holidays to read and enjoy! 
Download the app
RSM Outlook has been printed twice a year since 2005 as it explores business issues, catches up with alumni, and strengthens the alumni network – which now numbers 29,000 around the world. The free app edition contains lots of rich content – photo galleries, videos, links to resources, handy email addresses and a whole lot more! It's now available for Android and iOS smartphones and tablets by searching for 'RSM Outlook' in the Google Play and Apple App stores, where you can download the app free of charge. For those without access to smartphones or tablets, a browser-enabled version is also available online at www.rsm.nl/outlook.
All RSM alumni should receive a free copy by mail. Make sure you receive yours by staying connected with your alma mater. Keep your details updated on the alumni database; see here for more details.
More information
Rotterdam School of Management, Erasmus University (RSM) is a top tier European business school and ranked among the top three for research. RSM provides ground-breaking research and education furthering excellence in all aspects of management and is based in the international port city of Rotterdam – a vital nexus of business, logistics and trade. RSM's primary focus is on developing business leaders with international careers who carry their innovative mindset into a sustainable future thanks to a first-class range of bachelor, master, MBA, PhD and executive programmes. RSM also has offices in the Amsterdam Zuidas business district and in Taipei, Taiwan. www.rsm.nl
For more information on RSM or on this release, please contact Marianne Schouten, Media & Public Relations Manager for RSM, on +31 10 408 2877 or by email at mschouten@rsm.nl.
Type
Accounting and control , Alumni , Bachelor / Bedrijfskunde , Bachelor / IBA , Business-Society Management , Corporate Communication Centre , Companies , Doctoral Programme , Parttime Master Bedrijfskunde , Executive education , Faculty & Research , Finance , Homepage , International , Newsroom , Marketing Management , Master , MBA , Organisation and personnel management , Strategic management and entrepreneurship , Sustainability , Technology and operations management
Related