Electronic waste master thesis earns KPMG sustainability award
Date
Friday, 10 April 2015
Maaike Antrag (MSc Supply Chain Management 2013) was presented with this year's KPMG RSM Sustainability Master Thesis Award and €1,000 during the third annual RSM Sustainability Forum hosted by Rotterdam School of Management, Erasmus University (RSM) in Rotterdam on Friday 10 April. Her master thesis, Designing a take-back network for the e-waste from webshops' customers was conducted on behalf of Dutch postal organisation PostNL and offers detailed solutions to the organisation's problems from the return process of e-waste – electronic waste – such as old computers.
---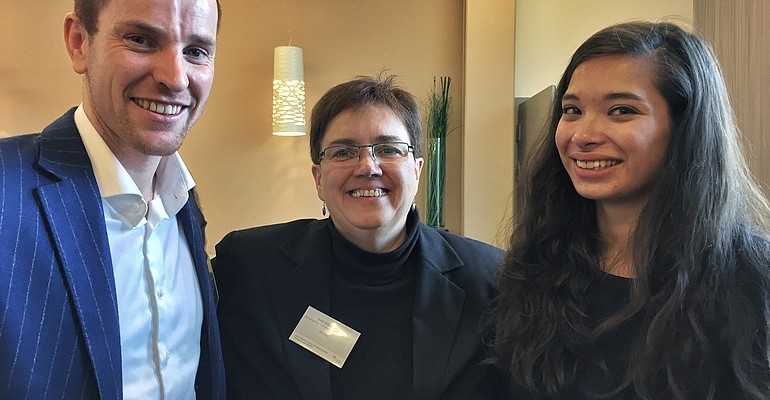 ---
Antrag's thesis was recognised for its depth and detail, and the award was presented by Jan van den Herik, Director of Strategy & Innovation at KPMG. "Her thesis discusses the strengths and weaknesses of different business solutions and presents a best, optimal solution and innovative business model," said Van den Herik. "The jury is very curious to know how Antrag's recommendations were received by the management of PostNL."
Runner-up Sjaak Heuvels (MSc Global Business and Stakeholder Management 2013) received a prize of €500 for his thesis Transitioning towards a bio-based and sustainable construction industry: The case of hemp-based application in the Dutch construction industry'.
"The jury found this piece of work very innovative and well researched, as the construction sector is one of the least sustainable industries with an enormous ecological footprint," said Van den Herik.
Increasing number and breadth of sustainability-related theses at RSM
KPMG has sponsored the KPMG RSM Sustainability Master Thesis Award since 2006. The award honours work which combines academic excellence and business relevance in sustainability management. To qualify, thesis subjects must be related to social and ecological sustainability and each thesis must have achieved a mark of at least 8.5 during the thesis defence. Theses from the past academic year are reviewed; an internal RSM panel arrives at a shortlist of five theses chosen for a combination of academic excellence, socio-environmental impact, business relevance and originality. The shortlisted theses are then forwarded to the KPMG jury.
Of a total of 2,309 theses defended between September 2013 and August 2014 (the previous academic year), 57 met the combined criteria of academic quality (8.5 or higher mark) and sustainability relevance – up from 42 theses in 2014. "The numbers have gone up, but also the variety of Master programmes represented from academic year 2013-2014," said Nadine Kooiker, Sustainable RSM Student Assistant who oversaw the internal process of shortlisting five theses from the original 57. "Traditionally students in the MSc Global Business and Stakeholder Management contribute the largest number of theses on sustainability issues, however students from other departments dedicated their theses to addressing environmental and societal challenges – this really demonstrates the importance that students – as future business leaders – attach to the topic," she added.
More information
Rotterdam School of Management, Erasmus University (RSM) is ranked among Europe's top 10 business schools for education and among the top three for research. RSM provides ground-breaking research and education furthering excellence in all aspects of management and is based in the international port city of Rotterdam - a vital nexus of business, logistics and trade. RSM's primary focus is on developing business leaders with international careers who carry their innovative mindset into a sustainable future thanks to a first-class range of bachelor, master, MBA, PhD and executive programmes. RSM also has offices in the Amsterdam Zuidas business district and in Taipei, Taiwan. www.rsm.nl
For more information on RSM or on this release, please contact Marianne Schouten, Media & Public Relations Manager for RSM, on +31 10 408 2877 or by email at mschouten@rsm.nl.
Type
Alumni , Companies , Faculty & Research , Homepage , In the spotlight , International , Newsroom , Master , Sustainability
Related